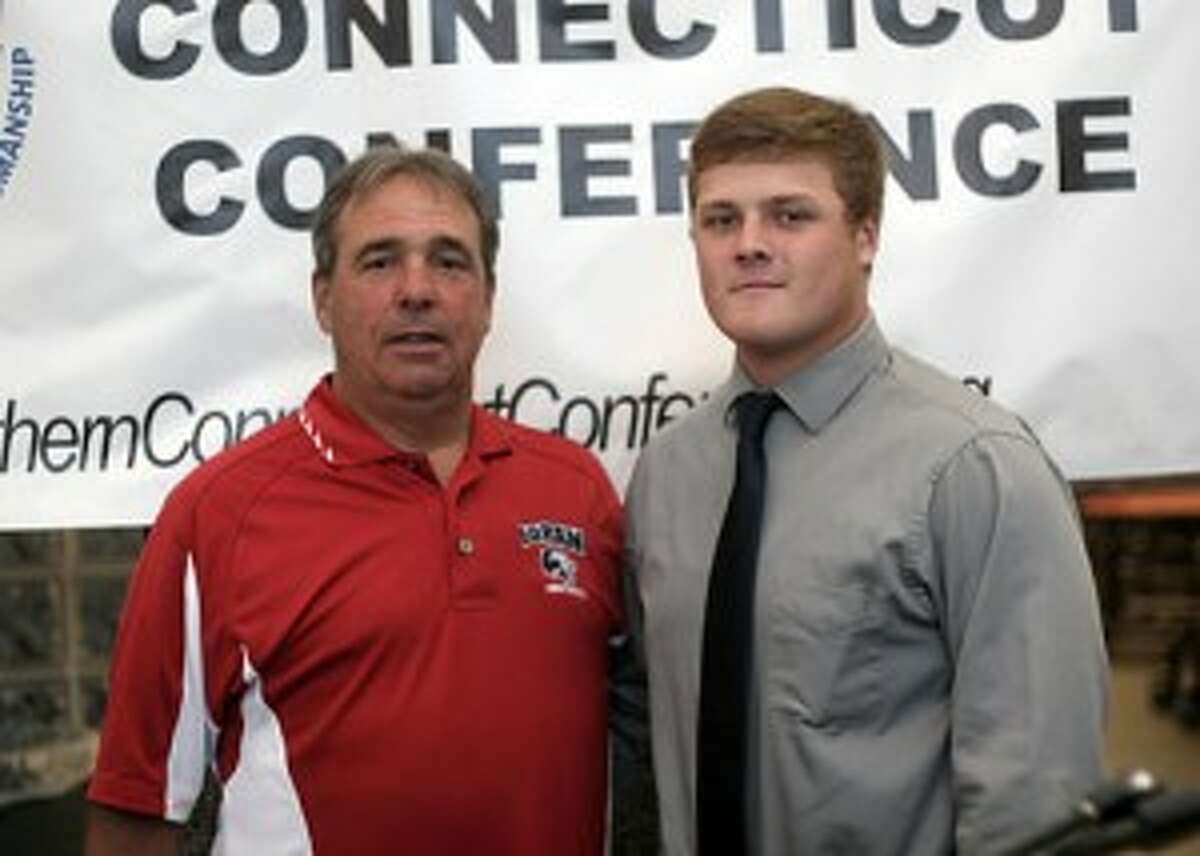 Foran High football coach Jeff Bevino acknowledged how tough it is to compete in the Southern Connecticut Conference when he was called upon to speak at the 2015 Football Media Night held at the Floyd Little Athletic Center in New Haven on Sunday.
Bevino, now in his 10th season at Foran High, then talked about what he hopes will be another winning season for his Lions, who will battle North Haven, East Haven and Sheehan High of Wallingford for the Division II East title this fall.
Foran coming off a 6-5 season, was division champions in 2004 and 2008. The Lions will look to unseat North Haven, as the Indians have copped six straight titles.
"I want to welcome all the new coaches to our league. You guys better cross your T's and dot your I's fellows," Bevino said. "This is a tough league with a lot of great coaches and a lot of great players, but again welcome and good luck.
"I want to introduce one of our captains, Mike Howell, a three-year starter. We usually wait for the first week of camp to pick our remaining captains, but Mike has stood out through his leadership.
"We were very young last year and started six, sometimes seven sophomores on defense. Hopefully that will help in our favor this year.
"We're returning eight people on defense, we're returning seven on offense, that's the good news — we have to remain healthy."
Mike Howell
Howell, who will start on the offensive line and at linebacker, had a quick response when asked how Foran has been able to compete well every season.
I think its a matter of our leadership from coaches, captains, seniors," he said. "Like this year, we're missing Jake Kasuba (All-State quarterback), but he didn't just walk around knowing he was the best. He was concerned about the team's future and looked out for young kids. It wasn't just about  his stats. He trained our younger guys.
"One of the biggest things we (veterans) can do is prepare the younger players for adversity. Ask them 'How are you going to step back up and lead the team no matter what year you are and play to the best of your ability despite the adversity?'"
Howell pointed to former Lion captains for showing him the right way to lead.
"Watching them, I was able to learn," he said. "As a captain or a starter its not about telling them how to do something its about getting them to want to learn how to do something.
"It's about keeping everyone involved, not that he's a starter and I can't talk to him.
"What I try to do, as do the other guys on the line, is make it a friendly competition. 'I just deadlifted this, what are you going to do?' You keep it fun while getting better.
"This year we have Luke Edmondson, Sam Kopatch and me returning (to the line) and throughout the preseason we're looking to teach.
"We can't expect them to like Luke, a three-year starter and All-Stater, we have to help them. We have to have the mindset that if we help them the right way, and show them the right path, it will carry us forward."
Foran will host Branford High in its opener at 7 p.m. on Friday, Sept. 11.