https://www.ctpost.com/policereports/article/Stratford-man-charged-in-act-of-terrorism-15000946.php
Stratford man charged in 'act of terrorism' after alleged Milford police threats
Photo: Milford Police Department
MILFORD — A Stratford man's bail was increased to $250,000 Friday after he was arrested for allegedly threatening in a series of written messages to blow up the city Police Department, kill police officers and commit other crimes, according to police.
Miguel Silva, 31, is charged with first-degree threatening, first-degree harassment and second-degree breach of peace, according to judicial records. If Silva were convicted, prosecutors would seek an enhanced sentence on the first-degree threatening charge for allegedly committing an act of terrorism, court documents indicate. The document says the state's attorney's office accuses Silva of "act of terrorism."
Silva's bond was increased from $50,000 to $250,000 after he was arraigned at Superior Court in Milford Friday, according to judicial records. He is scheduled to appear in court again on Feb. 7.
The investigation began when Detective Richard Mahoney was dispatched to 121 River St. on Jan. 19, and found a series of messages written in with a blue marker in a hallway, then noticed similar statements written on two other River Street businesses, according to a probable cause report on file in Superior Court in Milford Friday.
The messages included statements such as: "ISIS we will kill cops," "they killed our brother Mubarak Soulemane," "ISIS You got our guy in Shelton this is the beginning," and "ISIS we will blow up the Milford Police Station," Mahoney wrote in the report.
Another message indicated that a Milford company would be blown up.
According to the report, Mahoney posted surveillance footage of a man who was allegedly writing the messages to a law enforcement database, then determined the man had allegedly been involved in an incident in Stratford in the months prior.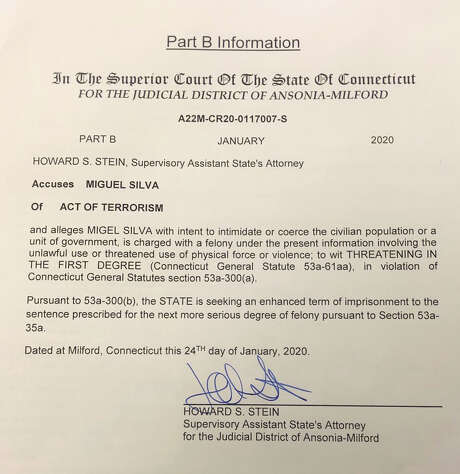 Individuals in that area of Stratford said the man worked at a restaurant in Milford. Staffers there did not recognize pictures of him, but the manager of another restaurant reported that he was a former employee, Miguel Silva, according to the report.
The report also says that police contacted Silva's mother and she said the man in the image is her son, according to the report. She told police Silva is "mad at the world," but does not have the capacity to make explosive devices, the report says.
Police located Silva in Stratford. He allegedly told the officer that he had written the bomb threats, but didn't mean them, according to the report.
"Silva reiterated the writings were because he was high and being stupid. I asked Silva if he remembered what he wrote, to which he stated he did," Mahoney said in the probable cause report. "Silva stated he remembers writing about ISIS and blowing things up."
Silva is barred from coming near the Stratford and Milford police departments, among other locations. He was sent to receive a mental health evaluation and treatment as well, records show.
william.lambert@hearstmediact.com