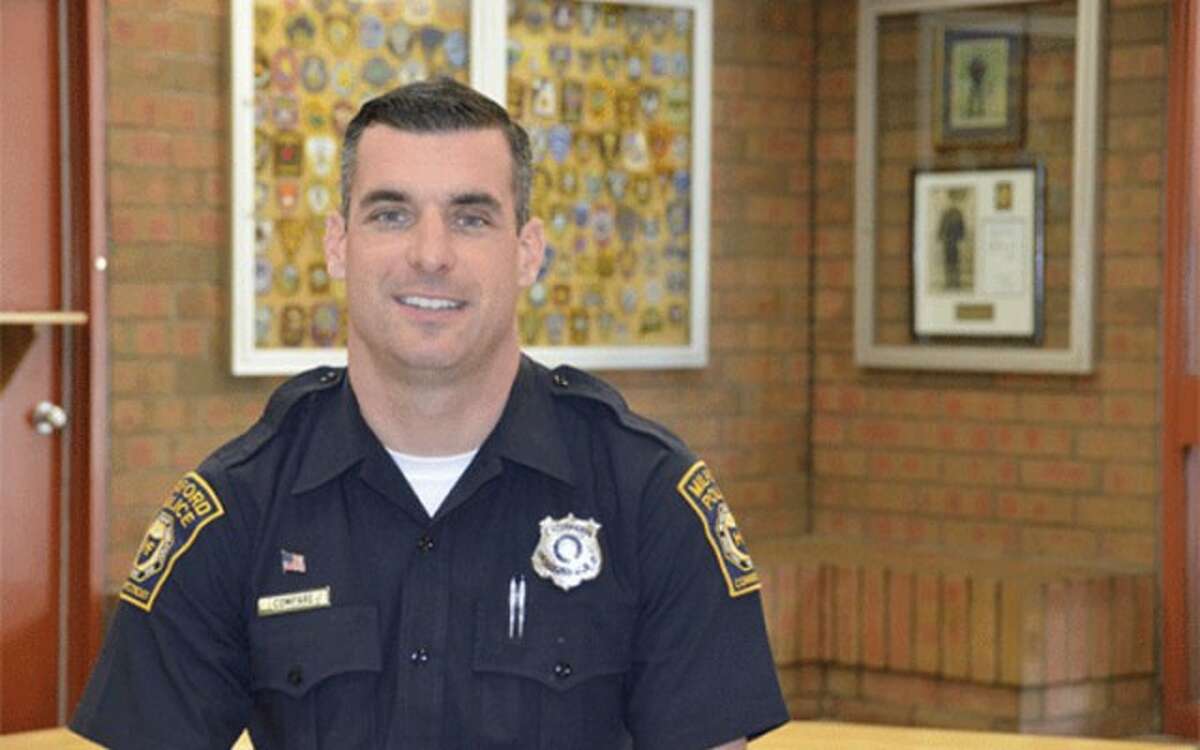 Michael Robert Compare, age 36, beloved husband of Agnieszka Compare, was called to heaven unexpectedly on June 22, 2015.
A Milford resident, he was born on September 28, 1978 to Gary and Marie Compare.
Michael graduated from Jonathan Law High School in 1996 where he was the captain of both the Swim and Cross Country teams, as well as on staff of The Advocate newspaper. The proud Lawman went on to graduate from the University of New Haven with a Bachelor's degree in Criminal Justice. Michael attended the Police Academy, where he graduated in 2000. He then served with the City of North Haven Police Department for eleven years before relocating to Kentucky and serving briefly on the Jefferson County Sherriff's Department. Upon his return to CT, Michael followed in his father's footsteps and joined the City of Milford Police Department, where he was assigned to the traffic division. He was also a member of the Milford Police Marine and Dive Teams and Milford Police Honor Guard. He also taught at the police academy and was a Certified Accident Reconstructionist.
Michael was passionate about helping his community and contributed his time and energy with several charities, including: Kisses from Katie, Operation Blue Christmas, the Beth El Soup Kitchen, Swim Across the Sound and The Police Unity Tour during Police Memorial Week. He participated in the Special Olympics Torch Run, Tip-A-Cop and Penguin Plunge programs.
Michael was also an avid runner, and combined his deep love of the sport with his charity work. He founded the running club at the Boys and Girls Club of Milford; he raised money for Race4Chase; he ran with the torch for the Special Olympics since age 11. Michael raced in many marathons and triathlons. One of his proudest accomplishments was completing an Ironman Triathlon in Louisville, KY in 2012.
Michael will be greatly missed by his friends, family and his two rescue dogs, Molly and Atticus. He leaves behind his wife and parents along with his maternal grandparents, Mary and Earle Hanson, of Milford. He also leaves one brother, Brian and his wife Serene, and their two daughters, Natalie and Audrey, all of Fairfield. Michael is also survived by several aunts, uncles and cousins. Michael was predeceased by his paternal grandparents Fred and Marie Compare.
A Mass of Christian Burial will be held on Saturday, June 27, 2015 at 10 a.m. at Saint Ann's Church, 501 Naugatuck Ave., Milford, CT (please meet directly at the church). Interment will follow at Saint Mary's Cemetery, Buckingham Avenue, Milford. Friends and family may call from 3 to 7 p.m. on Friday, June 26, 2015, at the Cody-White Funeral Home, 107 Broad Street, Milford, CT.
In lieu of flowers, donations can be made to the Connecticut Special Olympics, 2666 State St., Suite 1, Hamden, CT 06517; The Milford Boys and Girls Club, 14 Benham Ave., Milford, CT 06460; or the Animal Rescue Foundation of Rincon, PO Box 592, Rincon, PR 00677.