This is a carousel. Use Next and Previous buttons to navigate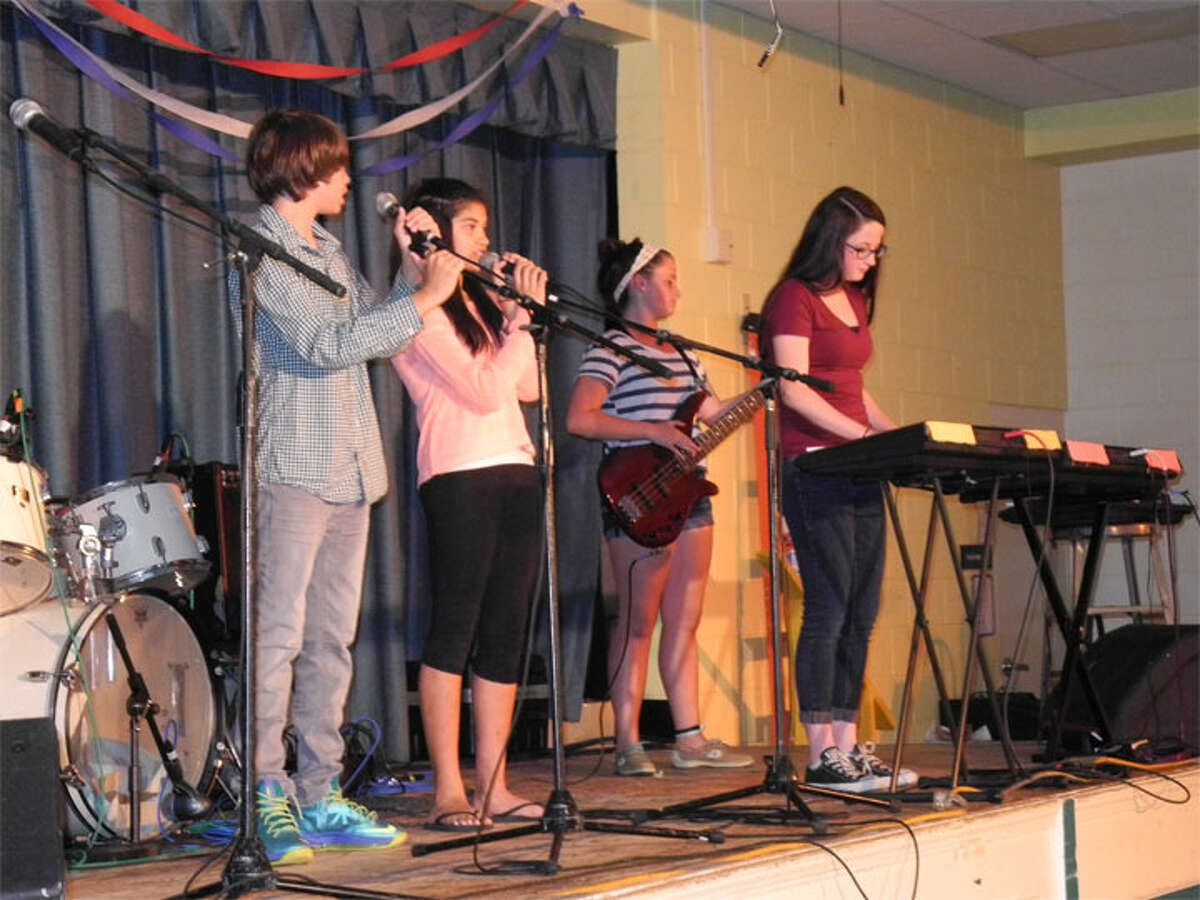 West Shore Middle School rocked out Thursday night, June 4, for its third annual  "Weststock," the grand finale of a unique music class at West Shore where the students put together an evening of rock, pop and blues music.
The rock night typically features student bands playing Coldplay, Led Zeppelin, Bruno Mars, Oasis and more, and showcases more than 100 students under the direction of Chris Kalafus. This year the student bands sang and played the drums, guitars, and keyboards to many hits including "Bittersweet Symphony" by the Verve, and "Wonderwall" by Oasis.
Kalafus has been the general music teacher for 20 years, and the students prepare well in advance for this fun and rewarding day.
"They start with guitars back in the fall," Kalafus said. "We do a whole unit — about eight weeks of guitars, then we move on to keyboards, and then we move on to drums and then we add in bass and then the big culminating task at the end of the year — a project to form bands and get ready."
The boys and girls who participated in Westock 3 got very creative by playing an instrumental version of "Uptown Funk" by Mark Ronson and Bruno Mars. They also created their own version of Green Day's "Boulevard of Broken Dreams" by changing the beat. It started out slowly and then became faster.
According to Kalafus, the students choose songs they want to perform.
"I helped them learn them but a lot of them go on Youtube or use the Internet to learn the songs and then they come in and we put them together and kind of guide them through it," he said.
The students played a mix of today's hits and classic rock.
"Nowadays I think because of games like Rock Band and things like that, they're more familiar with these songs than they used to be," said Kalafus.
The music group at West Shore is very talented, Kalafus said. If a student is absent, someone can often fill in and go from one instrument to another. This performance stood out because of the variety of instruments, music genres and vocal styles they were able to use, he added.
The students played upbeat songs like "Hurricane" by the Scorpions, and then relaxing songs like "Say Something" by A Great Big World. They concluded their concert with a song dedicated to a beloved administrator, Assistant Principal Tom Finn, who is retiring and will not be returning next year. They sang and played "See You Again" by Wiz Khalifa.
Friends and family members of the students were thrilled to see them on stage, which is Kalafus's favorite part of Westock.
"[It's great] looking out and seeing 400 or 500 parents out here: family, friends and grandparents, and seeing the smiles on their faces as their kids are performing," Kalafus said. "And after each song all the kids and their high fives, and you know they accomplished something."