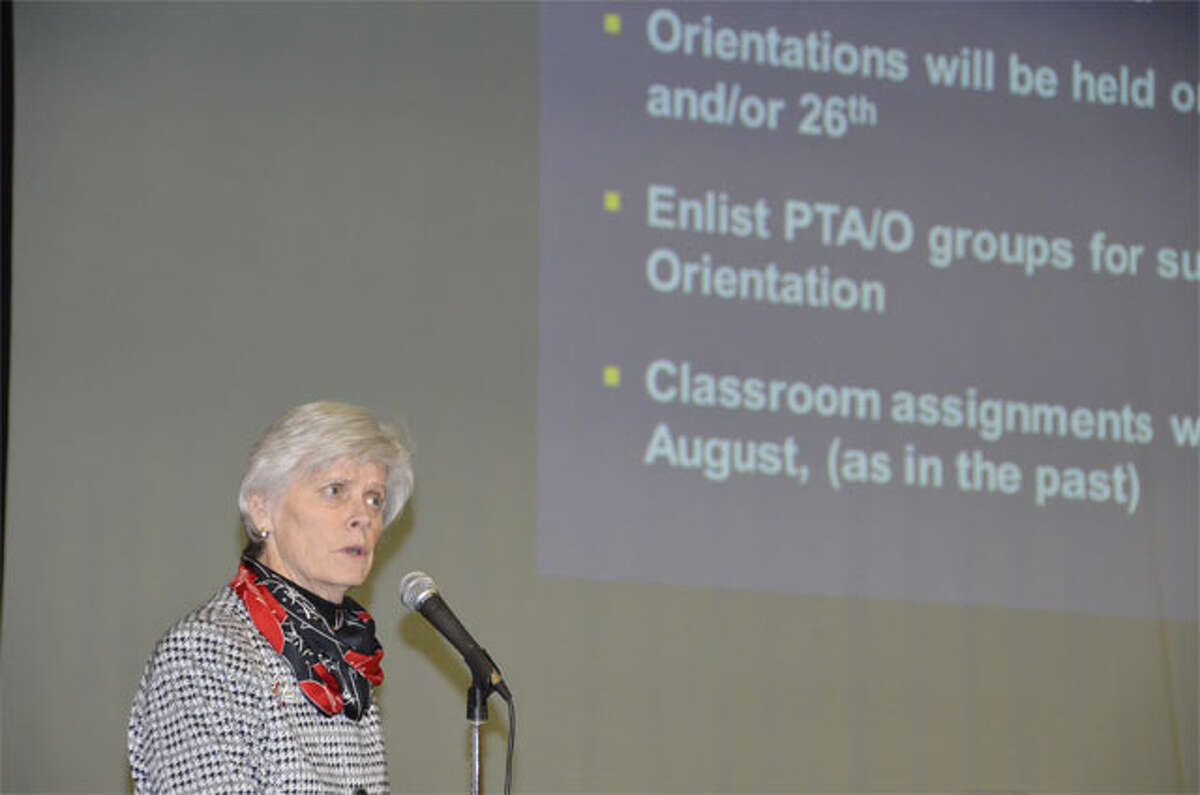 Despite opposition from some parents, the Milford Board of Education voted on a redistricting plan Monday night that members said will balance enrollment at the city's elementary schools and ensure parity of services among the eight schools.
After more than two hours of discussion Monday night, preceded by many hours of presentations and discussions since February, the board voted to adopt the plan that has been labeled "4C" and that was the plan preferred by the redistricting consultants Milone & MacBroom.
The board had considered several tweaks to 4C, and voted to approve one of those, which will have about 25 students in the Minuteman Drive area attend Calf Pen Meadow Elementary School instead of Orchard Hills School, which Option 4C had called for.
Board of Education Chairman Susan Glennon said board members, in earlier discussions, agreed the change makes sense because it improves balance between Calf Pen Meadow and Orchard Hills and maximizes the utilization of both schools.
School Superintendent Dr. Elizabeth Feser said parents will get letters in about two weeks letting them know which schools their children will attend next school year under the redistricting plan. Parents may also log on to the school website, milforded.org, and look at maps posted there to determine which elementary school their children will attend.
Republicans on the board tried to introduce changes Monday night, but they were not successful. Minority Leader John DeRosa (R) suggested a plan that would have had pre-kindergarten located at three schools rather than four and would have accommodated families in Beaver Brook/Caswell Cove and parts of North Milford who wanted their children to attend Kennedy School and Mathewson School, respectively.
Republicans Suzanne DiBiase and Anthony Piselli explained that some parents were upset because they live closer to Kennedy School than Mathewson, and the adopted plan calls for their children to attend Mathewson School.
The Republicans' attempt failed after other board members, including Glennon and Jennifer Federico, both Democrats, said the alteration would have far-reaching impacts on other students and other program plans.
Majority Leader Robert Satti (D) addressed the audience of about 60 parents Monday night after the vote, saying it was a difficult decision that he knows not all people like.
"You've all been heard," Satti said.
"The purpose of this plan is to help all of the children," he added.
The board also voted to grandfather in some fourth graders so they will not have to change schools next year for fifth grade.
James Richetelli Jr. said about 60 current fourth graders who would have moved out of their current school pairings next school year will be allowed to stay within their current school pair for fifth grade.
Next school year the elementary schools are slated to go from the current K-2/3-5 configuration to a K-5 configuration, with pre-kindergarten at four of the schools. An imbalance in student populations between the west side and east side of town required redistricting.
As Monday's meeting got under way, Glennon reminded the board and audience that the board had already voted to pursue several goals outlined by a Long Range Planning Committee, and those included reconfiguring the schools to K-5, decentralizing pre-kindergarten, which had been located only at Orange Avenue School, and redistricting to balance the elementary school enrollment.
"It has been a long road to get to this point tonight," Glennon said.
About a dozen parents spoke at the meeting. Sherri Franzman told the board that the changes it was making splits up her daughter and her daughter's best friend. They both attend Mathewson this year, but next year one will be at Mathewson and the other will go to a different school.
"These are not numbers on paper," Franzman said. "These are children."
Jacqueline Smith, another parent, said, "The change in front of us is not the right change."
Smith said "parity is great" but she preferred to keep children where they are comfortable.
Several parents of Orange Avenue School students told the board that they really wanted pre-kindergarten decentralized, as the board voted to do. Now, all the pre-kindergarten classes are at Orange Avenue, and parent Jeffrey Kupson, for one, said that presents space and other challenges at the school.