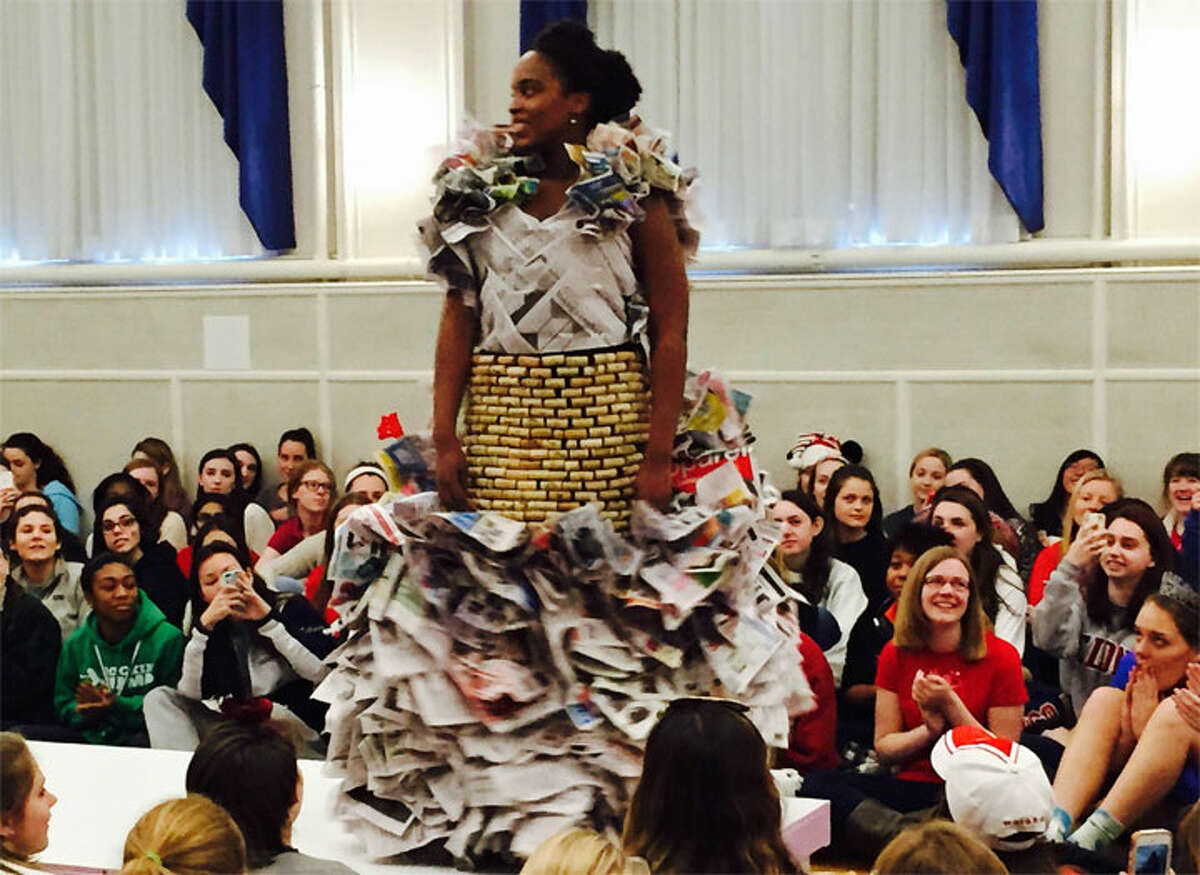 Lauralton Hall held its tenth annual "Trash the Runway Fashion Show," organized by the school's Environmental Club.
The eco-friendly fashion show took place on Monday, March 9, during the school's spirit week, in which a talent show and pep rally occur.
Students, teachers and others gathered in Claven Auditorium to watch students and some faculty members walk down a wooden runway in hand-made clothing created out of recycled materials. The goal of this was to encourage recycling in a variety of beneficial and unique ways.
The Environmental Club holds a "Trash-Free Lunch Marathon" and set up an Eco-Jewelry Store, according to Lauraltonhall.org. The club formed in 2002, and among its accomplishments it has put recycling bins for paper in every room of the school.
Environmental Club moderator and English teacher Donna DiMassa has been in charge of "Trash the Runway" for all 10 years. She said it started as a T-shirt decorating event, and then it evolved into making actual costumes and dresses. She feels this is a great thing for students to get involved in.
"What I enjoy most is that the girls have to get their own facts and look at trash differently," DiMassa said.
The models wore clothing made of plastic bags, garbage bags, recycled paper, water bottles and old magazines. Some participants got very creative and wore outfits containing feathers, used dryer sheets, broken CDs and even bright red balloons.
Speakers at the event read environmental facts that each model had researched. For example, one participant wanted to inform the audience that paper makes up about 40% of U.S landfills. Another model wanted people to know that they will get discounts at some stores if they carry their groceries in reusable bags instead of plastic ones.
One of the speakers, senior Olivia Kaufman, modeled a dress, headband and bag all made from old scarves. She is the president of the Environmental Club and has been a model in the show for the past two years.
"My favorite part of the event demonstrates this club's mission of presenting facts in a way that communicates effectively," Olivia said.
Faculty members judged the fashion show and gave first place to senior Marissa Brown for her creative outfit made from junk mail. The judges also gave other awards, such as "Best Freshman," "Best Senior," "Most Creative" and "Most Wearable."
The school's website states that Lauralton is very serious about protecting the environment. It also mentions the importance of recycling, encourages others not to waste and to direct the use of resources.
"I believe there should be no such thing as trash. What we consider trash can be made into something beautiful," said DiMassa.