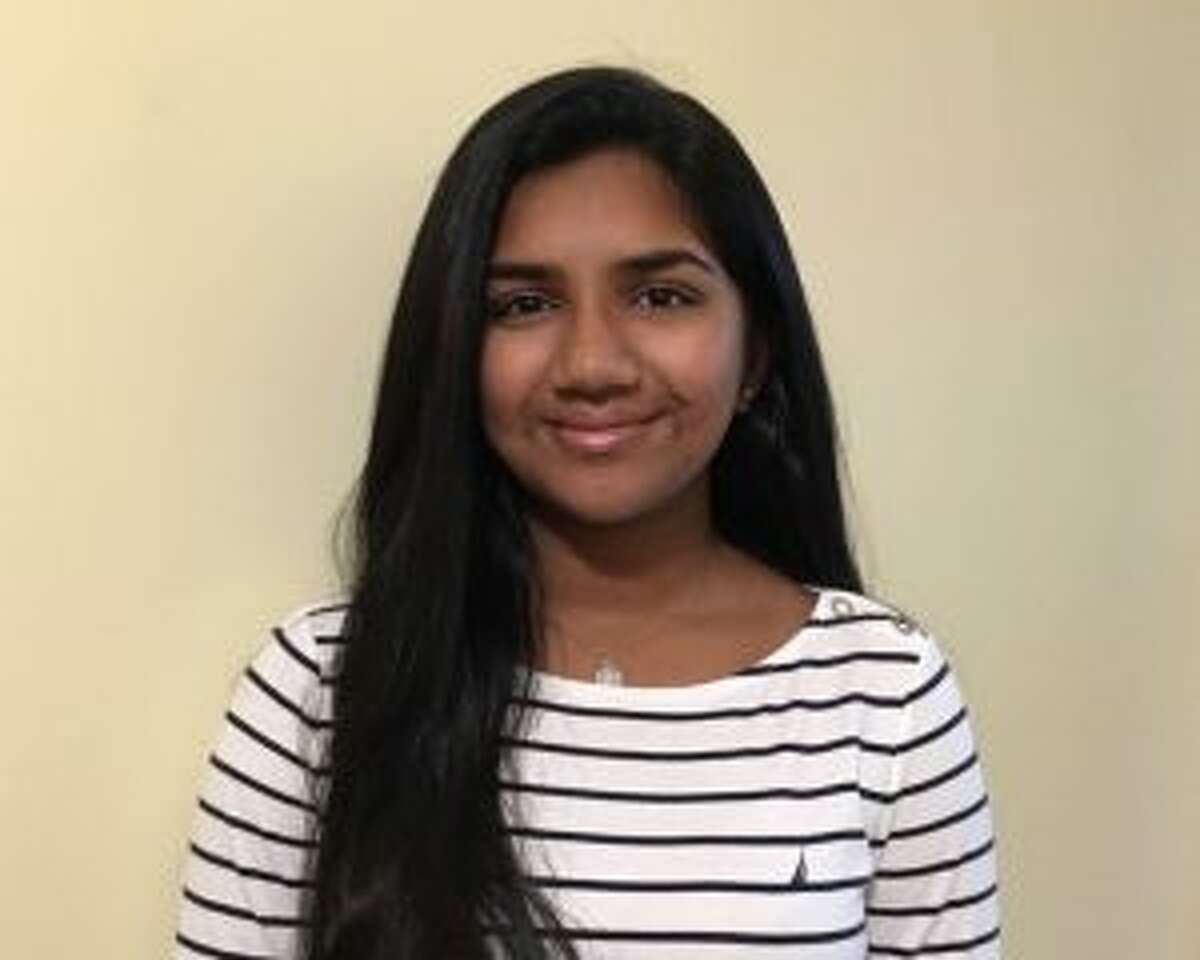 Rachna Vipparla, a 10th-grader at Jonathan Law High School, walked away from the May 4 state Invention Convention at the University of Connecticut with a number of awards for her invention, a device that can detect the use of electronic cigarettes in school bathrooms.
She won the 3M award for the Best Invention Enhancing Businesses, Homes or Lives.
She won the ASM Best Use of Material award.
She won the convention's Recognized Inventor award.
She won the Connecticut Science & Engineering Fair's Spirit of Innovation award, and she won the Women Engineers Recognized Inventor award.
Her invention, NicoSense, is a 3x5-inch device that detects when people are vaping or smoking nicotine based products.
"The polyaniline film detects the nicotine because of the presence of protonated nitrogen atoms," she explained in a presentation about the invention. "These atoms give up a proton when coming in contact with the nicotine and allow the emerging vapor to absorb into the film.
"This process temporarily increases the density of the film and increases the responsivity of it," she added. "When the sensor in the Polymer Polyaniline detects the nicotine, the C.H.I.P computer takes the information from the sensor and utilizes UDP (User Data Protocol) in order to send the signal to the connected device/devices."
The high school student points out that she didn't invent NicoSense to get students in trouble, but to help set them on the right path.
Vaping has become a big problem at high schools across the country, where students are using electronic cigarettes in the bathrooms. Jonathan Law High School even went so far as locking a number of school bathrooms to help monitor the situation.
Milford's Board of Aldermen took a stab at reducing the number of young adults who get hooked on tobacco products, voting unanimously April 1 to raise the age for buying tobacco products in Milford from 18 to 21.
The new city ordinance applies to the sale of cigarettes, tobacco products, electronic nicotine delivery systems and vapor products.
In Rachna's presentation, she said, "There are many unknowns about vaping, including what chemicals make up the vapor and how they affect physical health over the long term."
Jonathan Law High School Principal Fran Thompson said he is very proud of Rachna.
"She is a thoughtful and creative innovator who targets causes aimed at helping those around her," Thompson said. "I look forward to seeing her latest innovation progress and support her good work towards helping not just Jonathan Law but all high and middle schools support students and families in the nationwide problem."
Rachna plans to study neurology in college.
Other Milford winners at the state Invention Convention were:
Praneeth Chitirala, Flying Ozone Filter, Patentability Award ‐ McCormick, Paulding, & Huber, grade 8 at Engineering and Science University Interdistrict Magnet Middle and High School
Harshitha Kothapalli, Mail Alert, CIC Recognized Inventor Award, grade 5, Boys & Girls Club of Milford
Nihitha Kothapalli , PWS Road Power, grade 9 at Jonathan Law High School Best Invention Showing Innovation & Technology - Frank J. Link Family Award, CIC Recognized Inventor Award
Riley Simons, Brace Ace, CIC Recognized Inventor Award, grade 6 at East Shore Middle School
Shriya Vaid, Monsoon Shower, CIC Recognized Inventor Award, grade 5, Milford Education Foundation/Milford Public Library
Quinn Willett, Anti NauSEA Pops, Life Sciences Award ‐ Boehringer Ingelheim Cares Foundation, grade 6 at West Shore Middle School.