This is a carousel. Use Next and Previous buttons to navigate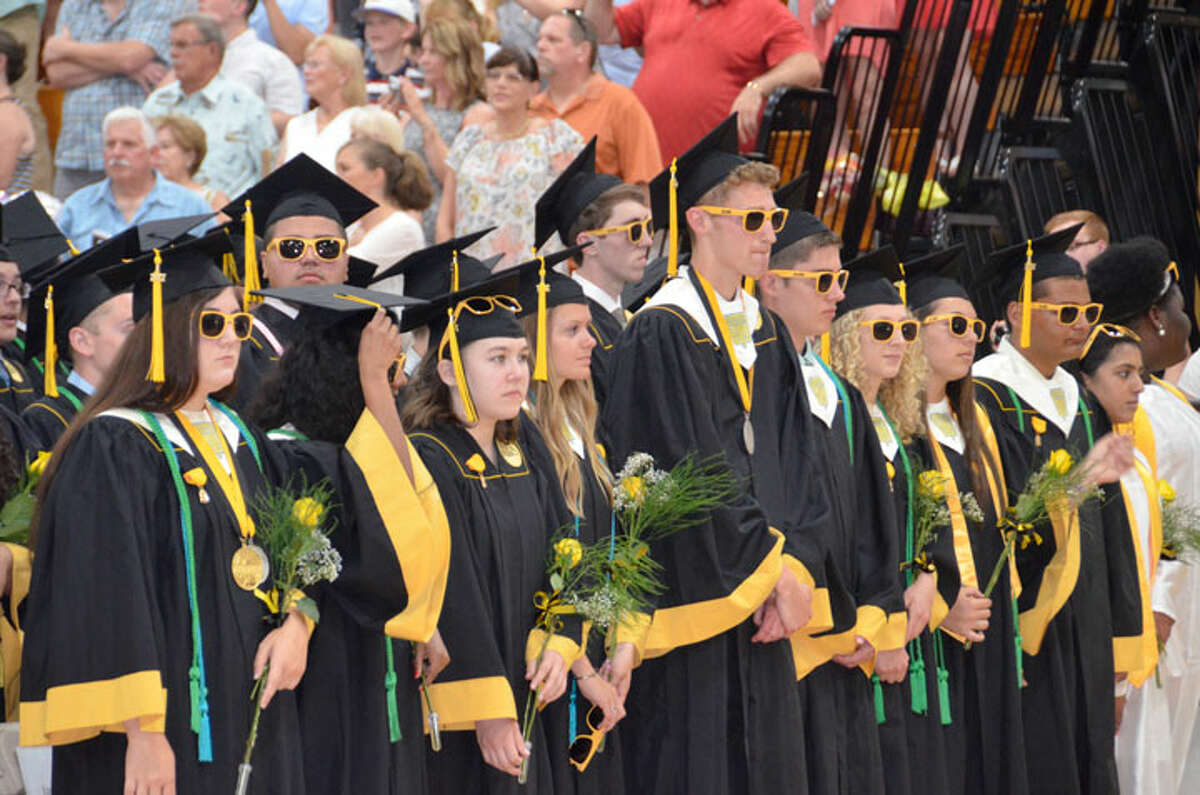 Maren Sanchez was not forgotten on what would have been her high school graduation day.
The young woman who died last April during her junior year, after she was stabbed in a stairwell at the school, was very much a part of the Class of 2015 graduation ceremony Monday night.
Not only did she receive a diploma posthumously, her name was part of nearly every speech, and there were purple balloons and graduates wore purple cords in her memory.
Class Salutatorian Jamie Georgelos stood before her classmates on Monday night and pointed out that the Class of 2015 has experienced things in high school that most students do not.
The murder of their classmate left them wondering "why here, why us, why Maren," Jamie said before touching on the lessons the class learned after experiencing such a loss.
She said they learned resilience when they planted a garden to create life and when they helped organize Peace, Love and Music from Maren, a special event honoring their friend's life and goodness.
Jamie said they learned to have courage, "the courage to mourn loss of life but continue to live it too."
She said they learned to know when it was time to cry, and when it was time, they let themselves cry.
Valedictorian Ming-Yeah Hu touched on the events that drew the students together after Maren's death: A concert at their school by the band Great Big World; a trip to Quassy Amusement Park courtesy of local police officers; and the Peace, Love and Music event in Maren's memory.
She urged her fellow classmates not to rush through the journey of life, but to enjoy the pieces they are in at the moment.
Principal Fran Thompson told the class that their journey through high school taught them about love and loss.
He recalled the words of a minister at a memorial service just the day before for a junior, Laura Gonzalez, who died unexpectedly last week.
And he talked about the anguish he felt after Maren was killed last year.
He said that when he emerged from his grief, and when others at the school did the same, they became more aware of their own humanity.
When graduates were called to the podium Monday night, each called by name individually, Maren's name was called too. Students let go of purple balloons at the sound of her name, and the crowd of family and friends seated in the bleachers stood and applauded as the balloons soared skyward and classmates Phoebe Herbert and Evelyn Castro stepped forward to accept Maren's diploma.
Finally, Class President Sofya Calvin drew the graduation ceremony to a close, speaking of Maren in terms of the butterfly effect, the theory that tiny actions have a ripple affect and can create big changes.
"Maren lived her life to the absolute fullest," Sofya said, adding that Maren epitomized the notion that "there is no such thing as a small act of kindness."
"It's been a journey to say the least," she said, and then she reminded her class that all the little acts of kindness they perform in their lives go a long way.