This is a carousel. Use Next and Previous buttons to navigate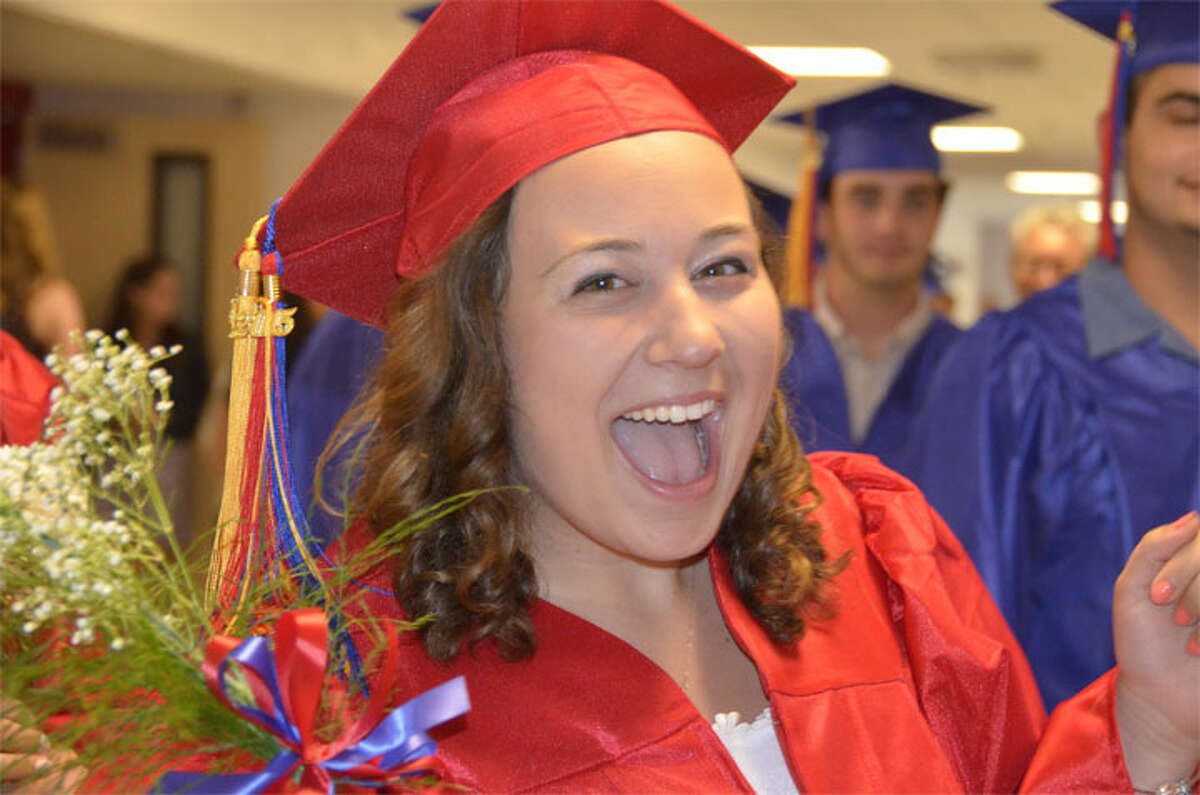 Foran High School's Valedictorian Annie Jin quoted the Harry Potter books when she addressed her classmates at graduation Tuesday night: "Working hard is important," she said. "But there is something that matters even more. Believing in yourself."
Annie, who was number one in her class and has been accepted into a selective eight-year medical program, offered that advice to her Foran friends with a touch of humor.
Telling them she does not consider herself a temple of wisdom, she pulled together the following advice: "You can't buy happiness, but you can buy donuts," she said.
"Get some sleep," she offered as her next bit of advice.
And third, she gave them Harry Potter's words on believing in themselves.
To sum up, she said, "Believe in yourself, get some sleep and eat lots of donuts."
Annie is the daughter of Mr. and Mrs. Feng Jin, and it was while volunteering at Milford Hospital during her high school years that her interest in medicine was sparked, School Supt. Dr. Elizabeth Feser said during graduation at Foran Tuesday.
Annie became an intern for Dr. Joshua Gendron at Yale University, where she studied the molecular mechanisms of circadian gene expression and worked with U-box proteins.
Annie will attend the University of Connecticut, where she has been admitted to a selective eight-year medical program, the same program that this year's top two students at Jonathan Law High School plan to attend.
"This highly selective program accepted only 17 students of the approximately 500 applications submitted this year," Dr. Feser said. "While working on her undergraduate program, Annie will be mentored by the School of Medicine through special seminars and health profession events. It is a unique and highly competitive program offered to only a small group of exceptional students."
School Principal Max Berkowitz told the 230 students wearing caps and gowns in the gym at Foran High School Tuesday that graduation marks the arrival of their new day.
"This new day belongs to you and the best is yet to come," he said.
Class President Tyler Porcello also spoke, telling classmates that now is the time to start seeking their purpose in the world.
When class salutatorian Kyle Lockwood took the podium, he offered students three tips, which he described as "a formula for success." He told them to work hard, not to fear stepping outside their comfort zone, to pursue their passion, and to be kind.