This is a carousel. Use Next and Previous buttons to navigate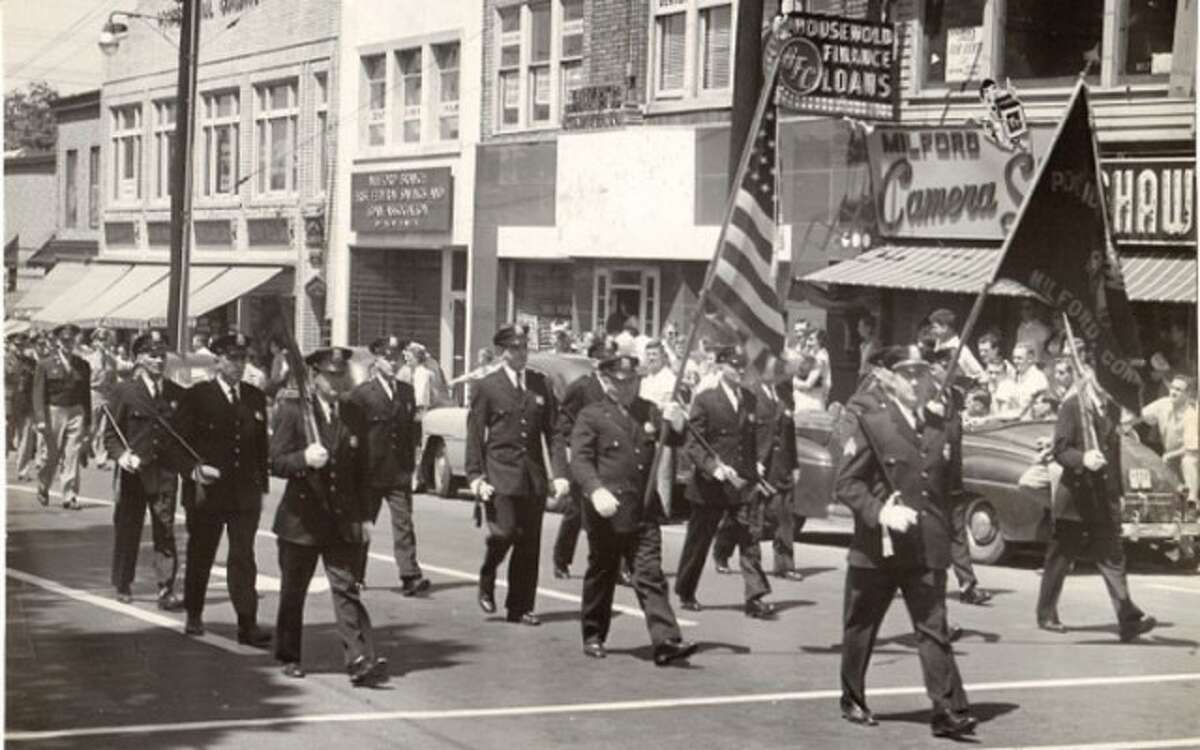 In April, Milford Police Department will mark 100 years of protecting and serving the city.
For folks who think TV and news have taught them plenty about policing, let's see what you really know about Milford's finest. Try these eight easy questions about Milford Police Department history.
Question 1: By the 1800s, Milford, like many other colonies, relied for law enforcement on:
a) Police explorers
b) Large-boned single women
c) Volunteer watchmen and constables
d) Guardian angels
Congratulations if you picked answer c) volunteer watchmen and constables. These volunteer watchmen and constables, modeled after the English structure, were the colonists' first efforts at safety and security. According to The Law Enforcement Museum Insider, volunteer constables like those in early Milford "maintained public health and sanitation, and brought suspects and witnesses to court."
But as Milford grew and changed through the 1880s, it was reported that the community recognized the need for a different kind of policing.
Question 2: What happened in Milford in April 1870 to precipitate calls for a different style of policing?
a) Wanda's Sugar Shack was robbed
b) Days of street fighting and vandalism broke out that had to be quelled by five militia companies, plus police from New Haven
c) A naked man streaked down Broad Street one Sunday
d) Five pints of beer were stolen from Jake's
The correct answer is b). It's true that the governor ordered troops to Milford in April 1870 to disperse rowdy and destructive gangs, or "toughs" as The History of Milford called them. By then, major cities like Boston, Philadelphia and New York already had established police departments, and sometime later Milford would join them. But for a number of years, part-time constables patrolled Milford and tried to keep the peace.
Question 3: In April 1915, an act of what authorized Milford to organize a formal police department?
a) God
b) The Board of Aldermen
c) The Connecticut General Assembly
d) Congress
The correct answer is c) the Connecticut General Assembly, which in April 1915 passed legislation authorizing Milford to create a Board of Police Commissioners. The legislation also authorized the police commissioners to appoint a superintendent of police and the number of police officers the city deemed necessary.
Question 4: Who was Milford's first police chief?
a) James Maher
b) John Fowler
c) Fred Rogers
d) Joel Baldwin
If you guessed the first chief was answer a) James Maher, you are correct. The newly appointed Milford Board of Police Commissioners appointed Maher as the first police chief and, with him, six paid officers. The department budget for the 1915-16 fiscal year was $5,700 with an extra $580 for equipment. Chief Maher served from 1915-1931, succeeded over the years by eight subsequent chiefs.
Question 5: Who was the longest serving Milford Police Chief?
a) Keith Mello
b) Thomas Flaherty
c) William Bull
d) Charles McGruff
With 18 years atop the Milford Police Department, b) Thomas Flaherty is the correct answer. Like his predecessors, Flaherty was a career officer who rose through the ranks to the leadership post. The department has emphasized professional development over the years, and has placed its investigators on numerous state and federal law enforcement task forces.
Question 6: Who was the first Milford Police Department plainclothes officer?
a) Tony Vitti
b) Charles Clousseau
c) Van Morrison
d) Henry Gallbronner
Answer d) Henry Gallbronner is correct. Reflecting a growing emphasis at the time on specialized investigative techniques, the Milford Police Department appointed Gallbronner as the first plainclothes officer and, in 1946, the department's first captain of detectives. Nine years earlier, the department had moved into its new headquarters at 14 West River Street.
The West River Street headquarters, which is now the Superior Court building, then housed detectives like Gallbronner upstairs, with the front desk and booking area on the ground floor. In July 1979, the department moved to its current location at 430 Boston Post Road, at a total reported cost of $3.6 million for the building, equipment and technology.
Throughout the years, the Milford Police Department has worked to enhance its ability to prevent and fight crime, and to protect the community. Advanced training and education were encouraged. Sophisticated investigative techniques were adopted. The department created its first SCUBA Team in 1970, and its initial SWAT team in 1972.
Question 7: When did the Milford Police Department acquire its first police dog?
a) 1915
b) 1955
c) 1962
d) 2001
If you picked answer c), good job. The first canine joined the Milford Police Department in 1962, according to the police department website. While canines, SCUBA and SWAT teams are now common in police departments, the fact that Milford has maintained its own state-certified Police Training Academy since 1972 distinguishes the department from most others in Connecticut.
Today, the Milford Police Department operates on a budget of nearly $12 million. Chief Keith Mello and his command staff supervise 131 full-time personnel, including 116 sworn officers. This brings us to the last question.
Question 8: How many calls for service does the Milford Police Department handle annually?
a) 20,201
b) 4,900
c) 48,000
d) 10,306
Think big here. The correct answer is c) 48,000, according to public records. To put it in perspective, Milford has approximately 53,000 residents.
And one of the most recognizable residents joins many others who appreciate the Milford Police Department.
"For 100 years, Milford has been blessed with police officers who are committed to our community," Mayor Ben Blake said. "Chief Mello and the entire department continue to maintain the highest standards of professionalism and integrity."
Chief Mello said the 100 year anniversary of the police department should cause the city to reflect on the honorable tradition of the agency.
"It is a time to remember the contributions that so many men and women have made to this community and to the law enforcement profession," Mello said. "I am proud of those that came before us and helped shape this organization into the finest police department in the State of Connecticut.
"At the same time, we should honor the families of the officers who shared their loved ones with this department, spending many holidays, birthdays and nights alone, while these officers protected our community. We especially remember Officer Danny Wasson, who was shot and killed in the line of duty on April 12, 1987."