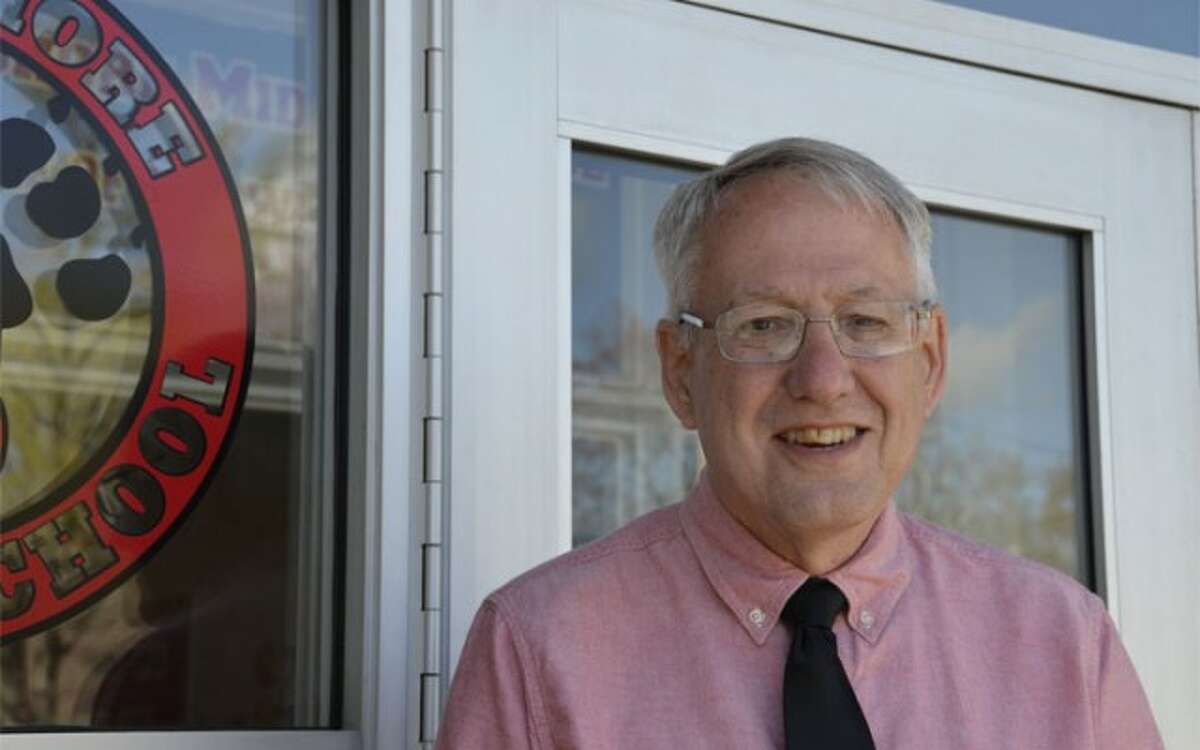 The Milford PTA Council honored Thomas Finn, assistant principal at West Shore Middle School, last week with a Lifetime Achievement Award for his contributions to education in Milford.
The council presented the award at the PTA Council meeting on Thursday, April 23.
Finn is retiring after 46 years in the Milford school system.
"I am very pleased to recommend Thomas Finn for this PTA award," Julie Fisher, language arts teacher at West Shore Middle School, wrote in a letter to the PTA.
"He has been an extraordinary teacher and administrator in the Milford school system for the past 47 years," Fisher wrote. "He is an exciting instructional leader, a competent team leader, and he has an enormous will to serve the community. In short, he has been a valuable member of the Milford community."
Fisher explained that Finn's co-workers view him as "an amazingly supportive colleague and an excellent administrator."
"He has always had an open door policy and is well respected for his calm demeanor and receptive listening skills," Fisher wrote. "He has been at the forefront of the 'Make Your Day Program.'  This positive behavioral support initiative assures students that 'no one has the right to interfere with the safety, learning, and well-being of others'."
Finn's problem solving skills are second to none, teachers and staff say.
"He has the innate ability to diffuse the most complex situations, instills people with a sense of trust, and then relentlessly encourages them to achieve their best," Fisher wrote. "It is important to note, that past students are constantly updating Mr. Finn on their academic and personal accomplishments.  They recognize that he has been a pivotal part of their lives and are appreciative that he took the time to support them."
During his years at West Shore Middle School, Finn has been known to model an invaluable history lesson, perform in parodies that promote school spirit, and take a pie in the face to raise money for a charitable cause, all in one day.
Fisher isn't the only one who heaped praise on Finn as he prepares to retire. She passed along comments from students also pointing out the good nature of the school administrator.
"For the past three years we have been greeted by Mr. Finn every morning at school, always with a smile on his face," one student wrote. "He has a great sense of humor and he is very kind. We will miss him."
"Mr. Finn is cool," another student wrote of him. "Everyone loves Mr. Finn."
"Mr. Finn was there for me in the eighth grade when I really needed him," another student noted.
And a former student wrote this: "Mr. Finn was my seventh and eighth grade social studies teacher.  He was a great teacher — funny and interesting, he made history come to life.   He connected with every student on their own level.  His calm demeanor and laid back attitude made him approachable.  He never yelled, but he commanded respect.  You did not act out in his class.  He was always one of my favorite teachers.
"Thirty years after I had him, I met him again at West Shore when my oldest daughter went there.  To my surprise not only did he recognize me but he also remembered many stories about me — it is a story that many of my friends whose children go to West Shore tell as well. Getting to know him as vice principal, he has not changed.   Students still love him and feel like they can go to him with their problems and know that Mr. Finn will take them seriously and do whatever he can to make things better for them."
Finn has spent his life working in the Milford school system, all in the Devon area — Simon Lake School as a teacher, Pumpkin Delight as a teacher, and West Shore as a teacher and assistant principal. He's spent the last 13 years or so as an administrator.
Finn said he always wanted to be a teacher, and that he was inspired by teachers he had as a student at Jonathan Law High School.
"I always loved history and I had three great teachers when I went to Jonathan Law — Mr. Bristol, Mr. Carberry  and Mr. Cox," Finn said.
He grew up in Devon on Granville Avenue, went to Lenox Avenue School, which is now the Margaret Egan Center, and Jonathan Law High School.
Finn said he hasn't really decided what he will do when he retires at the end of the school year, and he said he is grateful for a career here in education.
"I feel very lucky to have taught a great bunch of kids," Finn said.