This is a carousel. Use Next and Previous buttons to navigate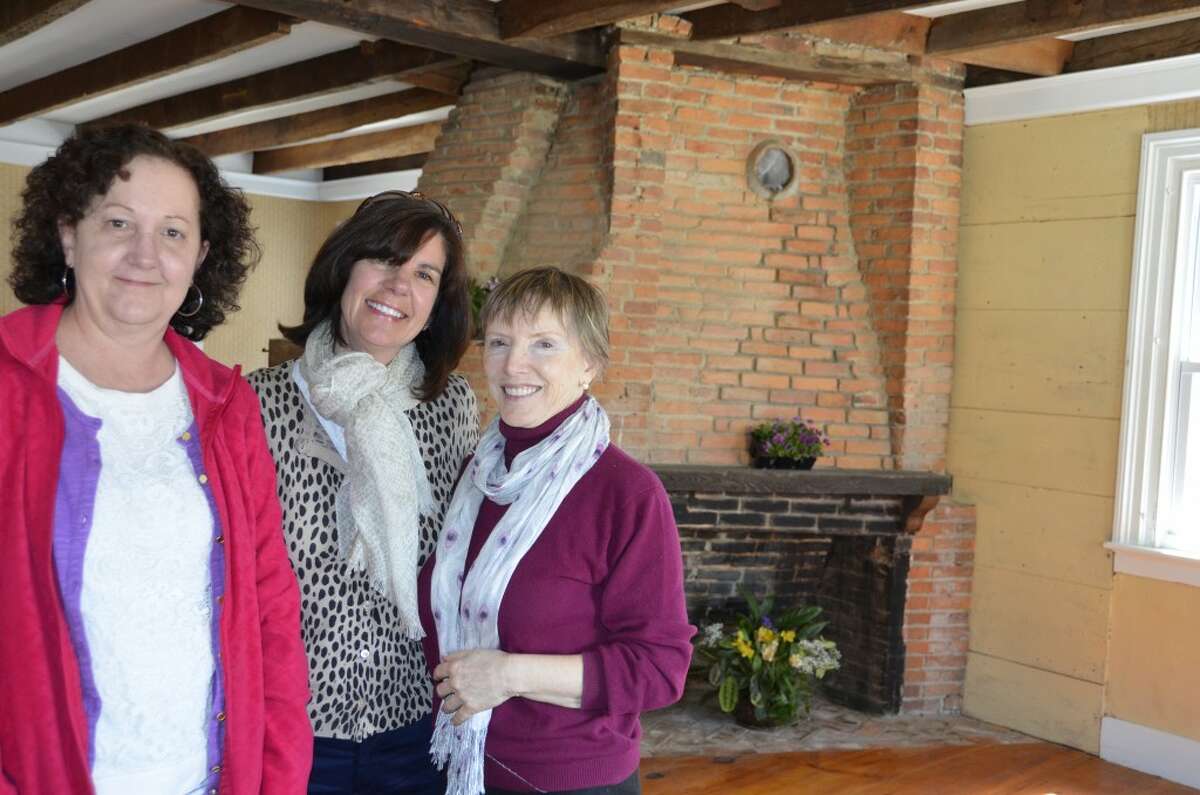 Lesley Mills has done it again. She bought an historic city house that preservationists feared might be destroyed and saved it for future generations to see.
The Anthony Stow house at 234 Gulf Street is one of five remaining houses that local historians say are unique to Milford: They are Dutch half-gambrel saltboxes.
"This style, while not unique, is nevertheless distinctive to Milford. Apparently some carpenters from the New York area came up this way and exchanged ideas with the local English carpenters," said Former City Historian Richard Platt.
The five houses include 234 Gulf Street, the Sanford Bristol house on North Street; the Durand house next to the First Baptist Church downtown; the Jonas Clark house on Buick Avenue and the Coggeshall/Elizabeth Sanford Pond house at 330 Gulf Street.
There used to be a sixth house of the same style, the Elijah Bryan house at 250 Gulf Street, but it was recently demolished.
The house at 234 Gulf Street was bank owned until Mills bought it, and local preservationists had been keeping an eye on it for a while, especially as the sixth of the remaining unique houses was demolished several months ago.
Mills stepped in a little more than a year ago when the owner of the Sanford Bristol house on North Street planned to level it and construct a modern version of the structure in its place.
She bought the house sight unseen and is renovating it.
When she heard that the house at 250 Gulf Street was slated for demolition she tried to jump in and save that one too: She has a passion for old houses. But she wasn't able to save the structure from demolition, despite offering to buy it from the owner.
It was when she was driving to look at the house at 250 Gulf Street that she drove by number 234 Gulf Street, and spotting its historic architecture and unique 'witches hat' dormer, she thought it was the house that everyone was so worried about.
City officials date the house to 1790, similar to the Sanford Bristol house. Mills said, however, that it looks like the Sanford Bristol house may date back to 1750 or 1760. Renovations are going "slowly" on North Street, she said, mostly addressing foundation and support beam issues. "We're determined to get it done," Mills said.
While the Sanford Bristol house needed a lot of work, the house at 234 didn't need so much. There were some chimney issues, boiler work to be addressed, and a tree had to be cut down.
Mills paid $200,000 for the house and it is now rented. Eventually she hopes to break even on the purchase.
"For me it's a passion," Mills said.
Mills, who owns Connecticut-based Griswold Home Care, compared the mission to restore old houses to her mission as a business owner. Her business provides care for elderly people. And she said caring for old homes is similar to caring for the elderly.
"For both, the cost to society is qualitative and quantitative," she said. "In the case of older people, we risk losing their personal perspectives on history and the lessons they teach.
"We also pay a price by marginalizing old homes in search of McMansions and a maintenance-free lifestyle," she added. "Not all old homes are beautiful, but what would our Connecticut be without the charm of our aesthetically pleasing old architecture?"
Mills said she likes to set an example that people can save old houses without losing their shirts: "It's not an economic doomsday to do it," she said. "This can be done. These houses can be saved and rented."
Michele Kramer, president of the Milford Preservation Trust, said what Mills is doing is the ultimate in recycling.
Kramer said she felt "gratitude and relief" when Mills told her she planned to buy the house, praising Mills as a "successful, savvy businesswoman who knows that historic preservation makes good economic sense."
Regina Cahill, vice president of the Milford Preservation Trust, agreed. "This is the kind of house people fall in love with. It has a charm you can't build these days."
The house has six fireplaces, three bedrooms and two bathrooms. It boasts a parlor with a fireplace and hand stenciling on plaster walls, pine floors and exposed beams; a two-sided fireplace in the living room, where wide wood planks line the floor. Mills pointed to square head nails used to set the flooring in place, and she pointed to the post and beam construction used above.
"It's an oldie but a goody," Mills said.
Richard Platt toured the Anthony Stow house with his wife, Jane, recently, and he said he's very happy the house will be preserved.
Milford history references an Anthony Stow or Stowe who was born Feb. 8, 1775 and died March 29, 1847, and Platt said it would appear this is the Stow who once owned the Gulf Street house. Milford history accounts say he was the son of Stephen Stowe, Jr. and Mary Stowe; husband of Sarah Stow; father of Mary Stowe, Esther Stow, Elijah Bryan Stowe, Abigail Stowe, Anthony Stowe and four others; and brother of Mary Davidson, Abigail Stow and Stephen Stowe.
The Milford Historical Society has a mirror that was a wedding present given by Capt. Anthony Stow to his bride Sarah Bryan on Oct. 22, 1800. "The Federal period (1781-1800) looking glass has a pediment with 15 acorns – one for each state (dating to about 1797) and gilded molded sides with gesso," according to a historical society document.