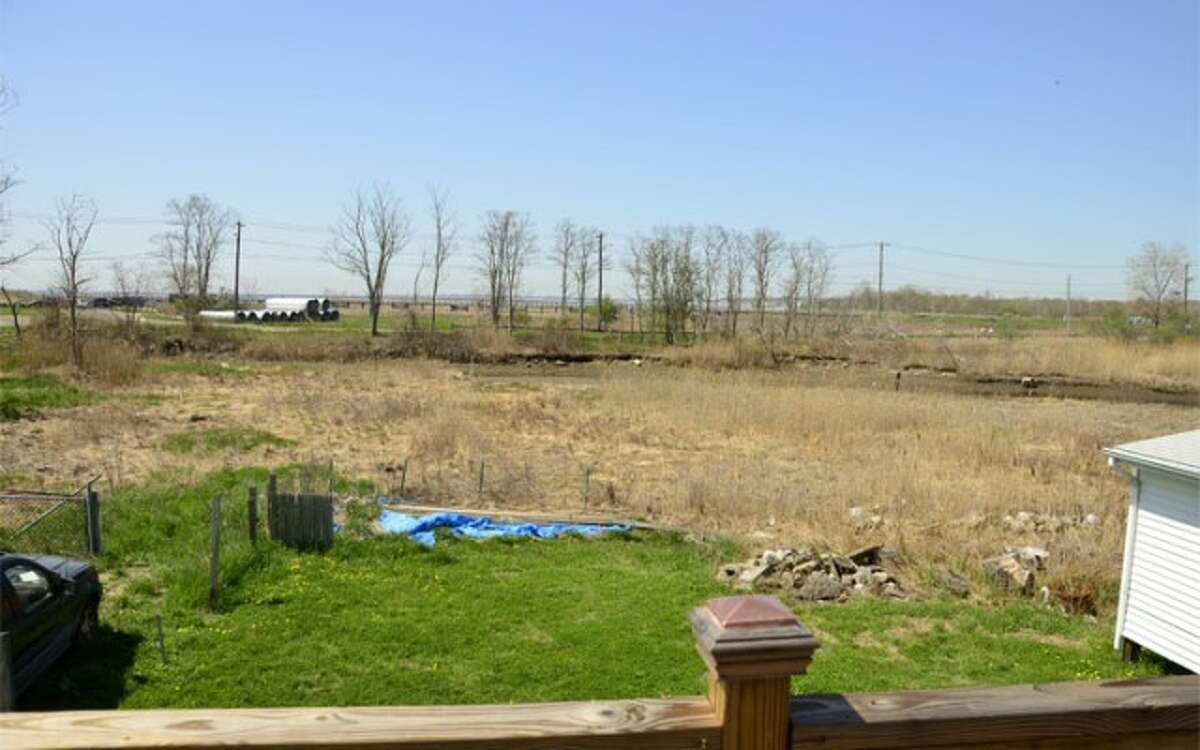 When Thomas Rea was required to elevate his shoreline home after Hurricane Sandy, he was surprised and not too happy to learn that his taxes would go up due to new views the additional height brought.
The property field card from the assessor's office that details the assessment of his property has new letters and numbers on it. The letters, "PMV" stand for "partial marsh views," and there is a "+20%" next to the "PMV."
This means that the assessment on his land on Pearl Street in the Silver Sands Beach area increased 20% because of those partial marsh views.
Rea says his view hasn't changed much since elevating his home — something the government told him he had to do, he points out. From his back deck he can still see some of Silver Sands State Park, the adjacent marsh, and a neighbor's yard that is filled with cars, car parts and various debris.
Still, the elevation and its corresponding view means he will have to pay $351 in view tax that he didn't pay before.
Rea was surprised when he got a letter telling him about the view tax.
"With everything we went through, I don't think it's fair," Rea said.
Rea's house, along with others in the area, was slammed by Hurricane Sandy in 2012, and Irene before that, and rendered unlivable. Rea was told his house suffered more than 53% damage, so in order to get the permits to fix the storm damage and move back in, he had to first pay to elevate his home.
He rented a house in West Haven for more than a year as he worked through paperwork and then borrowed money to fix his house: He now has a mortgage, which he didn't have before. He finally moved back in last January.
He wasn't expecting a higher property assessment after all was said and done.
"If they want to balance the budget," Rea said, "I don't want them to do it on the backs of the storm victims."
Added value
Milford residents have been paying more for nice views for years. In 2006, with revaluation, people along the shoreline braced for substantial tax increases because the sales prices for properties along the shore increased proportionately more than those of homes inland. The revaluation reflected that market swing, adding to the assessments of homes on the shoreline.
"We add value to land for a view," said City Assessor Daniel Thomas. "We add as much as 50% for a clear, unobstructed view of the water."
The increase, however, applies only to the appraisal and assessment of the land, not the improvements on it, so in most cases, that hike might apply only to one-third of the property tax assessment.
It's all about the "views, views, views," Thomas said, quoting real estate ads for shoreline properties. Views do indeed increase the value of a home, he said, and one real estate agent confirmed that views can add 30% to the overall value of a property.
Thomas said the city tracked 50 properties, and view "clearly had an impact" on the sales price.
In Rea's case, his land was assessed at $78,850 before Sandy. After Sandy the city assessor's office took into account that the area was devastated by the storm and lowered that to $64,510 in 2013. That was for the land only. At the same time the house went from an assessment of $101,940 to $94,210, according to city records.
In 2014, after Rea repaired and elevated his house, his land assessment went from $64,510 to $77,410. It's lower than it was in 2012, but that is because the assessor's office is still taking into account the fact that Silver Sands is in transition following the storm.
"It works both ways," Thomas said, explaining that some conditions will lead the city to lower the assessment, and therefore lower the amount of taxes that can be collected from a property owner.
The house, with its new windows and new siding — plus an additional bathroom — jumped from an assessment of $94,210 to $136,070 after it was elevated, and that's even substantially higher than the pre-storm assessment of $101,940.
The jump is based on the structural improvements. But again, Rea questions the hike: "I had to replace the windows. The other ones had been under water," he said.
So what did the storm and the needed repairs do to Rea's tax bill? Bear in mind that the mill rate changes each year, but using the current mill rate of 27.22, the taxes on 18 Pearl Street go from $4,921 based on 2012 figures to $4,320 based on the 2013 assessment, to $5,810 based on the current assessment.
That means that post-Sandy, taking into account new views and new construction required to bring his home into compliance, Rea will pay about $1,000 more in taxes than he did before the storm, more if you consider that the mill rate was lower pre-Sandy.
More to come
With many homes in Milford still in the process of being elevated, there are more people who, like Rea, will find themselves with higher tax bills, and some will see a view tax they didn't see before.
The city assessor estimates that one-third to one-half of the properties that do not stand right on the shore but had to elevate will see a new view tax. It all depends on the view: If the house next door also elevated, blocking a potential view, then there would be no new assessment for the scenery.
"We're pretty careful about how we apply it," Thomas said.
The properties on the water already paid more for their view, he said.
"Some assessors are afraid of applying it, but I haven't shied away from it," Thomas said. "It might feel like you're being penalized, but when an appraiser comes out if you're going to sell, you point to the view."
Paying for a view
The Internet is full of news articles about people in other regions lamenting their view tax, some paying a premium for mountain or other scenes they can see from their houses.
A 2010 CNN article by Cindy Perman advises people that if they buy a house near a golf course, that could impact the fair market value of their property.
"The location of your land is an important component of your home's valuation and taxes," the article states. "If you live close to town or a pretty lake, that's going to mean higher taxes. Pay attention to local construction. In the same way that construction of a new highway or chemical plant close to a home can dent its value, the addition of a golf course, lake or other amenity can boost the value of a home — and the tax bill."
Another expert quoted in the article pointed out that property values "are a double-edged sword" because people want their property values to go up, but they don't want their taxes to go up accordingly.
And according to a 1987 New York Times article by Richard D. Lyons, in 1986, when Burlington, Conn., residents complained about paying a view tax for their homes that sit atop a mountain, town officials insisted they were within their rights in adding the surcharges because pleasant views and fancy architecture add to property values.
Nothing new
In Milford, Thomas said, he's never specifically called it a "view tax," but he said it can be called that. Simply, "properties are assessed on their fair market value. If having two baths makes a property worth more than one bath, I as the assessor am obligated to recognize this. If it is a fact that views add value — and I don't believe there is any convincing argument that they don't — then I am obligated by law to assess."
In general, properties are reassessed every five years. But the law requires that the city reassess when the property physically changes; the law requires that assessors be copied on every certificate of occupancy that the building department issues, meaning the assessor's office knows when substantial improvements have been completed.
The view tax is nothing new, Thomas said.
"If a certain property tax is based on value, market value, and a view adds to that value, then I would suggest that folks have been paying tax on their views for a long time, whether it was called that or not," he said.
However, homeowners who are elevating their homes seem surprised by it.
"I am in the process of having my house raised," said a Melba Street resident. "Because I am using grant money, I have to live in the house for five years in order for the grant/loan to be forgiven. Do you mean that I will be penalized with higher taxes for coming into compliance with mandated FEMA [Federal Emergency Management Agency] regulations?  If that is so, the sooner I get out of Milford, the better."
A Hillside Avenue resident said her taxes did not increase, but her view didn't change. Still, she said she doesn't like the idea of other people's property taxes increasing after the homeowner worked to meet FEMA regulations.
"Many of us have already gone through and paid for variances for having to elevate," she said. "My water view hasn't changed, but if others are taxed, I'll fight that absurdity right along with them.
"Reprehensible," she added.
Right to appeal
Of course residents have the right to appeal their assessment.
There are three general methods of appeal, Thomas explained.
The first is an informal meeting with the assessor to discuss the assessment, review the information that it's based on and determine whether it is fair and equitable. This may also involve a visit to the property.
"This is usually deemed the best option because you are dealing with the individual responsible for the assessment and therefore the one best capable of dealing with the issues," Thomas said.
If not satisfied with the review by the assessor, a property owner may appeal to the Board of Assessment Appeals. They meet once a year, usually in March, to hear real estate assessment appeals. The filing period for application to meet with the Board of Assessment Appeals is Feb. 1 through Feb. 20 of each year.
Finally, if dissatisfied with the board's review, a property owner may appeal to Superior Court for remedy.
"In all instances, the fair market value of the property should be the overriding consideration," Thomas said.