This is a carousel. Use Next and Previous buttons to navigate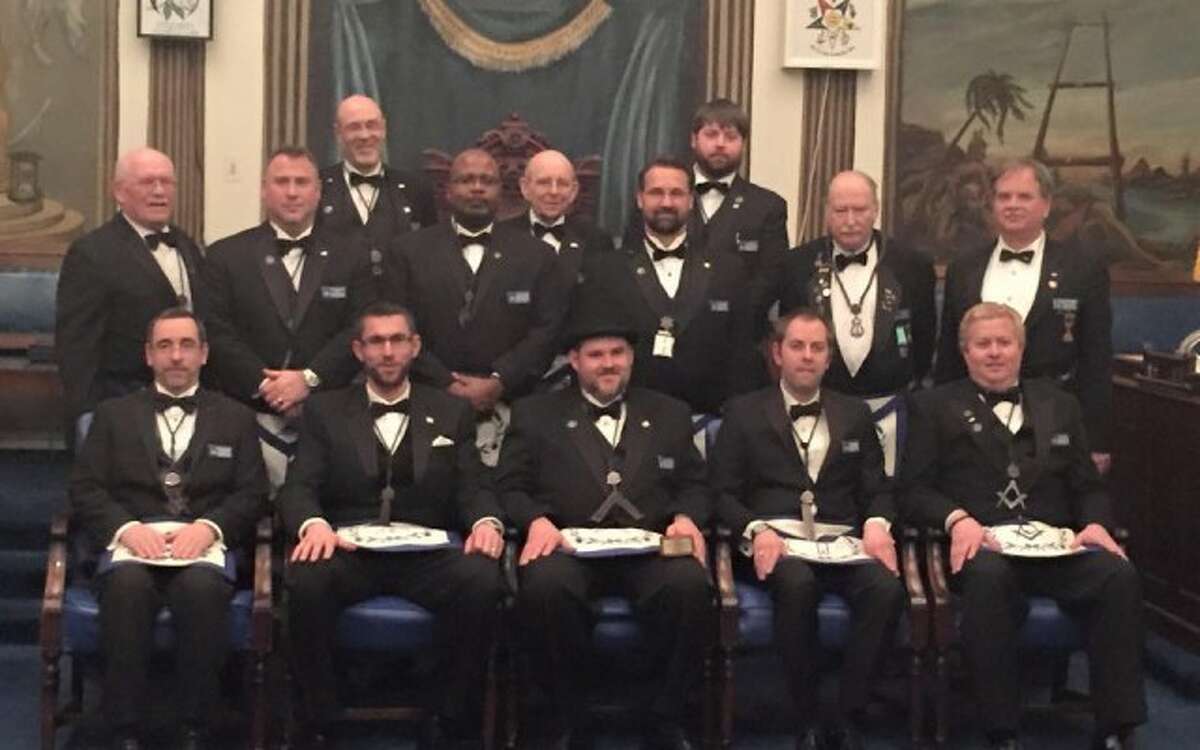 Amid the floats, flags and revelry of last week's Saint Patrick's Day were marchers representing the oldest fraternal organization in the world, the Masons.
Members of Ansantawae Masonic Lodge #89 of Milford, in their formal attire, were a bit understated on parade day. But they proudly represented an organization with its origins in the Middle Ages and a mission today focused on building character and giving back to the community.
"We take good men and make them better," said Jesse Batterton, whose leadership title in the Masons is Worshipful Master, the equivalent of a president in other civic groups.
And in addition to building the character of its members, the Masons also give generously to the community. By their own estimate, Masons worldwide give more than $1 billion annually to charitable pursuits, at least $750 million each year in the United States.
Yet as expansive as the Masons' philanthropy are the misconceptions about the group. The fact that some of this misinformation has migrated from local gossip into public sources enhances some of the mystery surrounding the organization.
"We are not a religion; we're not a secret society," explained Batterton in addressing two predominant misconceptions. In terms of character building and philanthropy, he said, "We simply do what we do quietly."
While the lodge building is called a temple and there is, in fact, a portable altar inside, Batterton said the only religious requirement for Masonic membership is a belief in a "Supreme Being." And while there are a series of distinctive words and handshake grips exchanged only among Masons, its members talk openly about the organization's origins and work.
As its name implies, the Masons grew from independent associations of stone masons in the Middle Ages, charged then with regulating the qualifications of stone masons as well as their interactions with authorities and with their clients. Many visible Masonic symbols date back to the trade: The distinguishing aprons that members wear in meetings, and the mason's compass and square that grace the official symbol. The 'G' that appears in the center of the compass and square, Batterton said, stands for 'geometry', the abiding principle of the mason's trade.
"We take the tools of the builders' trade and use them in symbolic ways to teach men to live their lives better," Batterton said.
"Membership is an act of free will," he explained. "A man must ask for the opportunity, and the vote to accept him must be unanimous." Potential members must be at least 18-years-old, be of sound moral character, and express a belief in a Supreme Being. Candidates are progressively initiated and, true to its roots as a male fraternal organization, there are no female members.
The Masons long ago opened its membership to men of all occupations. While generally a low-key group, some Masons are household names. Winston Churchill, Wolfgang Mozart, Davy Crockett, Franklin Delano Roosevelt, and Harry Houdini all were Masons. The founder of Wendy's, Dave Thomas, was a Mason. So were 14 United States Presidents, including George Washington, who took his oath of office on a Masonic bible.
Milford's group
Today, Ansantawae Lodge #89 in Milford has approximately 500 members. Since 1878, it has been housed at the corner of Depot and Broad streets, on a plot the Masons purchased for $1,000. Al Brown, a Mason for 46 years and a de-facto historian for the group, said that before Masons completed their building, the Ansantawae Lodge met at various locations after it was initially chartered in 1859.
Membership-wise, Brown said the Ansantawae Lodge #89 is the largest in Connecticut. There are 13,000 Masons in Connecticut. Most are deeply involved in local, regional and national philanthropic causes. For example, Masons in Connecticut built and funded Masonicare in Wallingford, which encompasses the Masonic Geriatric Care Facility.
Locally, the Ansantawae Lodge supports the CT CHIP child identification program, which is sponsored by the Connecticut Grand Lodge. The Lodge organizes and sponsors an annual Toys for Tots breakfast, a Special Olympics bowling night, and other events for Scouts. In addition, Ansantawae Lodge #89 sponsors the Order of the Rainbow for girls, and the Order of DeMolay, a separate leadership organization for young men.
With his long history as a Mason, Brown praised the positive impact the organization has had on him throughout the years.
"This group made me a more outgoing person, and much more comfortable speaking in public. Being a Mason has been one of the most rewarding experiences of my life. I wouldn't be the man I am today without this fraternity," Brown said.
Additional information about the Masons is available by e-mailing wm@ansantawae89.org.