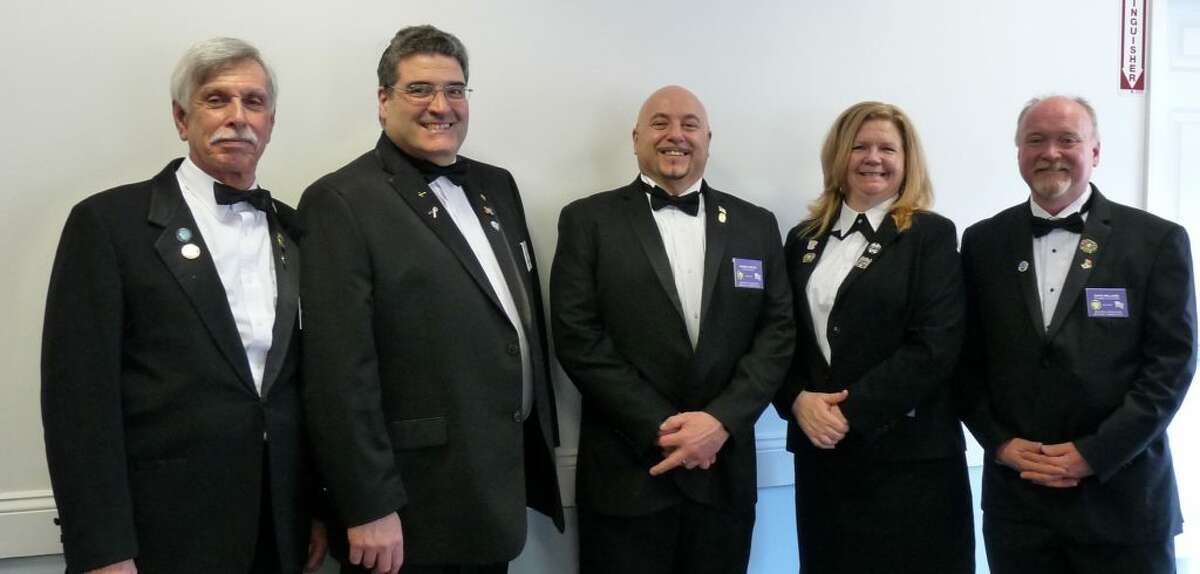 The Milford Elks' Lodge #1589 has announced the installation of its new slate of officers for the term 2019-2020.
Exalted Ruler Rob Muoio will be returning for a second term this year. "We have made significant progress this past year in revitalizing our Lodge," Muoio stated. "It is my pleasure to return for another year to continue the progress we have made toward improving our morale, our facilities, and our relationship with the community. We've had quite an influx of new members, and we followed through on upgrades to the lodge we had planned for this year, with still more to come."
The lodge's newly minted Leading Knight Sue Bernor is the wife of Past Exalted Ruler Ray Bernor, who served during the 2017-2018 lodge year. "I've learned a lot from being alongside Ray during his term, and I'm ready to step in and do my part," Bernor said. "I really have a heart for community service. I've been helping to develop the partnership we have with Milford Food2Kids, and we had a very successful drive last year. I'm looking forward to doing more with them, as well as exploring other opportunities to serve the community this year as well."
Dave Williams, who served as lecturing knight last year, moves up the ranks to loyal knight for this year. He also serves as chair of the activities committee. "It's been great to participate in many of the wonderful projects and events we've been having," he said. "We will continue to have our hoop and soccer shoots, as well as participating in the Milford community with our Flag Day ceremony, marching in the parades, and serving food and beverages at the Oyster Festival. We will also continue to plan other fun and productive events, some exclusively for our members and their guests, as well as others for the general public to enjoy also."
Lodge Public Relations Chairman Al Pinto will step in to fill the vacancy left by Williams in the lecturing knight position. He will also continue to serve as PR chair. "Our PR Committee is just fantastic," Pinto said. "Our website has been totally revamped and updated. We have introduced digital signage in our tap room to keep members and guests informed as to upcoming events. Most importantly, we held an open house this past September to encourage the public to find out more about us, and perhaps entice them to join us and find out how fulfilling as well as just plain fun being an Elk is. We plan on having another one again this fall."
The new leadership team began their term of service on April 1. Other new members on the leadership team are Ron Fontaine as tiler; Nancy Brennan as chaplain; and Lisa Mitchals as five-year trustee. Former Trustee Chairman Dave Field will assume the office of secretary, while Jim Hessberger will be promoted to fill Field's vacated slot as trustee chair.
Joe Mager III will be staying on as lodge treasurer, as well as Trustees Danette Contaras, Jeff Hall, and Pete Murray. John Pirozzoli and Tom Hessberger will also remain in the roles of esquire and inner guard, respectively.
Outgoing leadership team members are Chris Donnells and Bob Magowan, former leading knights, Frank Mitchals, former loyal knight, Lisa Murray, former secretary; Dave Bednarik, former tiler, and John O'Gorman, former chaplain.
For information on how to get involved with the Milford Elks, visit milfordelks.com or email info@milfordelks.com.