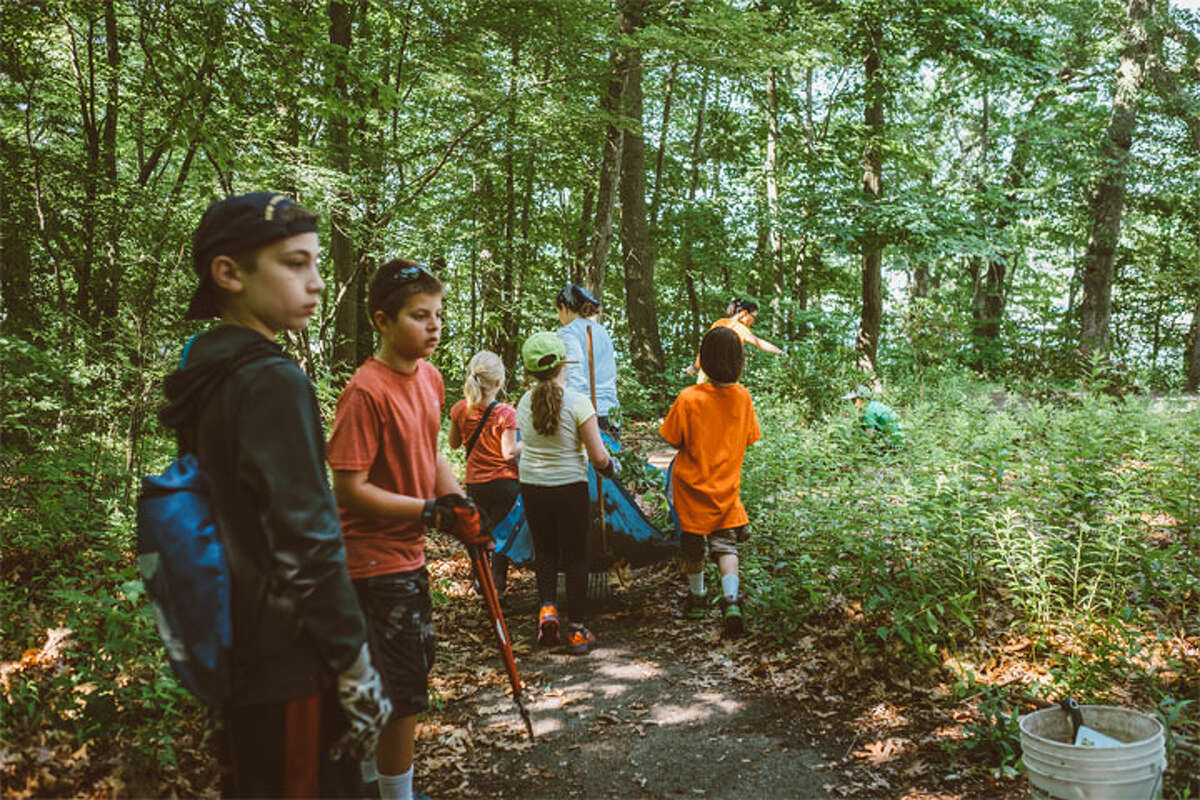 On June 30, Milford children, parents and community-minded helpers from First United Church of Christ and from a local Cub Scout Troop gathered at Wilcox Park for a service learning project.
Wilcox Park lies behind Fowler Field and the harbor boat ramp. Dave Gregory of Milford shared what he knows about park history, pointing out that the land is "to be used and maintained exclusively for the purpose of a public park," according to a 1909 deed. Gregory also described his boyhood adventures cutting through Wilcox on his way to school and back home, a wonderland for a boy's imagination.
The volunteers talked about safety, from poison ivy identification to proper tool use; the effects of invasive species; and how local citizens can make a positive impact on the health of this Milford treasure.
The group cleared the accessible trail that leads out to the viewing platform. They tamed and pulled Mugwort, Burning Bush, Norway Maple, Japanese Knotweed, Barberry, Multiflora Rose and Oriental Wisteria from an area where Girl Scout Troop 38305 did similar work last fall. They planted Purple Coneflowers and ended their day with a scavenger hunt to explore the trails and use their new knowledge of the plants that should and should not be in the park.
In reflecting on the service, the children summed up what they had learned, saying: "Treat it like you want to be treated: don't litter, don't carve into the trees, don't graffiti the benches."
Steve Johnson, Milford's open space manager, helped to plan the project, remove heaps of poison ivy, and connect the dots with the proper city permitting requirements.
The group also had help from MaryRose Palumbo in the Wetlands Agency, and Bill Laslett for letting the volunteers have water access.
Volunteers included Penny and Joseph Defreitas; Jim and Ella Altieri; Marcia and Matthew Wright; David, Caleb and Sadie Grant-Eckhart; Dylan Schwartz; Margie Ruggeri; Ryan Treat; Lindsey Murphy; Dave Gregory and Roger Brocket.