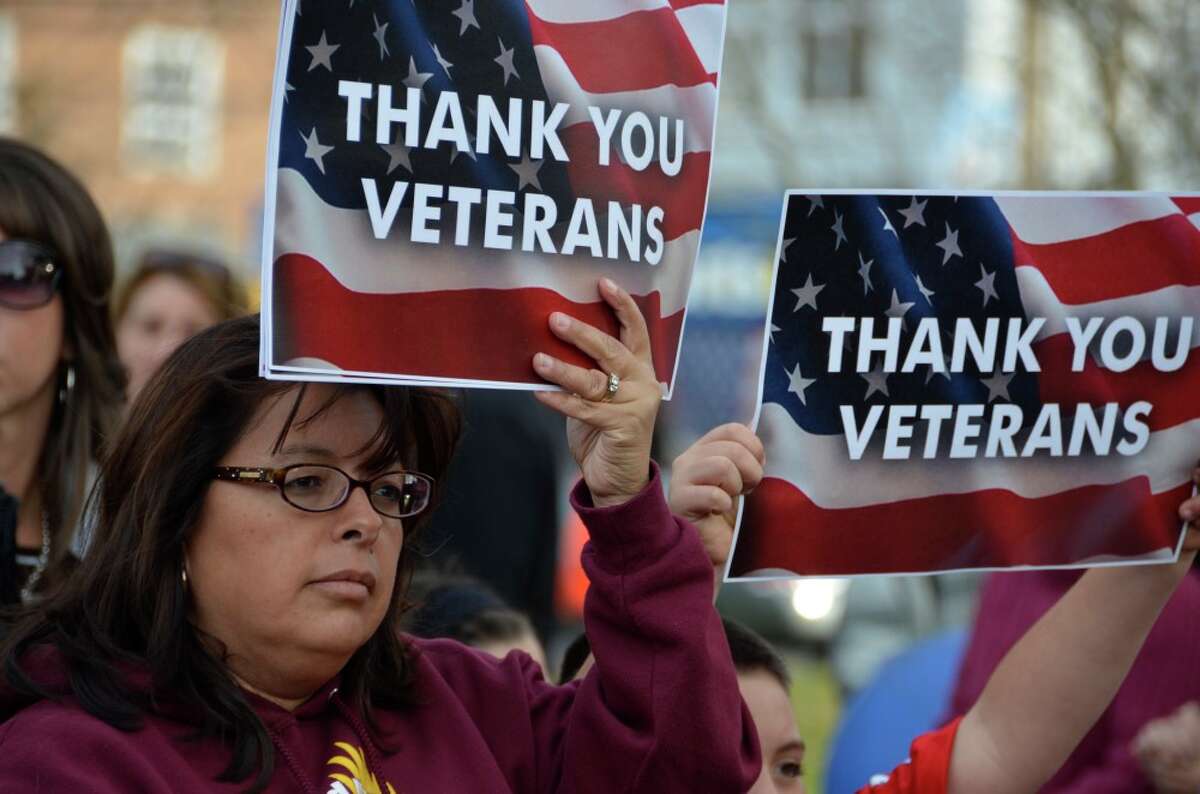 On April 26, the Travis C. Kitchen Post 7788 of the Veterans of Foreign Wars will be buzzing with activity and excitement as members, auxiliary and volunteers host their annual Day for Hospitalized Veterans.
While preparing for the event goes on year-round, early that Sunday, the VFW men's auxiliary will start preparing their melt-in-your-mouth roast beef. Members will visit area restaurants to pick up food donations that will round out the meal.
Volunteers will ready the Naugatuck Avenue VFW Post 7788 hall, and fill donated backpacks with donated goodies.  And by 11 a.m., buses will start rolling into the Post lot from the Veterans Affairs hospitals in West Haven, Newington and Rocky Hill to drop off hospitalized veterans and staff for a very full day.
For more than 55 years, VFW Post 7788 has hosted this annual Day for Hospitalized Veterans, according to Greg Smith, former Post 7788 Commander who now serves as State Commander for the Connecticut Veterans of Foreign Wars.  Smith chairs the event, as he has for the past 15 years.
"The founding members of our Post said this day was started by some World War II veterans, who really appreciated the sacrifices of our brothers and sisters," Smith explained.  "Our Post has made this day a priority.  If just for one day, we can help hospitalized veterans enjoy some of the same activities that the rest of us do, our members know it is worth doing."
Michael Rose, the Chief of Recreation and Creative Arts Therapy for the Veterans Affairs Connecticut Healthcare System in West Haven, has witnessed the value of the day for hospitalized veterans and appreciates the planning that goes into it.
"Post 7788 has committed to sponsor this event for many years," Rose said. "Each year, we offer the Post invitation to the Day for Hospitalized Veterans to in-patient and some out-patient veterans. The vets really look forward to it.  It's a wonderful and uplifting day for them — a very constructive and positive thing to do."
Last year, Post 7788 estimated hosting more than 170 guests at the annual Day for Hospitalized Veterans.  The number of guests is expected to be around the same this year.
Post 7788 Commander Joseph Razzaia said, "The Post is all in when it comes to honoring the men and women who have served our country so valiantly.  We are proud to host these hospitalized veterans."
When the buses pull into the VFW Post 7788 parking lot on April 26, the visiting veterans will be welcomed by the Civil Air Patrol cadet color guard, with music by the Milford Volunteer Fife & Drum Corps.  Invited dignitaries and volunteers will escort the veterans inside the Post.
Once inside, a full day begins. In addition to the dinner, the veterans will enjoy entertainment, music and fellowship all supported by the generosity of the community.
The side dishes, salads, and hors d'oeuvres to accompany the Post roast beef are donated by Pop's Family Restaurant, Aldario's and the Bridge House Restaurant, Smith said. It seems that the roster of generous individuals and businesses is quite long, ranging from "mom and pop" shops to large corporations like Schick.
Smith praised the long-standing commitment of volunteers and donors to this anal event. "Gus Grigoriadis, the owner of Pop's, has been a strong supporter for more than 10 years. And I have to say that Laurie Winkle has donated buses for transportation for at least 20 years."
This year, comedian Perry Gardner, singer Carolyn Fleischauer and JMG Music and Entertainment all are scheduled to donate their talents.
And at the end of the day, visiting veterans will leave with backpacks stuffed with donated items like toiletries, socks, puzzle books, candy, greeting cards, pens and DVDs.  And to cover the trip back, Subway donates sandwiches for every visitor.
"Post 7788 does outstanding community service, and their dedication and commitment to veterans and to the Veterans Administration is superb," the VA official, Michael Rose, said.