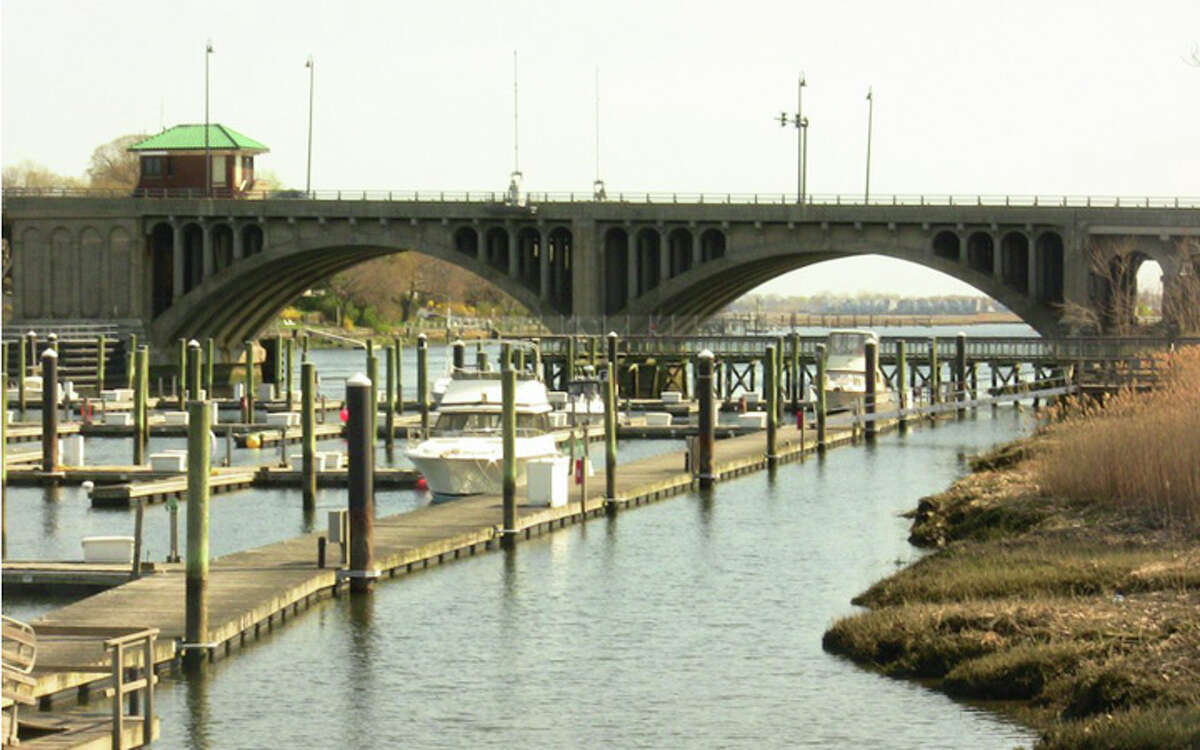 With new backing from Bridgeport-based businessman and entrepreneur Christian Trefz, resident advocacy group representatives from Stratford and the Devon neighborhood of Milford met late last week with state Rep. Tony Guerrera and state Department of Transportation officials in Hartford to discuss the planned relocation of Interstate 95's Exit 33.
James Amann, former speaker of the state House of Representatives and chairman of the Devon Revitalization Committee, said the meeting went well and most notably confirmed to him that the relocation is "not a done deal."
Amann said the fight against moving Exit 33 is gathering momentum with support from Trefz Corp. and vice chairman Christian Trefz. Trefz currently owns the McDonald's restaurant off Exit 34, as well as several businesses along Route 1 in Devon. Trefz said rerouting traffic away from Devon businesses will significantly hurt visibility in an area that relies on traffic flow to remain viable.
"Rerouted traffic through a relocation of Exit 33 will create an even greater inability to lease retail space at the Tower Plaza Shopping Center and at the old Liberty Rock Hotel property," Trefz said. "Spending $34 million on a project that is not needed is a complete waste of taxpayer money. At a time when the state continues to struggle with its finances and is eliminating or reducing vitally important programs for those who truly need them, the state can ill afford to be spending this kind of money."
Exit 33 proposal and Raymark
Touting it as a way to help residents quickly exit and enter Stratford, Stratford Mayor John Harkins has spearheaded the renewal of the Exit 33 proposal over the last year. The plan involves the construction of a new I-95 interchange that would create a southbound exit and a northbound entrance. Harkins has stated he does not expect that Raymark contamination would be disturbed by the proposed exit.
He contends the expanded I-95 interchange 33 would lead to increased commerce and business expansion/location opportunities; reinvigoration of Stratford's Route 1 corridor; further development of Ferry Boulevard/Stratford Avenue and the transit-oriented district; relieved traffic congestion in Stratford Center and at I-95 Exit 32; and easier access to major development opportunities, such as the Stratford Army Engine Plant site.
"The addition of a full interchange at Exit 33 off of I-95 will provide a boost to not only Stratford's local economy, but to the region," Harkins has said. "The project has widespread support from my office, multiple town councils over the years, and the Stratford Chamber of Commerce. I think it's best for everyone if Milford focuses on Milford, rather than try to impede on our progress reviving our local economy here in Stratford and the region."
Jason Santi, a 4th District Councilman in Stratford, also backs the proposed interstate changes.
"While [opponents] are entitled to their misguided opinions, this project is a no brainer," Santi said in a letter to the media. "It will help the economic rebirth of both Devon and Stratford, as well as solve the 'parking lot' issue on Devon roads.
"If these businesses like living with parking lots, then that is their problem. But most Stratfordites will not kow-tow to a small group of some fake environmental group and some washed up politicos in Milford. Our mayor, council, state delegation, and even some politicians in Milford, are in favor of this project."
Milford state Rep. Kim Rose said the exit is part of a survey she sent to her constituents.
"The vast majority are in favor of the exit," Rose said. "They tend to avoid Devon center during rush hours. In addition [rush hour and congestion] cause additional congestion and traffic on the side streets. The mayor has requested a business impact study and I'm waiting for the results of that. I am personally in support of the exit. Most Devon businesses that I've spoken with are as well. "
Opposition
But residents opposed to the relocation say the new interchange would not only divert traffic away from local businesses but also cross directly over the active underground plume that emanates from the Stratford Crossing shopping center, also known as Operable Unit 1 — the former Raymark manufacturing facility.
Additionally, state Department of Energy and Environmental Protection environmental analyst Ron Curran previously confirmed that contaminated groundwater (Operable Unit 2) is running under a significant portion of the proposed interchange site, fueling questions about how construction could affect residential and commercial properties along Ferry Boulevard.
Representatives from Stratford Action for the Environment said they helped defeat a previous version of the Exit 33 relocation plan in 2006 with the help of state lawmakers, the Sierra Club, the Northern Corridor Initiative, and local residents who actively petitioned against the project.   
"There is a very real possibility that the pressure from construction could fracture bedrock that sits above the contaminated groundwater in OU2 and divert additional groundwater to more than 100 homes in adjoining neighborhoods," said Charles Perez of SAFE.
Barbara Dugan, a Stratford resident of 12 years who lives in the condominium complex Village Square bordering the proposed Exit 33 site, said she hopes residents will start prioritizing health and safety over convenience and understand the risks associated with the chemicals present underground.
"We are very lucky right now [in Village Square]," Dugan said. "The contamination is flowing around us, but a disturbance in the bedrock could potentially cause a rerouting of groundwater and volatile organic compound exposure in homes that is odorless, tasteless, and may not be immediately discovered."
Dugan, who is a breast cancer survivor, grew up next to a New Jersey Superfund site with high levels of trichloroethylene (TCE). Her mother and two sisters also developed breast cancer, which Dugan attributes to their exposure to the chemical. Dugan said her family has tested negative for the BRCA1 and BRCA2 gene mutation that has been linked to a higher risk of breast cancer in some women. TCE is a the main contaminant of concern that necessitated the sub-slab VOC ventilation systems in more than 100 Stratford homes.
"This is very personal for me. I don't want to see people's health put in jeopardy," Dugan said. "We know there is a toxic plume here. It's not a red herring. Engineers, geologists, the EPA, and Connecticut DEEP all monitor and acknowledge a plume exists. It is a fact, so it shouldn't be so shocking that residents would want to make sure it is not disturbed with a project like this."
To date, those opposed to the new Exit 33 interchange say they have received support from local legislators including state Rep. Pam Staneski, who represents Milford, and Milford Mayor Benjamin Blake, who recently called on the DOT to review the economic impact of the project. More than 2,000 local residents and business representatives have signed a petition against the Exit 33 project in recent years.
Amann said he plans to relay information from last week's meeting to members of the Devon community, and said there is time to fight the proposal. He also said there will be a public hearing on the proposal later in the summer, when residents will be able to comment.
"If the state is willing to spend that much on an unnecessary project, one that will in fact harm the communities, we are recommending, instead, that the state split the amount between Stratford and Milford and allow each town to invest in their own community and economy," Amann said.