This is a carousel. Use Next and Previous buttons to navigate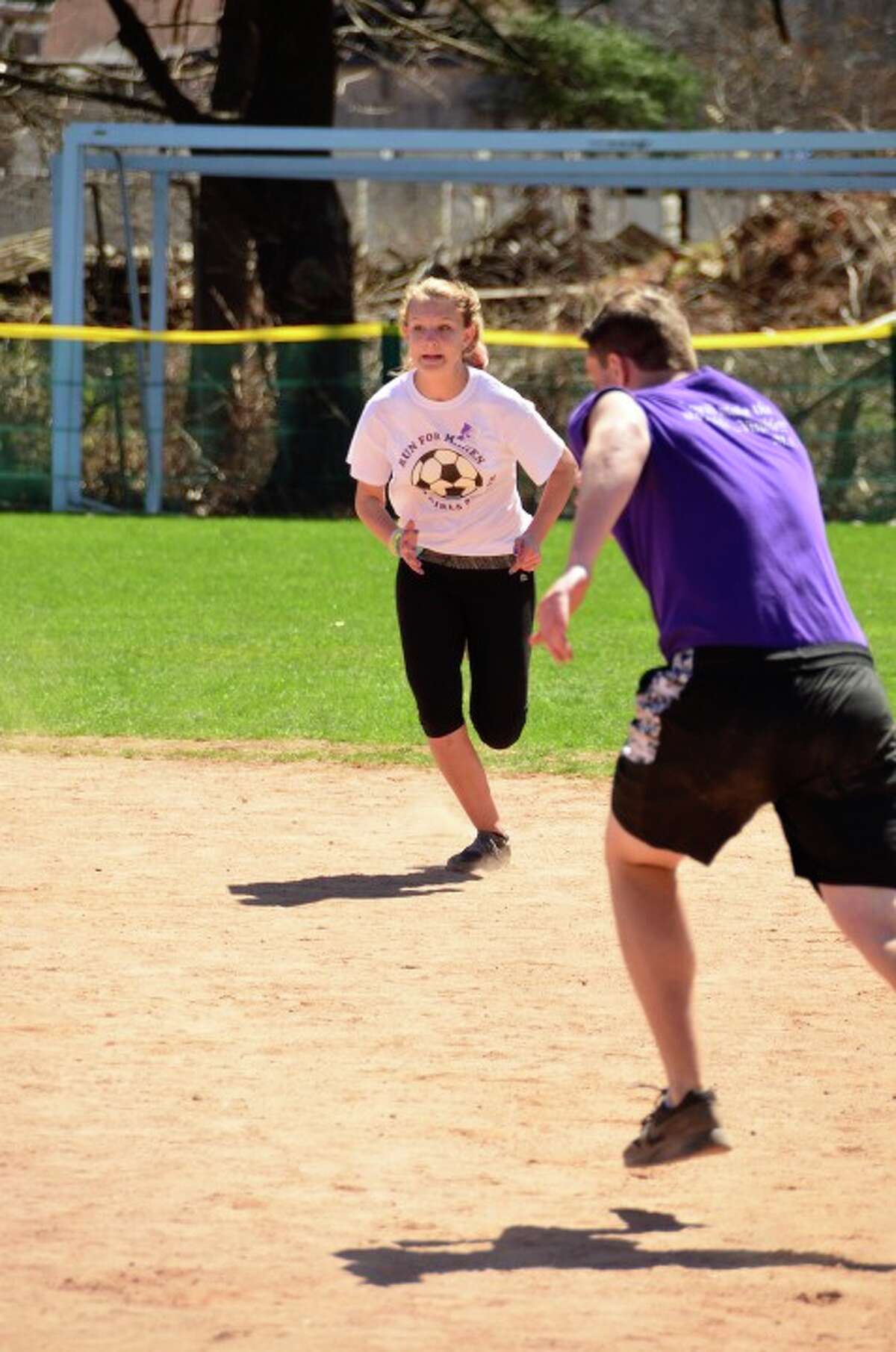 An estimated 3,000 people spent Saturday at Jonathan Law High School celebrating the life of Maren Sanchez.
Maren died last April 25 after being stabbed at her school on what would have been her prom day.
"We look more often than not to adults as our role models," said School Supt. Dr. Elizabeth Feser as she spoke to about 650 people getting ready to take part in the Maren Sanchez 5K, which kicked off the event. "And yet it is Maren Sanchez, a 16-year-old Jonathan Law High School student, who has brought us here today — to celebrate life and remind us of what is most important to our survival as individuals, as a community, as a human race — joy, laughter, peace and love.
"It is Maren, a fun-loving, gifted teenager, who has rallied this community — young and old, individuals, businesses, churches, government, citizens from across Milford and beyond."
The idea for Saturday's event — Peace, Love and Music for Maren — came from Maren's mother, Donna Cimarelli, who wanted the community to focus on the unique spirit that was Maren.
People throughout the day sat on the lawns listening to bands; sampling food off a number of food trucks; playing kickball, or bouncing in inflatable bounce houses.
Ray Vitali, who was manning a table for the Milford Prevention Council, speculated that so many people turned out for the event because they wanted to pay tribute to a young lady who was the core of what education is all about. Maren was a good student, and she took part in sports and drama, and she enjoyed music and art.
Vitali, who is also a city alderman and a former Board of Education member, lamented the fact that her life was cut so short.
"What she could have contributed would have been phenomenal," he said.
Many organizations set up booths Saturday, offering arts and crafts to help raise money for the Maren Sanchez Memorial Scholarship Fund. All proceeds from the event will benefit the fund.
Many in attendance wore purple, which was Maren's favorite color, and there were posters bearing her name and purple balloons decorating the Jonathan Law field.
Maggie Sullivan, a student at Law, attended the event to remember a girl she had known at school.
Maren was the manager of two of the high school sports teams — swimming and softball — and that's how Maggie knew her.
A year has gone by, but that seems almost impossible, Maggie said.
"It's crazy," she said. "It feels like it was yesterday."
Maggie said Maren was always happy and positive, and she speculated that the huge turnout was due to the fact that so many people loved Maren and knew about the positive impact she had on people.
Crystal Streit-Beetham didn't know Maren but she read a lot about her in newspaper articles and on Facebook. Streit-Beetham created a mural for a Milford Fine Arts competition that was part of the Saturday event. Her piece won for best depicting the things that Maren held dear: The mural is primarily purple, with white letters spelling out "Maren," surrounded by words and images of peace, music and love.
Streit-Beetham described herself as a 31-year-old hippie, and said she felt a connection to Maren.
She read more about Maren when she decided to enter the art contest in her honor. "I wanted to find her body and soul," Streit-Beetham said, adding that she was honored to have created the winning art, which will be turned into a billboard.
There were 13 entries in the art contest, said Milford Fine Arts Director Paige Miglio, and Streit-Beetham's  spoke to what Maren left behind. Another entry also won: Colleen Reilly-Rees' piece that depicted the beach, seashells, butterflies and a guitar.
"This one spoke to the person she was," Miglio said, adding that it too will become a billboard in Milford.
Maren died last April 25 after being stabbed in a hallway at Jonathan Law High School. Fellow student Christopher Plaskon, arrested after the stabbing, has pled not guilty to a charge of murder by reason of insanity. He is being held at the Manson Youth Institute in Cheshire on $3-million bond.