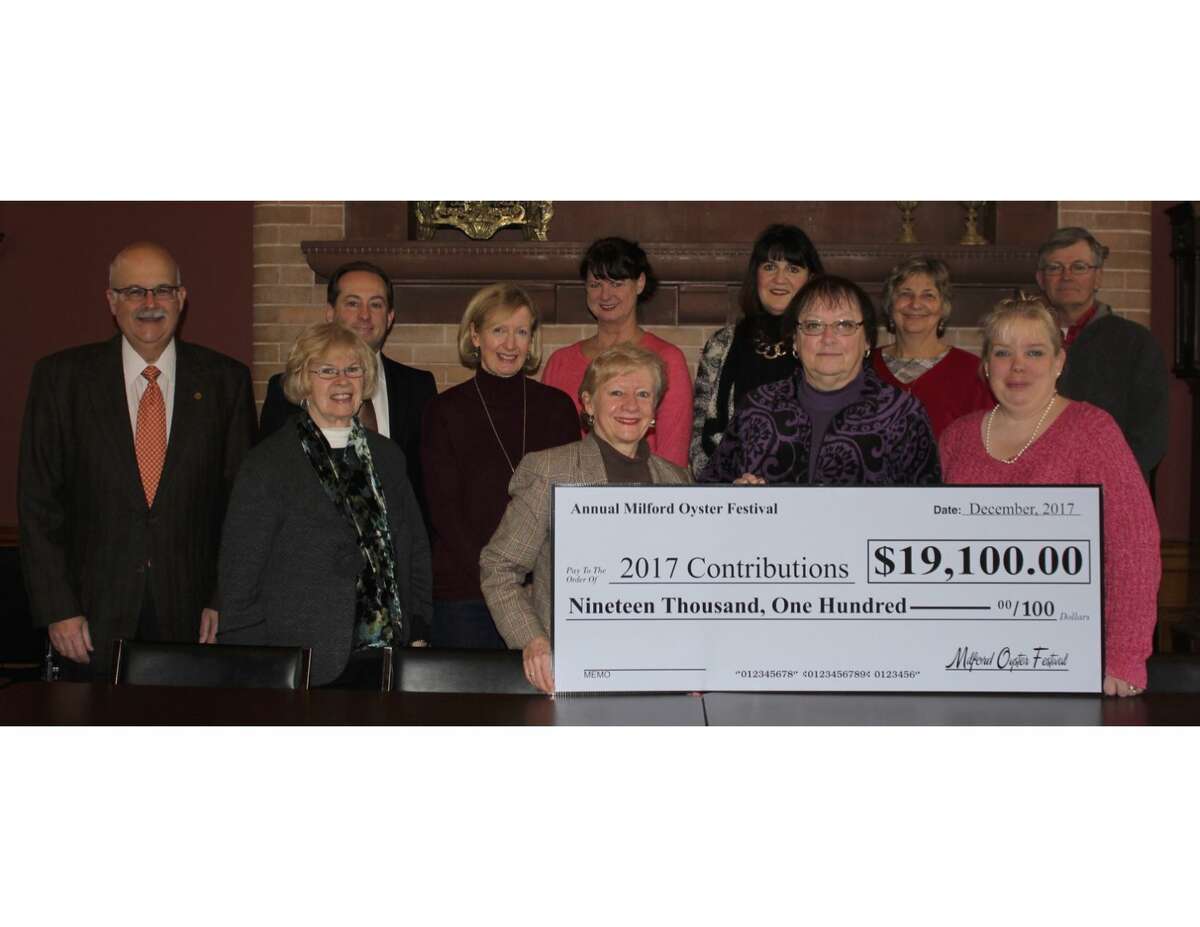 The Annual Milford Oyster Festival Announces 2017 Charitable Contributions
Representatives from both The 43rd Annual Milford Oyster Festival Committee and the 2017 charitable contribution recipients met at the Milford Chamber of Commerce on February 15, 2018 for a presentation of charitable funds of $19,100.
2017 recipients include School of the World, JLHS Post Prom Committee, Foran HS Post Prom Committee, CT Concerned Citizen's for People with Disabilities, Keeping Milford Warm, Get In Touch Foundation, CT Hospice, United Way of Milford - Adopt-A-Family Program, Senior Heating Assistance Program - Dept. of Human Services - City of Milford, Scholarship of Social Learning, Benhaven Rape Crisis Center of Milford, Milford Prevention Council, Milford Food Bank, Milford Children's Trout Derby, Milford Animal Shelter, Literacy Volunteer of Southern CT, Kids Count, Camp Happiness, Bridges FOS/FOF, Milford Friends of Library, Food2Kids, JL Guard & Competition Band, Bridges - Young Parent Program, Beth-El Center, Milford Toys for Tots, Special/On-going - Scholarship in Memory of Linda Stock and United Way of Milford.
"We are excited to support and assist so many valuable and important groups within Milford " said Ila Tokarz,President of The Milford Oyster Festival.
On Saturday,August 18th the Milford Oyster Festival will hold its 44th annual celebration from 10:00AM till 6:00PM. Oyster Eve, a pre-festival event will be held on Friday, August 17th, from 6:00PM to 10:00PM. For more information please check the festival website, www.milfordoysterfestival.com