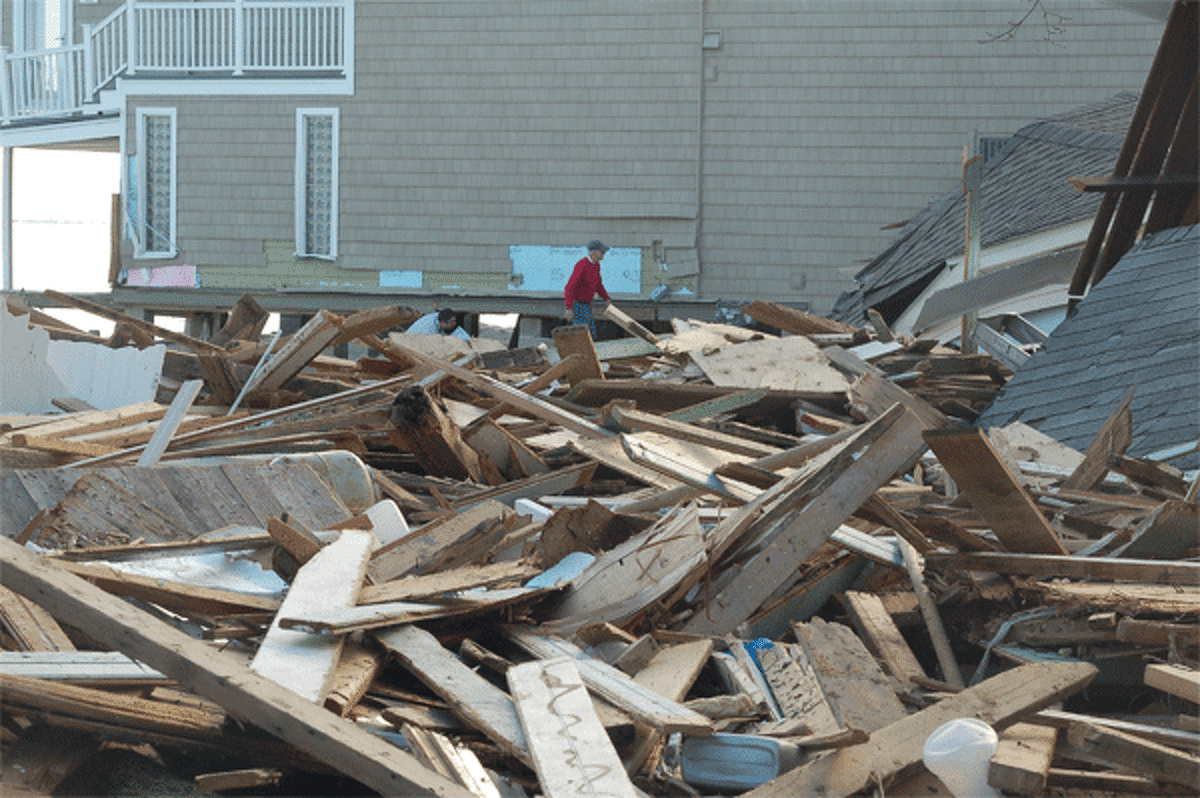 It's written somewhere — in one of Milford's historical accounts — that after the Hurricane of 1938, houses lay like matchsticks along the beach.
That description seemed fitting this past weekend in Milford, where several houses and structures at Walnut Beach and west were scattered like matchsticks on the ground.
The Rev. Ken Fellenbaum of the Wildermere Beach Congregational Church said debris was all over the place and piled high along fences and roadways just after Sandy swept through Monday.
As he walked the beachfront area Saturday, getting a closer look at houses, sheds and garages that had been leveled, he said, "This is just total devastation. This is where all that debris came from."
People at his church were collecting and handing out food, water, clothing, gloves, and diapers from a couple of tables lined up in front of the church, as other parishioners pumped out water from the church basement.
People started dropping off donations in the morning, and residents along the shoreline community were welcome to come and take what they needed.
"As soon as it's coming in, it's going out," said Carol Cruz, who organized the effort. She said some people lost everything, and they especially appreciated the warm clothes that were being made available.
"It was unbelievable down here," Fellenbaum said.
Houses that didn't suffer severe structural damage were dealing with cleanup. A group of Mormon missionaries was helping a Broadway resident take what looked like everything out of her house and pile it on the sidewalk for city crews to pick up.
Some clothes that were salvageable hung on her front railing to dry.
As the pile of her household items grew, she asked the missionaries to help her find a special quilt that must have been bundled for the trash; she wanted to save it.
The devastation on the western side of town mirrored the situation all along Milford's coast, from Woodmont to the Audubon.
Emergency Management Director Lou LaVecchia said it's hard to say which area got hit the hardest: They all got hit. There are places like Walnut Beach and Hillside Avenue where homes were leveled, other areas where houses were pushed from their foundations, and places where the floors of elevated houses were pushed upward by water streaming underneath them. The water has compromised the floors on those homes.
And in other areas, like the side streets off East Broadway at Silver Sands, some homes stood for two days with up to four feet of water inside, making them uninhabitable, and wreaking a different kind of havoc. The damage is just as bad as at some of the other houses, but it's not as visible from the outside, LaVecchia said.
As the generators, pumps and wet vacs roared along the coast, a host of city agencies and FEMA set up tables at the Parsons Complex to provide information to residents. They will be there again Saturday, Nov. 10, from 10 a.m. to 4 p.m.