This is a carousel. Use Next and Previous buttons to navigate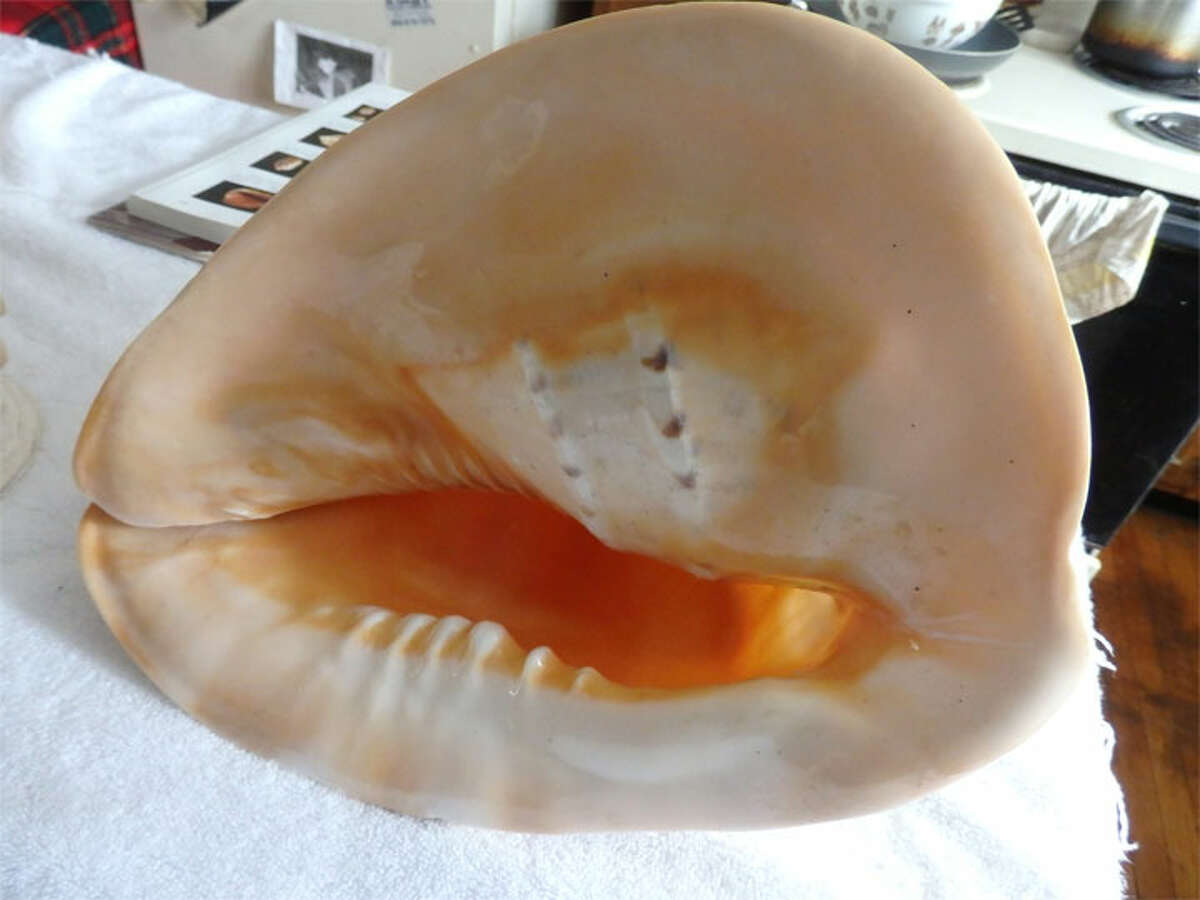 Tim Chaucer, director of the Milford Marine Institute, recently returned from his annual pilgrimage to Florida's nature coast to study native American coastal mound cultures in places such as Cedar Key, Crystal River, Safety Harbor and Dunedin.
At Cedar Key Chaucer explored the remnants of a gigantic five-acre village mound comprised of millions upon millions of ancient mollusks that were placed there to raise the elevation of the village as a means to protect the village from powerful Gulf coastal storms.
At Crystal River and Safety Harbor Chaucer toured both burial and ceremonial mound cultures.
A secondary purpose of the trip was to purchase unusual mollusks for the Gulf Pond Museum collections. At Crystal River he purchased perhaps one of the worlds largest Yellow Helmet mollusks from a private collector. The Yellow Helmet, cassis cornuta, gets its name from its beautiful yellow inner and outer lips and high siphonal canal. It is also called the Horned Helmet.
At 13 inches, Chaucer said the mollusk tops sizes he's seen recorded for similar mollusks, and he is researching to see if the one he purchased breaks a record.
Several large Black Helmets were also purchased and added to the Gulf Pond Museum's collection. The Black Helmet (cassis madagascarensis) is a ferocious carnivore like the Yellow Helmet. The Black Helmet is the mollusk that was used extensively in the 19th Century for cameos of mythological Greek and Roman Gods.
These gastropods will be shown and handled by campers attending the 32nd session of the Milford Marine Institute Marine Biology Camp this summer. At Archaeology and Native Culture Camp, Chaucer will share his experiences learning about Florida's ancient mound cultures.
The Museum
The Gulf Pond Museum is housed in a former wastewater pump station off Shadyside Lane and is part of the Milford Marine Institute.
During summer classes at the Milford Marine Institute, which include bird identification, marine biology, archeology and Indian culture, Chaucer shows students the shell collection, including the larger shells, to get them interested in the creatures. Then they go to the beach and look to see what they can find along Milford's shore.
The local museum, jam packed with examples of sea life, bird life and Indian artifacts, includes many items that students have found while studying and exploring here.
Chaucer has been leading camps since 1983, when he taught out of his home. He secured the wastewater building in 1990 and established the Milford Marine Institute there.
For speaking engagements, the institute may be contacted at 203-874-4000 or go to milfordmarineinstitute.org.