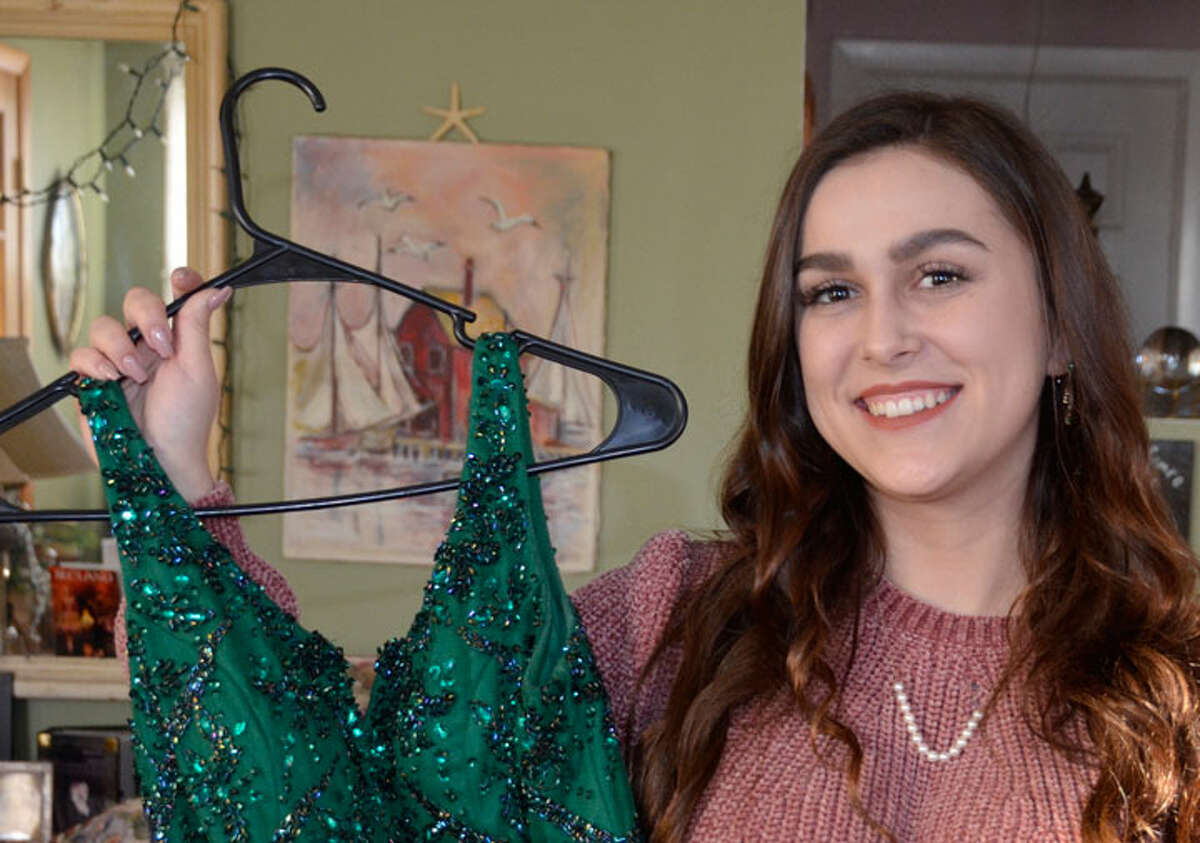 Sarah Grace Sugrue first dreamed about being Miss Emerald Isle when she was in kindergarten and marched in Milford's annual St. Patrick's Day Parade with her Daisy Scout troop.
Her determination and desire to wear the crown showed during an interview process, said Gina Raucci, who was Miss Emerald Isle two years ago and helped select this year's Miss Emerald.
"She had a lot of enthusiasm," Raucci said. "During the interview we could tell that she was really into it and took it seriously. It was unanimous. We all picked Sarah."
Sarah, 17, has a lot of energy and enthusiasm and it showed, also, Sunday evening at a dinner at Aldario's Restaurant, where she and this year's Grand Marshal Chris Saley were officially named the key dignitaries for this year's parade, which is scheduled for Saturday, March 14, starting at 1 p.m. in downtown Milford.
She remembered when she was a little girl marching in the parade that first year and looking up and seeing a young woman wearing a green gown.
She asked her mother who it was, and her mother explained that the pretty girl in the gown was Miss Emerald Isle. Sarah decided then and there that when she got older, she wanted to try out for the crown.
Sarah said her great grandparents came from Ireland, and her grandparents loved the Irish culture and the annual St. Patrick's Day Parade.
A senior at Foran High School, Sarah is a dancer with New England Ballet, and has danced lead rolls as part of the dance company. She's also a card-carrying actress: She holds a Screen Actors Guild card.
Sarah attended the Betsy Ross Arts Magnet School in New Haven before Foran High School. She said she plans to study early childhood education and dance in college, and she plans to audition for several dance companies.
She is the daughter of Pam and Jim Sugrue, and has a brother, Jeff.
Sarah was out to dinner when she got the phone call letting her know she was picked as this year's Miss Emerald Isle.
"My phone vibrated and I ran outside to take the call," she said. "I was hyperventilating, and almost in tears."
Kelly Alaina Scianna, a student at Jonathan Law High School, was chosen as runner up and will take on Sarah's responsibilities if she can't fulfill them for any reason.
In addition to appearing as a key figure in the St. Patrick's Day Parade, Miss Emerald Isle takes part in various events, including fund-raisers throughout the year.
Grand marshal
Public Works Director Chris Saley will be this year's parade grand marshal.
Martin Hardiman, head of the St. Patrick's Day Parade Committee, said former grand marshals selected Saley because of the work he has done through local politics, his fairly new job as public works director, and due to his role as a local businessman who has helped improve the Devon landscape.
Saley owns the Bridge House Restaurant in Devon, and Hardiman said Saley has been instrumental in sprucing up Devon business properties.
"We look for someone who has done a lot for the community," Hardiman said.
Saley said he is honored and humbled to be this year's grand marshal, and said his mother, Lucia Sullivan Saley of Milford, is the one that cooks the corned beef and cabbage every March and who has heralded and kept alive Irish heritage in the family.
"She makes a great corned beef and cabbage," Saley said.
Saley is pretty well known in Milford. He grew up here, went to Milford schools, he served on the Board of Education and is now the city's public works director.
He said he likes to give back to the community.
Years ago when the Washington Bridge was closed for repairs and traffic came to a near standstill in Devon, Saley saw it as an opportunity to invest in the area, which he knew would come back to life.
"Years ago, there was a pharmacy, a butcher shop, a train station... It was a very vibrant community," Saley said.
He owns several properties in Devon, and as a member of the Irish Heritage Society, he's thrilled that the old Star Cafe is being turned into the new society headquarters. He thinks the club will do great things for the Devon area
When Saley isn't busy with city business, he's busy with his family. He said he has a "blended" family, including his girlfriend, Cheryl Lacadie, and their children — Jillian Saley, Emma Saley, Katie Lacadie, Alexa Saley and Matthew Lacadie.
The parade
The annual St. Patrick's Day Parade is one of Milford's most popular events, typically attracting more than 20,000 spectators. This marks the 25th year for the parade, which has grown to  include more than 50 marching units.
People who want to support this year's parade can attend a fund-raising pancake breakfast, which will be March 8 from 8 a.m. to 1 p.m. at the Masonic Hall in downtown Milford. Tickets are $7 and can be purchased at the door.