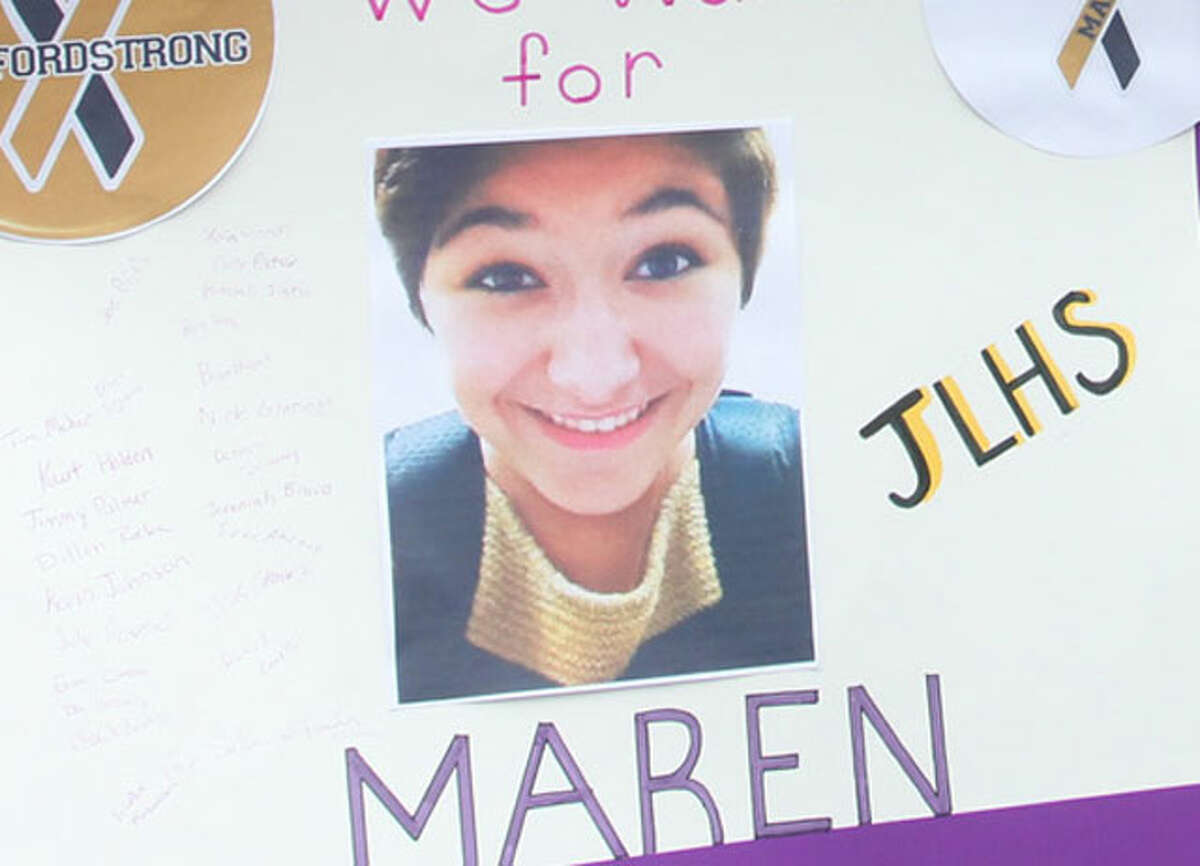 On the one-year anniversary of the death of Maren Sanchez, the community is expected to come together to celebrate her life, to have fun.
Peace, Love and Music for Maren is shaping up to be a huge event filled with the things that Maren loved — music, art, sports, and people, said Jonathan Law High School Principal Fran Thompson. It will take place on Saturday, April 25, starting at 9 a.m.
"The idea came from Maren's mother," Thompson said. "Donna didn't want it to be a sad day, because Maren was just not a sad person."
The day will begin with some opening remarks, followed by the start of the first-ever Maren Sanchez 5K Fun Run. Then there will be bands, children's activities, food trucks, art displays, and more.
All proceeds will benefit the Maren Sanchez Memorial Scholarship Fund. 
"The best way to remember Maren is to have an uplifting day that celebrates the creativity, fun and community spirit Maren embodied," Thompson said. "I am proud to have this at Law."
Maren died April 25 after being stabbed in a hallway at the school on what would have been her prom day. Fellow student Christopher Plaskon, arrested after the stabbing, has pled not guity to a charge of murder by reason of insanity.
But friends and family don't want to focus on that on this one-year mark. They want to focus on the unique spirit that was Maren, and the good things she left behind — the legacy that is Maren.
There are many markers of the gifted young woman, from small to big.
There are scholarships in her name. This year the Milford Chamber of Commerce announced its list of available scholarships, noting a new one: the Connecticut Property Appraisers Scholarship, in Memory of Maren Sanchez.
"Offering this new scholarship helps us to inspire the best young minds around Milford to dream big," said Nancy Smith of the Milford Arts Council.
There is the Maren Sanchez Memorial Scholarship Fund, which Saturday's event will help to grow.
There is a garden, Maren's Memory Garden, created at Jonathan Law High School. Two benches sit atop a stone-covered piece of ground just outside a back door of Jonathan Law High School. The benches, with plates that say, "Maren Forever in Our Hearts," sit in the midst of seasonal plantings. A stained glass piece of art shaped like a heart and backed by a pair of golden wings projects from a corner of the school, overlooking the garden, and purple wind chimes hang from the artwork.
There is newfound compassion. In September, the city of Milford signed a Charter for Compassion to honor Maren, pledging to promote kindness and caring.
Milford resident Jade Ramos brought the charter to Milford after hearing one of its founders speak about it. Donna Cimarelli, Maren Sanchez's mother, worked with Ramos and several others to encourage Milford to sign on to the effort.
"The Charter for Compassion goes beyond personal differences," said Wendy Gibbons of the Milford Prevention Council in a press release that she and Ramos sent to the media last year. "The charter encourages the Golden Rule, treating all others as we wish to be treated — with justice, equity and respect."
That effort led to a Business of Compassion campaign, and in honor of a life spent caring about others, Papa's Pizza created the Pizza Di Maren and donated $5 of every Pizza Di Maren ordered to the Maren Sanchez Scholarship Fund.
There are also many images that people who read about Maren viewed and carry in their memories. A video captured Maren singing Phillip Phillips' song Home; there were purple ribbons strung from trees in honor of Maren's favorite color; countless photographs, many selfies, showed the young woman smiling and happy. There are images of her taking part in sports, drama and other events at her school. One teacher remembered her as a front-row student in his Advanced Placement class, always willing to help him — a new teacher — fit into the class.
Principal Thompson said he can picture her sitting in the softball dugout just days before she died, sitting Indian style, with the scorepad on her lap. She was the manager for two high school teams. He can also picture her waiting for him to open the darkroom door for her early in the morning so she could get in to develop film.
A carnival was planned last May at Walnut Beach to benefit the Maren Sanchez Memorial Fund. Amusement company owner George Marenna said he was moved by Maren's goodness and was eager to help out when a resident asked him.
He said he didn't know how much the carnival would raise, but he said if it raised some funds and managed to bring smiles to some faces that would suffice.
"It's for Maren, and for her family and friends," he said, "and for Maren's smile, that smile."
There were images on social media sites of flowers and balloons marking memorials for the young woman; and a huge rock at Foran High School — Law's cross-town rival — painted purple and with Maren's name on it.
In addition to images, there were many words describing Maren's vitality and good nature.
Sarah O'Connell, a junior at Foran High school, and her family organized a Zumba for Maren Fund-raiser in the Foran High School gym "to be a celebration of the positivity, light, love, and energy that Maren gifted to the world every day."
"Her life was a miracle," said Gov. Dannel Malloy at a vigil held in her honor, "that she could have accomplished so much in so short a time. That she affected so many people."
The governor said people should follow her example, "live our lives just a little bit better."
Pastor Michael Bulkley from Kingdom Life Christian Church said Maren "gave love and supported everyone."
"If you were 15 feet from her for more than 15 seconds, it was like she was your best friend," Bulkley said.
Rabbi Schneur Wilhelm suggested people perform "random acts of goodness and respect" and demonstrate tolerance for each other as Maren had done.
Anthony Bonadies, the attorney representing Maren's father, spoke to reporters after a brief court appearance last October and issued a statement that he prepared with Maren's father, Jose Sanchez.
"Maren Sanchez stands for everything good in our society, kind, generous, a beautiful young adult with endless promise," Bonadies' October statement read. "When we lose someone like her we all suffer."
School Superintendent Dr. Elizabeth Feser said Maren was a remarkable young woman.
"I struggle to the core of my being with the loss of Maren Sanchez," Dr. Feser said during a ceremony last year in Maren's honor.
The outpouring of support helped, she added. Thoughtful messages from people outside the Milford and Jonathan Law communities let students and staff know that others were grieving with them.
"The message," Feser said, "is we are not alone. We are not alone."
This week, as the one-year anniversary of Maren's death approached, Principal Thompson said that sometimes people elevate the character of a person who has died, accentuating the positive.
But all the things said about Maren are 100% true, he said.
"It is really straight up," Thompson said. "This is who she was."
Saturday's event to honor Maren will start at 9 a.m. at the Law baseball field, and throughout the day there will be bands, a mural street art competition, a kickball tournament, dozens of food trucks, raffle baskets, bounce houses, face painting, arts and crafts, and more.
Parking at the school will be extremely limited, event organizers said. A free shuttle bus service will loop continuously throughout the day between Jonathan Law High School, Pumpkin Delight School and Silver Sands State Park.