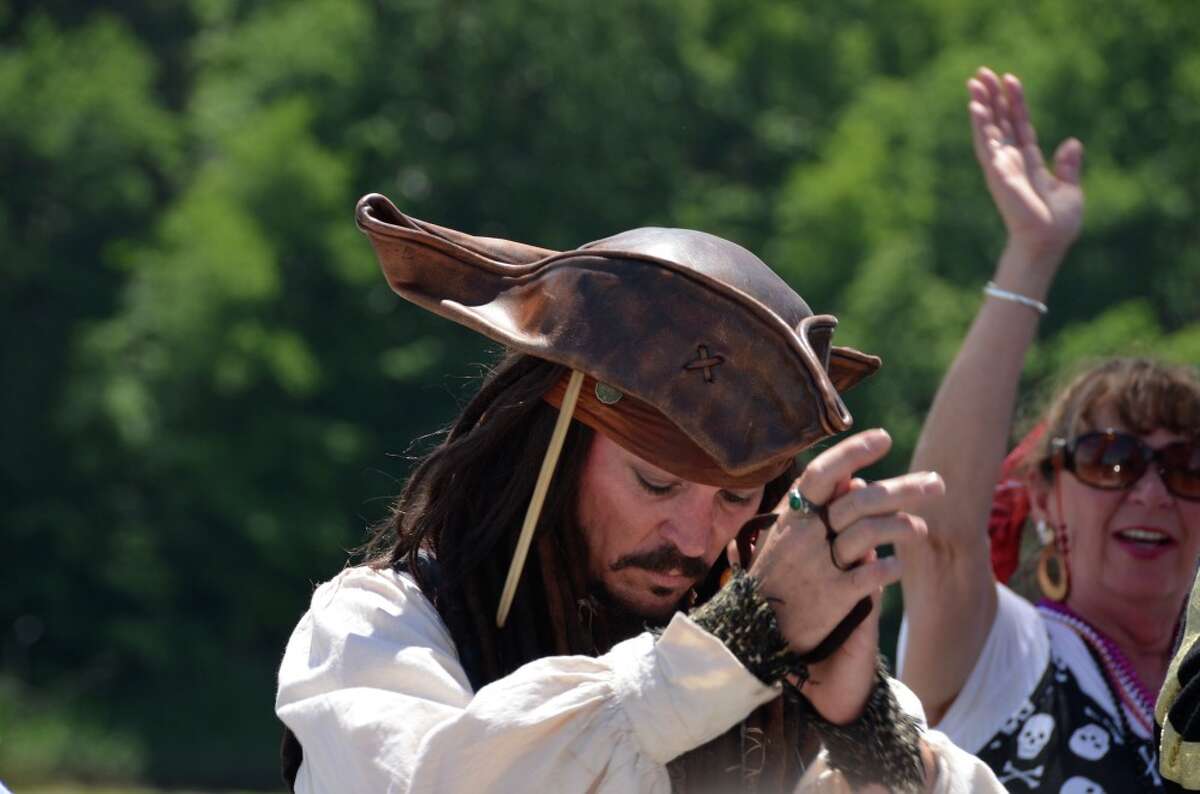 Milford's annual Captain Kidd Treasure Hunt Pirates Day will be Sunday, June 14, in downtown Milford. Visitors can join Captain Kidd and his crew as they sail into Milford Harbor and "take over" downtown Milford.
Visitors can start the day at high noon at Lisman Landing, listening to the Robert Atwood Band while awaiting the arrival of the Pirate Ship Oz. They can stop at the  Pirate Shop Stops, and then gather on the Milford Green by the gazebo to listen to the Elwoods band.
People can have their pictures taken with pirates, and listen to the Milford Volunteers Ancient Fife and Drum Corps by Café Atlantique. There will be special pirate themed activities for children on the green by the gazebo. The Rock On girls will also be on the green, offering pirate-themed rock-painting.
Captain Kidd arrives at Milford Landing precisely at noon and the event continues until 5 p.m. when he sails off again. For more information visit the events page at downtownmilfordct.org or call 203-530-0103.
The event is presented by the Downtown Milford Business Association and sponsored in part by 7 Seas Restaurant and WPLR 99.1 Radio. The Milford Bank and the Milford Public Library are also participating sponsors.
"Come dressed as a pirate and be a part of the state's best and largest scavenger hunt," organizers said.
Participants may pick up a downtown treasure map and a booty bag at noon at Lisman Landing on Sunday, June 14, then follow the clues listed on the map to Treasure Stop Shops, and fill up booty bags with treasures. Those who gather stamps at all stops can enter a drawing to win a Pirates Chest of Treasures (one for adults; one for children).
This year, the event has expanded to Pirates Week. Visit participating Treasure Shop Stops through Saturday, June 13 to find unadvertised treasures, and register to win a trip aboard the Pirate Ship 'Oz.'
Participating businesses this year include: AMF Lanes, Arciuolo's Shoe Store, Café Atlantique, Cloud 9, Downtown Milford Business Association, Duck Duck Goose, Mathanasium, Milford Arts Center, Milford Green Pizza & Restaurant, Milford Public Library, Sweet Cupcasions, The Canvas Patch, The Milford Bank, Title Boxing Club, Village Vogue Boutique, and Pediatric House Call Solutions.