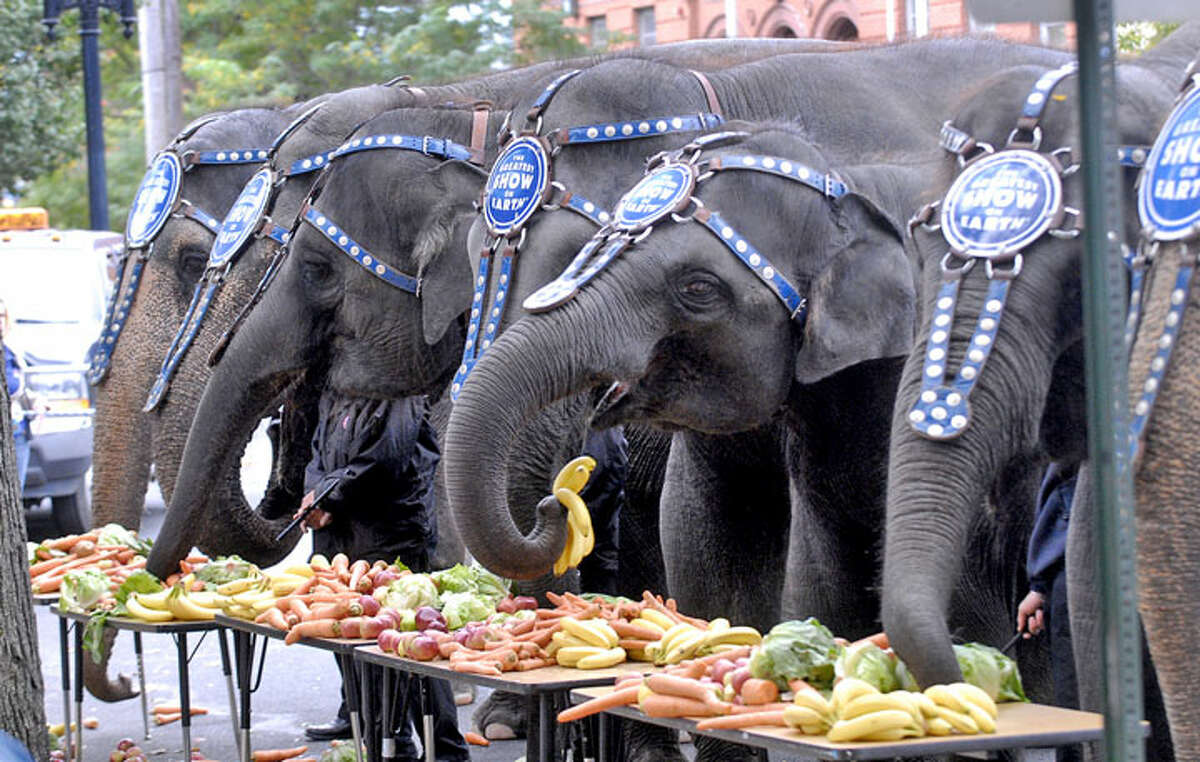 A Milford woman who pushed city legislators last year to ban circus acts that feature elephants is happy at news that one entertainment group has decided to cut elephants from its shows.
The Feld Family, owners of Feld Entertainment, Inc., the parent company of Ringling Bros. and Barnum & Bailey®, announced plans March 5 to remove Asian elephants from their traveling circus performances. Under the plan, 13 elephants currently traveling with the three Ringling Bros. circus units will be relocated to the Ringling Bros. Center for Elephant Conservation in Florida by 2018. There they will join the rest of the Ringling Bros. herd of more than 40 elephants.
The circus will continue to feature other animal performers, including tigers, lions, horses, dogs and camels, according to the Feld Family website.
"This unprecedented change in the 145-year old Greatest Show On Earth® will allow the company to focus on its Asian elephant conservation programs," the company states.
"This is the most significant change we have made since we founded the Ringling Bros. Center for Elephant Conservation in 1995. When we did so, we knew we would play a critical role in saving the endangered Asian elephant for future generations, given how few Asian elephants are left in the wild," said Kenneth Feld, chairman and CEO of Feld Entertainment.
"This decision was not easy," he added. "But it is in the best interest of our company, our elephants and our customers."
Milford view
Milford resident Lorrie Davies, the woman who fought for an ordinance in Milford to ban elephant acts here, has cited reported mistreatment of the animals, including citations and warnings against more than 20 circuses, which can be found detailed on the People for Ethical Treatment of Animals website. She described the Feld family decision as "a giant step for America."
In March of 2014, Milford's Board of Aldermen, at Davies' urging, approved legislation to ban animal handlers and shows that are not properly licensed.
The city was presented with an ordinance that would have banned all traveling shows or circuses that include wild or exotic animals, such as monkeys, chimpanzees, bears and elephants. Davies had been pushing for this kind of legislation, primarily in response to circuses held at the Westfield mall, which included elephants.
The aldermen voted to modify the proposal: They approved a ban on wild or exotic animal shows that have not received the proper permission from the city's Planning and Zoning Department, and that do not have the proper USDA license in the name of the person applying for the permit.
Davies said she was pleased the ordinance was approved, even though it wasn't as strong as she'd have liked. And while Cole Brothers didn't respond after the ordinance was approved, Davies and others said the new legislation would keep them from bringing elephants to Milford because they said Cole Brothers doesn't hold a USDA license in its own name.
"I think it's a start," Davies said at the time.
Davies said she believes movements like the one in Milford spurred the Feld family's recent decision to phase out its elephants.
"One of the reasons why Feld Entertainment decided to phase the elephants out was because 'certain cities and countries have passed anti-circus ordinances'," she said, citing various news reports. "It would cost the circus too much money to fight legislation in each place they wanted to perform.
She said the Feld family decision is "a step in the right direction."
"All exotic animals, not just elephants, should have the right to be free," Davies said. "It would be nice if Ringling didn't have to wait until 2018, but their goal is a good one."
The other side
Of course not everyone was happy about the decision.
Last year, several people came to Milford City Hall to protest the proposed ordinance that would keep some animal acts out of the city.
Resident George Beecher, for one, said he loves animals and has spent a lifetime visiting zoos, circuses and animal shows.
"The thought of generations to come not having this privilege makes me very, very sad," he said at the time.
Gary Payne, president of the Circus Fans Association of America, spoke passionately about what he sees as rhetoric from animal rights groups in the face of humane treatment of animals at circuses and other events.
"The accusations are outrageous, and they are simply not true," he said, adding that circus animals are loved and well cared for.
The Commerfords, of R.W. Commerford in Goshen, own animals and operate a traveling zoo. They have been targeted by groups like People for the Ethical Treatment of Animals (PETA), but they attended the Milford Board of Aldermen's meeting last year to argue that people who work with animals do so because the animals are part of their lives.
When traveling with the animals, "I know when the elephant is out of hay or wants a drink of water," Tim Commerford said. "It's not the dollar; this is what we do."
Commerford said there is a lot of misconception about the treatment of animals. He said the USDA is a strict regulating agency that oversees the treatment of show animals.