This is a carousel. Use Next and Previous buttons to navigate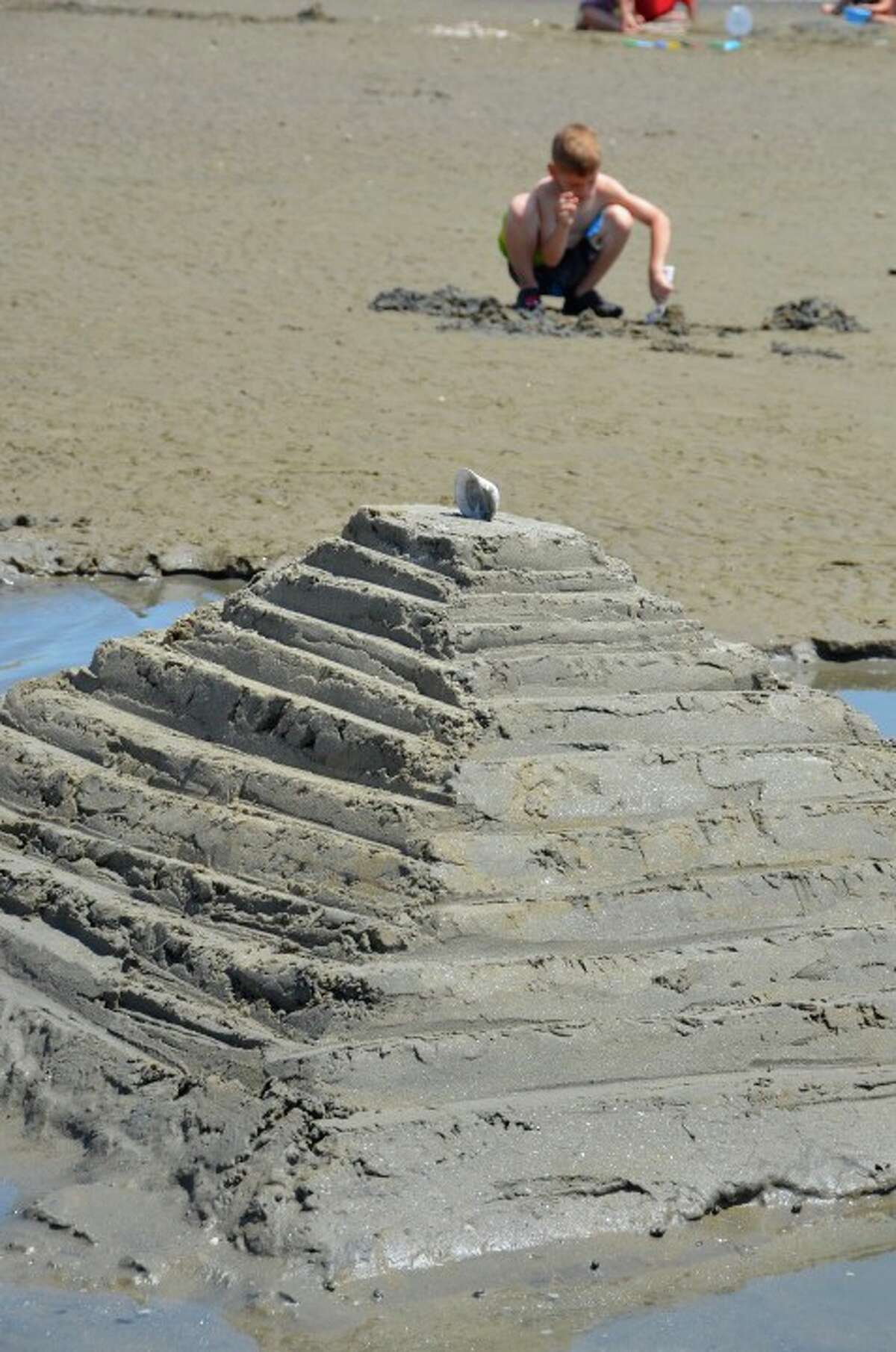 There was something new at this year's Milford Fine Arts Council's annual sand sculpture contest — a rat.
Puffy (pronounced Poofy) is a pet rat belonging to the Folloni family of Milford: Dave Folloni and his daughter Ashley brought Puffy along to the contest to use as the model for their sand sculpture, which was a rat.
Ashley said she and her father initially thought of making a sand house for the contest, but then Dad settled on the rat instead. They brought Puffy with them, but left their other pet rat, Puffer (pronounced Poofer) home, because Puffer is a rather shy rat, Ashley said.
Puffy was a big hit at the annual sand sculpture contest, which drew about 40 entrants this year.
Scarlet, age 3, one of the spectators at Saturday's contest at Walnut Beach, liked the rat. She even stopped to pet Puffy.
And people thronged around the sand rat and the real rat, making comments like, "Oh my God, it's a rat, a real rat."
"Look at this rat — it's so funny."
"How cute is that?"
Ashley, who will be a student at Pumpkin Delight Elementary School next year, said plenty of people stopped to pet Puffy, and no one seemed particularly scared or unsettled by the white tailed, red eyed animal.
Rats make good pets, she said, adding, "They're smart."
While Puffy was quite a hit, the sand sculptures springing up around her were a big hit too. There was a sunken ship, minions — characters featured in a popular animated movie — mermaids, castles, and an intricate dragon, being ridden by a sand-sculpted Daenerys Targaryen, a character in the popular Game of Thrones books and HBO series.
Marcie Wright was working on the sunken ship with members of Pack 7 Scout Troop. The idea for the ship came up last night when she and friends were out eating sushi.
"The sushi inspired it," she said as the team worked on a fairly life-size boat sunk into the sand.
Brad Conant from West Haven was constructing the dragon scene from Game of Thrones, and said he likes to tie his sand creations in with popular movies or television shows.
The Soule family was building a giant birthday cake for Sienna, a family member who turned 7 Saturday. The family celebrated with a party at the beach — they brought brownies, instead of real cake, and just before 1 p.m. were preparing to decorate their sand cake with "icing" and other decorations in honor of Sienna's big day.
Richard Stephen, from the Milford Fine Arts Council, said overall there were fewer entries this year because there were fewer people in the friends and clubs categories.
"There are 19 families in the family category, though, which I think is wonderful," he said.
Following are the winners in this year's competition:
9 and under
Honorable Mention, Summer Snowman, Gabriella and Allie Dobkowski