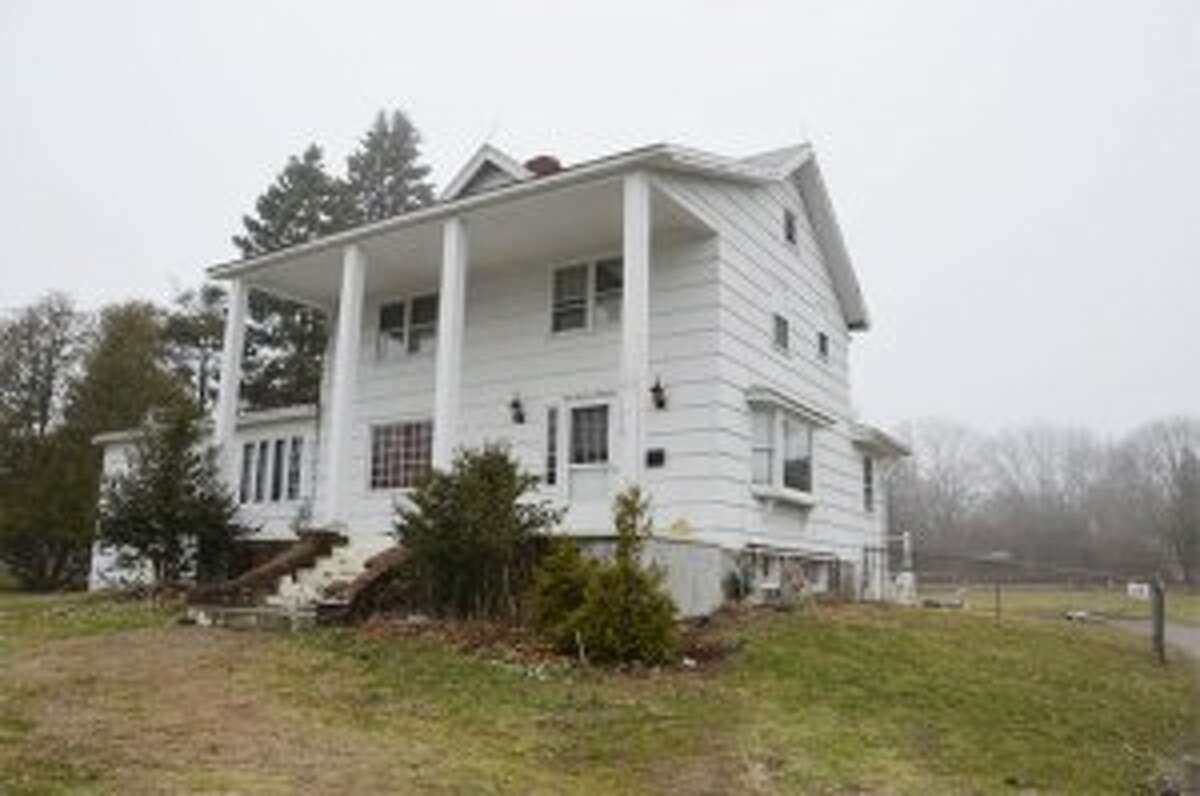 A proposed 18-unit apartment complex at 335 Meadowside Road, at the corner of Great Meadow Drive, provides an important affordable housing opportunity for people, or it represents a dense intrusion into a single-family neighborhood. The perspective depends on who is discussing the plan.
The Planning and Zoning Board (P&Z) will discuss and vote on the application at its meeting on Tuesday, June 16 at 7:30 p.m. at City Hall. Since the public hearing has been closed, there will be no further opportunity for residents to comment on the plan.
Field & Son Builders submitted the application under the name of 335 Meadowside LLC, both of which list Christopher F. Field of 17 Beacon Hill Lane, Milford, as the managing member. The other member is Gary Field. The LLC purchased the property for $337,500 in September of 2008 from the estate of Catherine Fisher.
The Fields filed an 8-30g application to construct the 18-unit residential development on the one-acre property, which is zoned R-12, a single-family zone. Six of the 18 units would be marketed as affordable under Conn. General Statutes 8-30g, which overrides local zoning rules.
The project called Silver Meadow Gardens would consist of six townhouse-style buildings with three units in each building. Fifteen would be two-bedroom units, and three would be one-bedroom units. There would be 17 garage spaces and 33 surface parking spaces. The property is located 0.1 miles east of Silver Sands Parkway.
In presenting the application for the Fields, Attorney Thomas Lynch characterized Meadowside Road as "a major feeder street" bringing traffic from Milford Center to western Milford.
Lynch said the six buildings would be constructed on the east side of the property with a parking area on the west side. He said the project would be built in the same manner as the recently completed apartment complex the Fields built at 229 West Main Street. He said the West Main Street project has three units rented at affordable rates.
Lynch said the existing house from 1879 is "highly dilapidated," and has no historical or architectural significance. He said the original windows, siding and plaster walls have all been removed and replaced.
"Even though the building was built in 1879, it deserves to be demolished and will be demolished," said Lynch.
Affordable, Not Low Income
Responding to comments he said he saw posted online, Lynch said, "This is not the development of low-income housing. This is affordable housing. There is a distinct difference between the two." He said the annual income of $62,000, which is 80% of the median income "is hardly low income." He said these types of renters are teachers, fire fighters, police, officers, and people who work at Sikorsky Aircraft.
He said the maximum monthly rent per affordable unit for those earning up to the 80% of the median income would be $1,398, which Lynch said is $400 to $500 less than other apartments in Milford. For those earning up to 60% of the median income, the maximum rent would be $1,066. Three units will be rented at the 80% income level and three at the 60% level.
Lynch said there are other multi-family units close to this property, including Meadowside Condominiums with 44 two-bedroom units within 370 feet, Oyster Bay Condominiums with 70 units within 145 feet, Milford senior housing with 95 units at the rear of his client's property on DeMaio Gardens, and 40 units in the Alberta Jagoe Apartments.
"This clearly will not be out of character with the neighborhood," said Lynch. "There are certainly other multi-family developments in the area."
Lynch said the project has no safety issues that would outweigh the need for affordable housing, and has been approved by all city departments.
Responding to an online comment about how the project would burden the Milford school system, Lynch said Meadowside School had 461 students in 2013-14 and only 394 students in the 2014-15 school year.
Commenting on the plan, Lynch said, "It has young people coming in, starting their lives, paying their way, and staying in Milford."
Project engineer Robert Wheway said stormwater would be managed using interlocking pervious concrete pavers, along with rooftop gutters that would collect water through an underground detention system that would filter the water of oil and solids before it soaked into the ground. He said there would be no increase in runoff for a 25-year storm, which is about 5.1 inches of rainfall.
For storms in excess of the 25-year mark, he said a trench drain along Meadowside Road would collect the water and send it through an underground pipe to an existing catch basin on Meadowside Road.
Project architect William Gregory Grew said the buildings would be three-story townhouses with a single-car garage, storage, mechanical and laundry room on the first floor. One unit would have expanded storage in lieu of a garage. The second floor would have the kitchen, living room, dining room and half-bath, while the third floor would have either two bedrooms and a full bath, or one bedroom, a full bath, and an open loft.
To comply with the 2009 building code, the units would have a slab to roof two-hour rated firewall, and would have sprinklers.
Limited Traffic Impact
Project traffic engineer David Spear said he evaluated traffic at the site driveway and the two nearest intersections along Meadowside Road. Spear said he did not look further because the trip generation for this project would only be 13 in the morning peak hour to 15 cars in the evening peak hour, commenting that anything less than 100 cars per peak hour would not have an impact beyond the immediate area.
Spear said the Connecticut Department of Transportation traffic counts from 2012 showed 6,200 cars per day on Meadowside Road with 421 in the morning peak hour and 774 in the evening peak hour.
Spear said from January 2011 to December 2013, there were no accidents on Meadowside Road within 400 feet of each side of the project driveway. He said the sightlines are more than 400 feet in each direction. While the speed limit is 25 mph, the observed travel speed is 35 mph.
Commenting on a traffic study funded by a local resident, Spear said he limited his study area because "our traffic is so small." He said accident records on Meadowside Road from further away "are not relevant to our site driveway."
In discussing the project, City Planner David B. Sulkis expressed concern about the design of the sidewalk and driveway near units N, O, and P, saying the design was "highly unusual" because if someone parked in front of Unit N, it blocked pedestrian access to these three units.
Lynch said the concern could be addressed by eliminating one garage and having that tenant park on the west side of the property.
Board members expressed concern about children walking through the parking lot to the bus stop on Meadowside Road, and also the lack of any play area for them.
Lynch responded by saying there is an adjacent public park. He said the normal zoning requirements for setbacks, lot coverage, and green space "don't pertain to this application."
About 50 residents attended the public hearing with one person speaking in favor and many speaking in opposition.
The lone person to speak in favor of the application was Marci Pitney of 229 West Main Street, who is renting from the Field brothers in an affordable unit at that location. Pitney said that after 25 years of marriage, including raising a daughter and a son, she was divorced, and wanted an affordable place to live in Milford to allow her son, currently a junior at Jonathan Law High School, to continue to attend Milford schools. Her daughter is living away at college.
"My main concern was keeping my son in the education system he has gone through since kindergarten," said Pitney. "If not for the affordable housing, I am not sure where I would have ended up. I consider myself extremely lucky to be given this opportunity."
Click here to read related article.