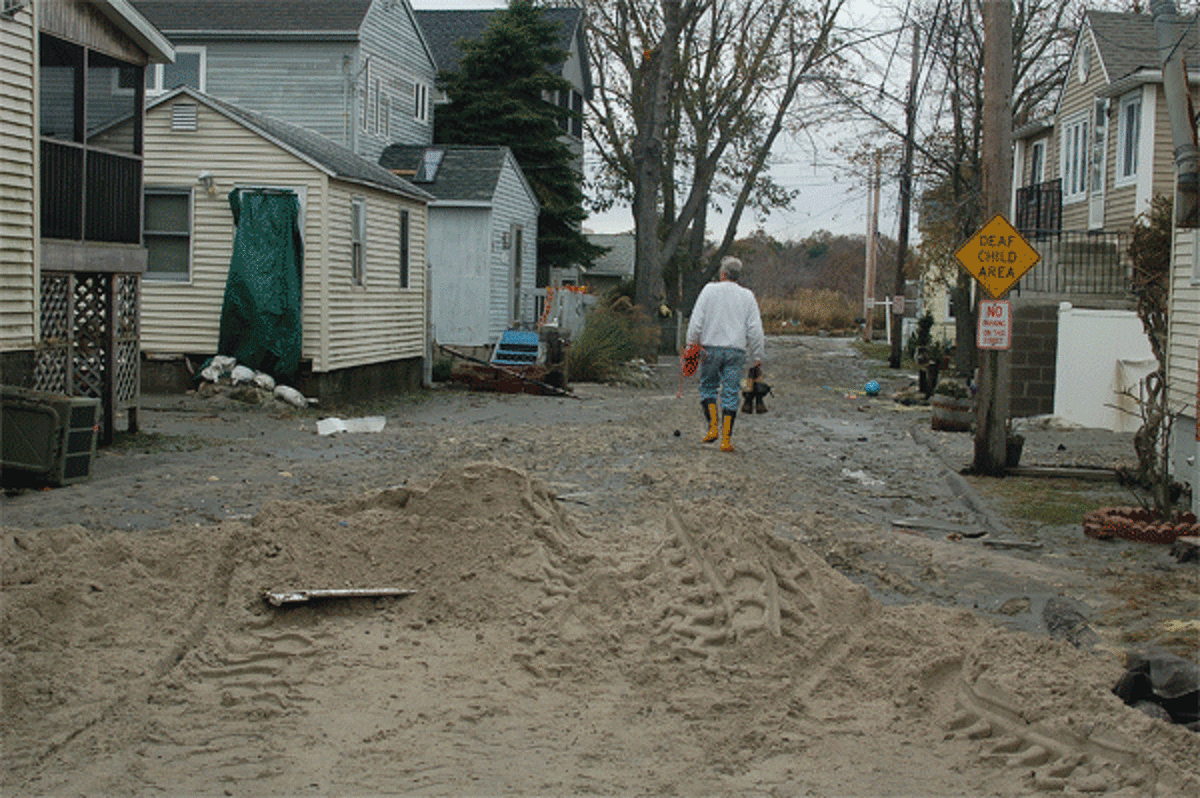 As homeowners along Milford's shoreline continue to repair property damaged by Hurricane Sandy, there is a group of people, in addition to federal and state officials, helping them get back home.
Putting the financial pieces together and going through the often complicated process of rebuilding after a storm like Sandy is by no means a quick process, said Susan Shaw, a disaster recovery specialist who works for the New York Annual Conference of the United Methodist Church, partnering with the United Methodist Committee on Relief (UMCOR).
"We're over two years into this, and Sandy was the second costliest hurricane to hit the United States since Katrina," Shaw said, explaining that rebuilding from Katrina isn't done yet, and that was 10 years ago. "So you can look at it as we're only two-and-a-half years into this."
There is still a lot of work to do.
Putting it together
Some people had flood insurance to cover costs associated with storm repair and remediation; the Federal Emergency Management Agency (FEMA) provided other money through a block grant program and hazard mitigation funds, and  there are loans and community-donated money available to help people get back home.
But to wade through the available funds and figure out how to get them is work.
"Trying to navigate to rebuild is a full-time job, and if you have a full time job ...." Shaw said.
In addition to providing extra needed dollars to fix homes, the representatives of these volunteer-based groups — like CTRises, UMCOR, the American Red Cross, the Salvation Army and Catholic Charities — help people navigate the process.
An example
Danielle Blumner, who owns a house near Silver Sands Beach, got in touch with the non-profits about nine months after Sandy destroyed her shorefront home. She was connected to Stella Guitandjiev, a disaster case worker for the Salvation Army.
Blumner had applied for money through the federally-funded Community Development Block Grant program, but since she was renting alternate living space and wanted to get back in her house as soon as possible, she decided the lengthy process and extra construction demands associated with getting money through that block grant program wasn't for her. So she decided to use her homeowner's insurance and savings to start the rebuild process on her own.
People in this situation often find that there are gaps in funding, as was the case with Blumner. She was looking at a large reconstruction and elevation bill  — which escalated with add-on costs — and she didn't get much from her insurance company. Guitandjiev was able to work with her to find charitable funds to help bridge some of the gaps.
It was former Community Development Block Grant Coordinator Tom Ivers who put Blumner in touch with the non-profits, and without Ivers, Blumner doesn't know where she'd be right now. She describes her Salvation Army caseworker, Guitandjiev, as a savior of sorts.
"Stella, she's a princess," Blumner said. "I think of her as my fairy godmother."
There's so much to wade through that in addition to finding needed dollars, these case workers do a lot of hand holding, Blumner said.
"Quite honestly you start to feel like no one cares," Blumner said. "Stella was this gentle voice saying, 'You need to get me this bill, or you need to get me this piece of paperwork'."
The non-profit representatives do this kind of work for most of the people they help. Some people see money shortages in the rent they have to pay while they also are paying a mortgage on the house they can't live in; they may need help with utility costs.
"There's very little we haven't been asked," Shaw said.
In Blumner's case, the Salvation Army found money to cover her rent while she waited to get back home.
"We're working together so we can bring the client back home as soon as possible," Guitandjiev added.
Blumner said if there are no more setbacks, her house may be ready to move back into in a month.
Connecticut Rises
CTRises is a long-term recovery group formed in 2013 by faith-based organizations to assist and advocate for Connecticut residents impacted by disasters.
The group identifies disaster-caused unmet needs; identifies available resources from volunteer organizations and coordinates delivery of appropriate resources.
Theresa Ranciato-Viele, a coordinator for CTRises, explained that the American Red Cross provided the lion's share of the funding that CTRises and the other volunteer groups are tapping into to help people pay living expenses and rebuild their homes. Those dollars include $1.1 million that funded CTRises, plus $250,000 for Milford recovery projects alone, and funding to nearby communities like Fairfield, Bridgeport and Norwalk.
Those dollars, plus volunteer builders and other volunteers, have become a big piece of the shoreline post-Sandy restoration.
There are "easily" 120 homeowners in Milford still involved in the recovery process," Shaw said, adding, "We know there are people who don't even know there's help available."
People are still coming in for help, and they include those who tried to handle the projects themselves but couldn't, and senior citizens who are often the least likely to ask for help.
The charitable organization representatives often work hand in hand with government agents representing some of the biggest funding sources — like the Community Development Block Grant funds — as they try to piece together recovery packages for residents. Shaw said subcommittees meet regularly and review files to determine which unmet needs they can help fund and how.
When they finish a case, they "celebrate for two minutes and then move onto the next one," said Ranciato-Viele.
To date, roofs have been repaired, mold remediated, rents paid, furniture acquired and much more for many Milford homeowners.
Shaw said there are still many people left to help.
People still in need of help for Hurricane Sandy repairs can call 2-1-1.