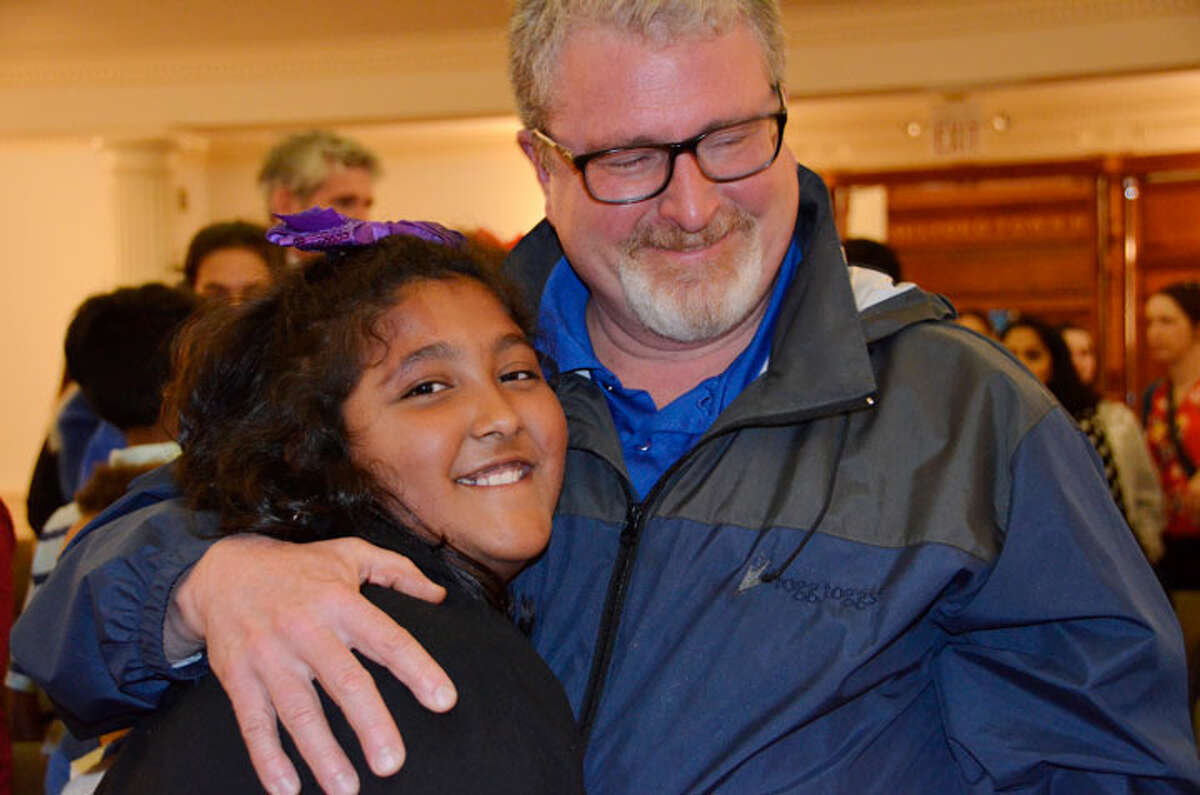 The words started out easy and then got progressively harder April 30 at Milford City Hall when 15 of the city's top fifth- and sixth-grade spellers competed in an annual spelling bee.
All 15 passed round one, quickly spelling words like "family," "birthday" and "garbage." But soon Bee Master Christine Angeli, director of the Milford Public Library, started giving them words with more syllables and trickier spellings, like "astronaut," "government," "recipient," "gymnasium" and "alabaster."
After more than an hour, Moupriya Mukherjee, who attends Mathewson School, walked away the winner after correctly spelling "negligible" and "subtle."
The fifth grader, wearing a Hogwarts sweatshirt from her favorite book series, Harry Potter, said she loves to read. In addition to studying a list of words before the bee, her love of books, she said, helped her spell the words at the Tuesday night event.
How did she know there was a silent "b" in the word "subtle," which won her first prize?
"I saw the word in a lot of the books I read," she said.
This marked the 35th year for the Junior Woman's Club of Milford sponsored spelling bee. The 15 contenders had won spelling bees at their respective schools, earning them a spot in the citywide competition.
School Board Chairman Susan Glennon and State Sen. James Maroney served as judges.
Placing second in the event was Sebastian Kohnche, from St. Mary School. Ashika Visram from Harborside Middle School came in third.
Sebastian said spelling words at the microphone in front of the judges was a little scary, even after correctly spelling "adequate," which some of the adults in the crowd said might have tripped them up.
Lauren Thomas, a Meadowside School student, shared some of her secrets to preparing for the competition. She read over lists of words before the bee, and then got some help from her mother.
"My mom quizzed me, and yesterday she asked me to spell random words," Lauren said.
Lauren also spelled out the word with her finger on her hand as she was spelling it aloud to the judges, something that other spellers could be seen doing during the competition.
Fifth grade teacher Marc LaPierre from Mathewson School was among the teachers, parents, siblings and well-wishers who packed City Hall for the spelling bee. He was thrilled to see Moupriya, one of his students, take first place.
"I am so proud," LaPierre said. "She's such a wonderful student."
Bee organizer Tammy Agria, a Junior Woman's Club member and a speech pathologist at Orchard Hills School, said some of the words the students spelled successfully were very tricky.
"I think their love of books is the key," Agria said.
The spelling bee, she added, is a great way to recognize student achievement. Angeli, who said she was honored to serve as bee master, agreed. "It highlights the importance of words and word usage and knowing vocabulary," Angeli said.
In addition to the three winners, the other finalists in the spelling bee were as follows: Chloe Wardman from Calf Pen Meadow School; Luke Wikstrom from East Shore Middle School; Mario Vitiello from Harborside Middle School; Surya Gautham from Kennedy School; Vincenza 'Luna' Montanaro from Live Oaks; Lauren Thomas from Meadowside School; William Zheng from Orange Avenue School; Shea Pangu from Orchard Hills School; Victor Vocal from Pumpkin Delight; Keith Vail from St. Mary School, and Kyle Coretti and Jon Dimaya from West Shore Middle School.