This is a carousel. Use Next and Previous buttons to navigate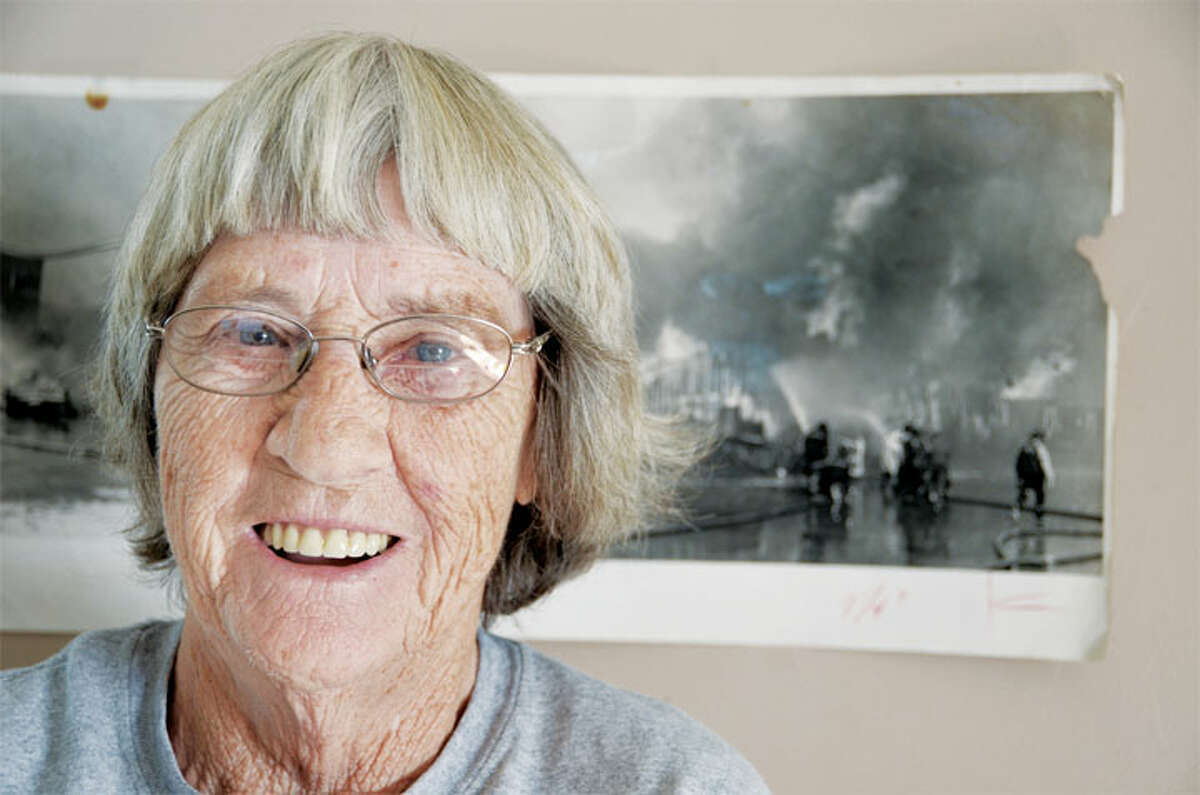 The city's fire department has its first paid female firefighter — Maureen Hickey, who was hired in January.
But Hickey isn't the first female firefighter in Milford. That would be Judy Hessberger. Hessberger wasn't part of the paid department, but she served as a volunteer in the 1970s with the Fort Trumbull Volunteer Fire Company, and she was Milford's first, and only, female volunteer firefighter.
Milford once had six active volunteer fire companies: Arctic Engine Co. 1, Fort Trumbull Beach Fire Co. 2, Myrtle Beach Engine Co. 3, Devon Hose Co. 4, Woodmont Engine Co. 5 and Point Beach Engine Co. 6.
They were relieved from duty when the city went to an all-paid department.
Hessberger's husband, James, was a paid firefighter in Milford at that time, when the city was served by paid and volunteer firefighters. And, Hessberger said, aside from marrying someone in the firefighting business, she just always had firefighting in her blood.
Her uncle was a firefighter and she was chasing fires from a young age. She was on the scene of so many fires by the time she became an adult she said the fire chief told her, half kidding, that she might as well join the volunteer firefighters so they wouldn't think she was an arsonist setting the fires.
There were some naysayers when Hessberger decided she wanted to be among the volunteers, but she told them that she just wanted a chance to try. If she couldn't cut it, she told the men on the department she'd bow out.
But she did make it and she did take her place with the volunteers.
As a volunteer firefighter she had to go through the same training as the men. She was strong enough, able to carry a ladder and set it up; and drag heavy hoses. She understand the concepts, like never open the door of a closed room too quickly — you have to grasp the doorknob to get a sense of how hot the room is inside.
"You have to be strong, and you have to not panic," Hessberger said.
The one area where she had a little difficulty was wearing an oxygen mask because she didn't like having something over her face.
"Some of the guys were the same, so we'd practice," she said.
Hessberger got broken in quickly: It wasn't long after she became a volunteer firefighter that there was a fire at the Connecticut Post Mall in the late 1970s.
"We had walls collapsing on us and everything," she recalled.
Never injured during a fire, Hessberger remembered that during the mall fire she and a firefighter working near her had to jump when a wall started to collapse, and they landed in bushes. The other firefighter landed on his back, and with the weight of the equipment he wore, he couldn't get up easily. She laughed as she remembered that they both were amused when she had to help him get to his feet.
She hated the dump fires because the smell was awful. And wouldn't you know, the first fire she fought as a volunteer was at the town dump.
Hessberger has some cherished memories. While there were some men among the volunteers and paid firefighters who didn't especially like having a woman among their ranks, most were supportive or came to be supportive when they realized she could do the job.
She was fighting a fire out of town one day, and she asked her company members not to let on that she was a woman.
"With all the gear on you couldn't tell," she said.
When the firefighters gathered after fighting the blaze, and helmets came off, some of the out-of-towners were quite surpirsed to see a woman firefighter had been battling the blaze alongside them.
Hessberger remembers a fire at Meadowside School. She was helping to fight the fire, as was the captain, when the captain yelled, 'Where's Judy?"
Someone asked him why he wanted to know, and he responded, "Because my pants just fell down," Hesseberger remembered with a laugh, pointing out that he wanted to make sure she was nowhere in sight.
There were funny times like that, when being the only woman could be cause for levity.
At 73, Hessberger is still in good shape, and she still follows fire trucks when she hears them go by.
She actually thought briefly about taking the firefighter test.
"But I thought, not at age 73," she said with a smile.
She thought about trying to become a member of the paid department years ago, too, but she had a good job as a school custodian in Milford — again she said she was the only woman doing that job.
"My father always called me a tomboy," she added.
Carlos Smith, who was a paid firefighter when Hessberger was a volunteer, said he has nothing but praise for her as a firefighter.
"She was a good worker," Smith said.
Ann Feeley's late husband, Harold, was captain of Fort Trumbull Fire Co. 2, and Ann worked at The Milford Citizen, which was Milford's daily newspaper.
Feeley said The Milford Citizen did a big article when Hessberger became the first woman firefighter.
"Judy was always ready to help everybody out," Feeley said. She can still picture Hessberger driving the fire truck.
Hesserberger's house, where she raised three sons, is filled with firefighting memorabilia. And she still has her old gear in a cedar chest in the basement.
Hessberger met Hickey — Milford's other first where firefighting is concerned. "I think she's great," Hessberger said. "I think she's going to go far. She reminds me of me."