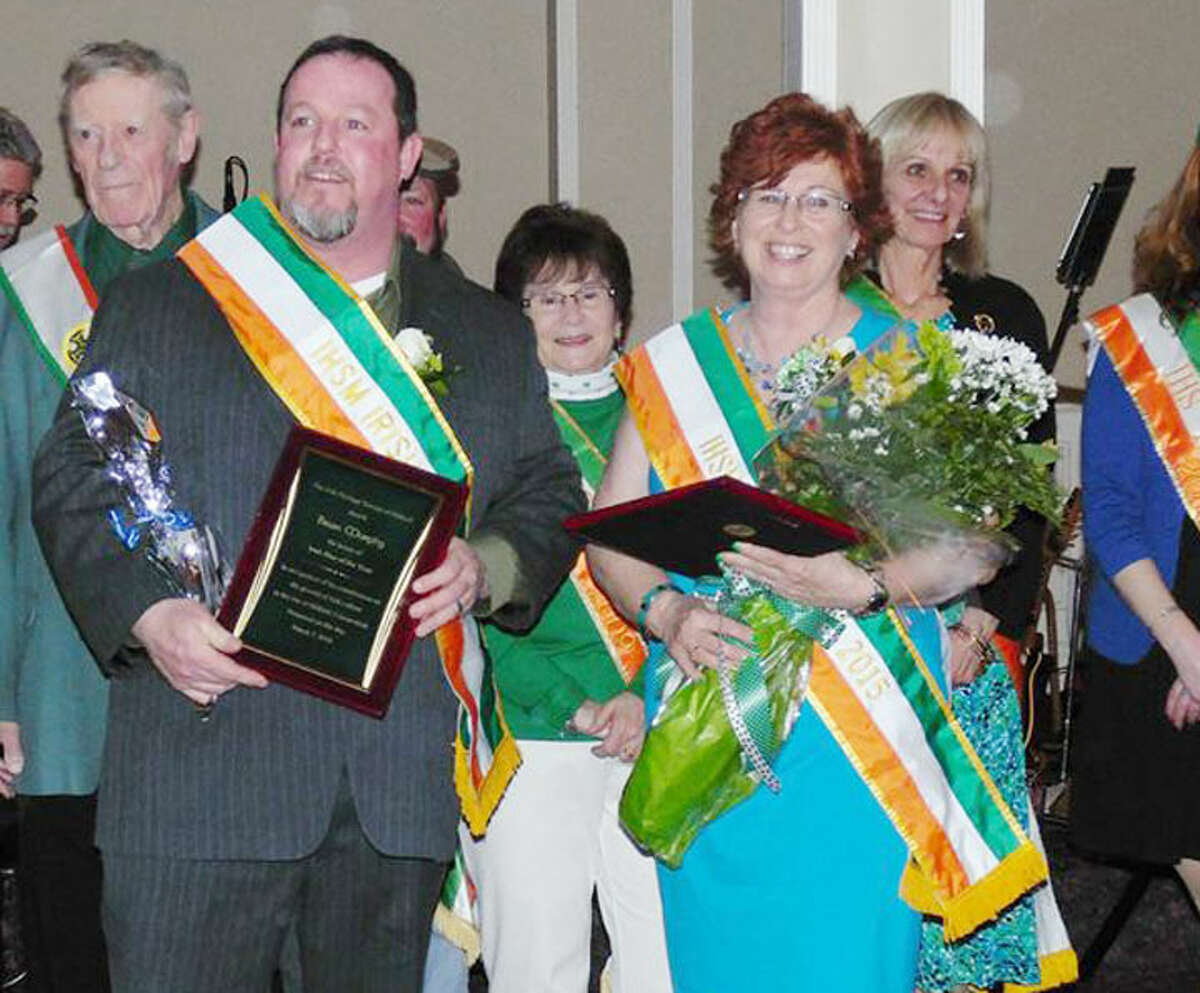 Milford's Irish man and woman of the year don't hail directly from Ireland, but they treasure their Irish roots and work hard to promote the Irish heritage in Milford.
Brian Murphy was named the Milford Irish Heritage Society's Irish Man of the Year, and Priscilla James was named Irish Woman of the Year at a recent dinner and ceremony in Milford.
It's hard to argue Murphy's loyalty to the Irish heritage: He wore a kilt when he got married in 2006, decorated with the family emblems from Ireland.
He said his Irish roots date back to at least his great-great-grandfather and County Cork, but he's always treasured the Irish connection.
St. Patrick's Day is his favorite holiday, he loves Irish music, and visiting Ireland is on his bucket list of things to do before he dies.
He's been a member of the Irish Heritage Society only about a year and a half, and it's actually the first time he's gotten involved in a community service.
"I just thought of the Irish festival and how the basis of it was appealing to me. So I decided, why not?" he said, adding, "and when I get into something I go full force."
Murphy attended all the club meetings last year, and has been involved in the club's acquisition of a new headquarters at the old Star Cafe in Devon, which he said should be fully up and running in about six weeks.
A truck driver for Sikorsky, Murphy is married to Dawn Murphy and has a son, Tyler, and stepdaughter, Christina Wright.
He said he was surprised when club President Ed Mead called him and asked what he was doing March 7. Murphy checked his calendar before asking Mead what he was looking for help with that day. That's when Mead told him he'd been chosen as Irish Man of the Year and would have to be at the club dinner to accept the award.
"I said, 'Are you kidding?'"
The Irish Woman of the Year was caught less off guard when she was told she'd wear this year's sash. James said the club asked her in the past if she'd want to be Irish Woman of the Year, but since she was on the club's board, she declined.
Even so, she said she is "very, very honored" and was surprised at how excited she was to receive this year's title.
James has been a member of the Irish Heritage Society since it formed in 2006. She traces her roots to Ireland back three generations, and always wanted to learn more about her family tree.
When she retired from her job with the Southern Connecticut Gas Co. after 28 years, she decided to join an Irish club. The Fairfield group had a waiting list, and then she saw an article stating that Milford was forming its own Irish Heritage Society. She signed up right away.
She's learned a lot about her own family history since joining, and traveled to Ireland last summer. She learned about her great-great-grandmother, Mary O'Gorman, who left Ireland for the United States at the end of the famine, traveling with a son and daughter.
"I found it fascinating that they knew when they left that they wouldn't be going back again," James said.
Mary O'Gorman's daughter married John Cannavan and the couple had three children, but she died while giving birth to their last child. John Cannavan met his second wife at her funeral, James said, and the couple went on to have five more children.
James has been very active in Milford's Irish Heritage Society, from helping to organize genealogy seminars to starting a book club and helping draft bylaws when the club first formed. She was the first club secretary, serving for two years, and organized a monthly luncheon and other activities. She also helped design the club's website, works on organizing the annual Irish Festival, and did a lot of work on the rental house the club bought when it purchased the old Star Cafe. The house has been rehabilitated and is now being rented, she said.
James was married to the late Lyle James and has two grown children as well as grandchildren and great-grandchildren.
Mead said Murphy and James were perfect choices for this year's Irish man and woman of the year.
"Our club is built by the people who volunteer their time and efforts for us to grow," Mead said. "It's people like Priscilla and Brian that we  need to continue our growth. I know we will continue to see them do what they do best for our club."
Murphy and James will wear the man- and woman-of-the-year sashes when they march in the annual Milford St. Patrick's Day parade Saturday, March 21, stepping off from the Parsons Complex at 1 p.m. and making its way to the end of the Broad Street green.