This is a carousel. Use Next and Previous buttons to navigate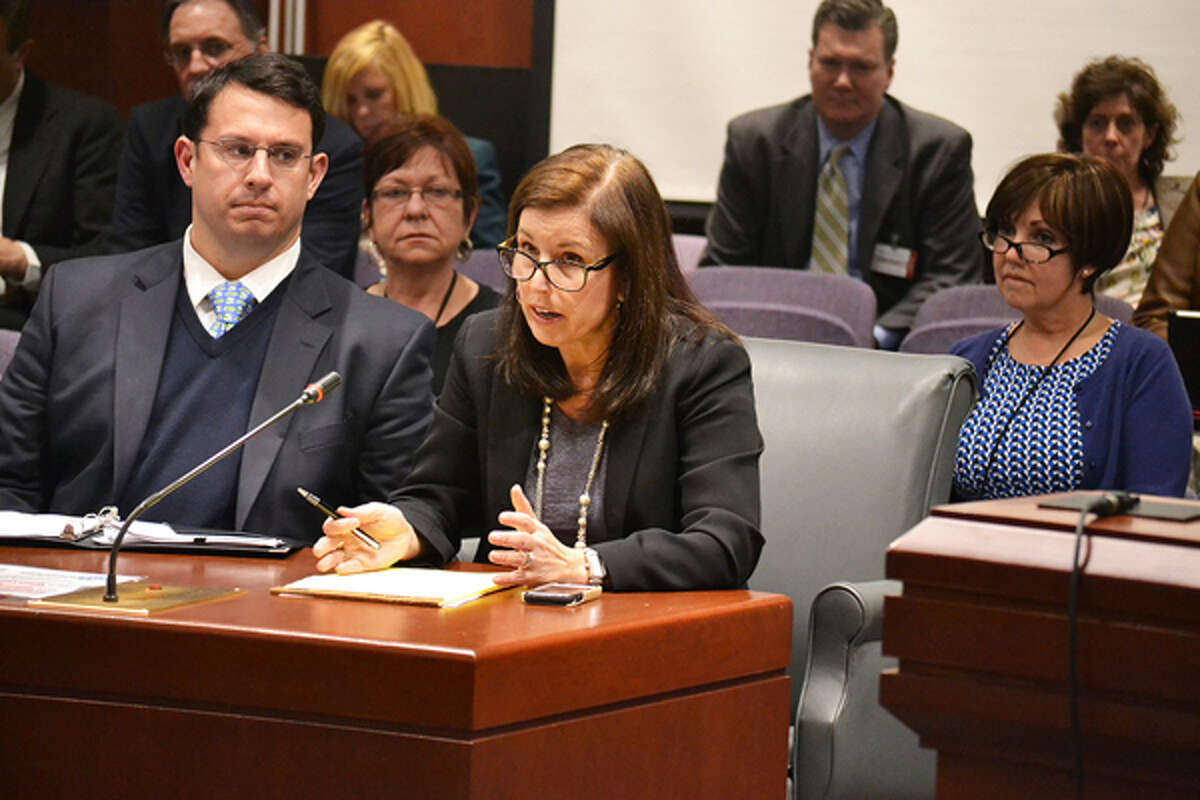 State Senator Gayle S. Slossberg (D-Milford) testified along with Mayor Benjamin Blake and State Reps. Kim Rose (D-Milford), Pam Staneski (R-Milford) and Charles Ferraro (R-West Haven) on Monday, March 16 in support of legislation to take back ownership of land at Silver Sands State Park from Connecticut's Department of Energy & Environmental Protection (DEEP).
The legislation, HB-6998, An Act Concerning the Conveyance of Certain Parcels of State Land, contains a section that would convey several parcels totaling almost five acres, once owned by Milford, back to the city. The testimony was given as part of a public hearing on the bill held by the Government Administration and Elections committee.
"Over the years the city has voluntarily conveyed land to the state with the understanding that the state would treat it in a manner that was environmentally sound, and respectful of the historic, densely populated community," Sen. Slossberg said. "DEEP has failed miserably in its stewardship of the land. We've seen crime, the dumping of waste and the closing off of critical emergency vehicle access points."
"The city has asked repeatedly for cooperation from the state, and these attempts have fallen on deaf ears," Slossberg continued. "It is time for us to take these pieces of land back — to protect our local neighborhoods and to be the environmental stewards DEEP has failed to be."
In reviewing improvements planned by the Department of Environmental Protection (DEEP), city officials said they found that many of their concerns regarding the cleaning of blighted areas are not included in the plan.
During the public hearing Rep. Rose said, "While the DEEP has ambitious goals to restore the area with offices, dining and other amenities, the city's priorities for restoring the park's natural beauty and engaging massive cleaning efforts to get rid of undesirable debris have not been committed. Serious concerns have been discussed, such as street parking congestion and other issues that would be detrimental to homeowners if the proposed improvements were to be undertaken."
Working together
According to DEEP Spokesman Dennis Schain the state has invested $5 million into the boardwalk that connects to the Walnut Beach boardwalk.
"Our build-out plan for Silver Sands includes a beach services complex, which  will provide permanent bathrooms, a concession stand and a new lifeguard station, along with improved parking and protection for endangered species on the site," Schain said.
There would also be a parking fee, similar to other state parks.
He said the development plans are being coordinated with the city to ensure continued access to its animal control shelter "while bringing much needed improvements to this popular beach."
City officials suggest that DEEP is not working with the city.
"If DEEP was willing to come to the table and work with Milford to protect the sensitive coastal environment, help ensure the safety of our citizens, and consider new resiliency efforts along our embattled shoreline, we would be happy to withdraw our request for this land conveyance," said Mayor Blake.
Staneski echoed those comments, saying the state of Connecticut has failed in their duty to keep the property well-maintained.
"The language in this bill simply permits Milford to once again own the property; a property I know the city of Milford will safeguard and protect if in their hands," Staneski said.
Ferraro argued that the city of Milford's vision for Silver Sands State Park stands in stark contrast to that which is depicted by DEEP.
"For example," Ferraro said, "the city would prefer that DEEP first restore the park's natural environment by addressing the blighted and dangerous conditions which limit access to visitors and deteriorate the local ecosystems before it constructs massive guard houses, dining facilities and beachside administrative offices."
State DEEP officials submitted testimony Monday in opposition to the transfer.
"DEEP does not support conveying these parcels to the city, as such conveyance would create exclusive use zones within the State Park for city residents, and the parcels proposed for transfer are ones DEEP considers integral in its efforts to ensure full public access, recreation, and safety," state officials testified.
Eric Hammerling, executive director of the state Forest and Park Association, sent out a newsletter prior to Monday's meeting, urging residents to oppose the transfer of property to Milford.
Hammerling said that every year the General Assembly passes a Conveyance Act which proposes the sale, trade or giveaway of state lands in various communities.
"The Act often includes harmless proposals such as a simple boundary adjustment, but sometimes there are attempts to give away valuable public lands to a town or private party for nothing in return," Hammerling said.
He added that DEEP previously refused Milford's request to establish an exclusive parking area only for city residents, and so the city asked for the areas in question to be taken from Silver Sands and be given to Milford.
"Silver Sands is one of the state's most beautiful beaches, and has been the beneficiary of millions of dollars of rehabilitation work utilizing state funds over the past few years," Hammerling said.
Mayor Blake said Hammerling did not discuss the proposal with Milford officials before making the statement, and Blake wishes he had gotten both sides of the story.
According to Schain, the General Assembly will vote on the matter.