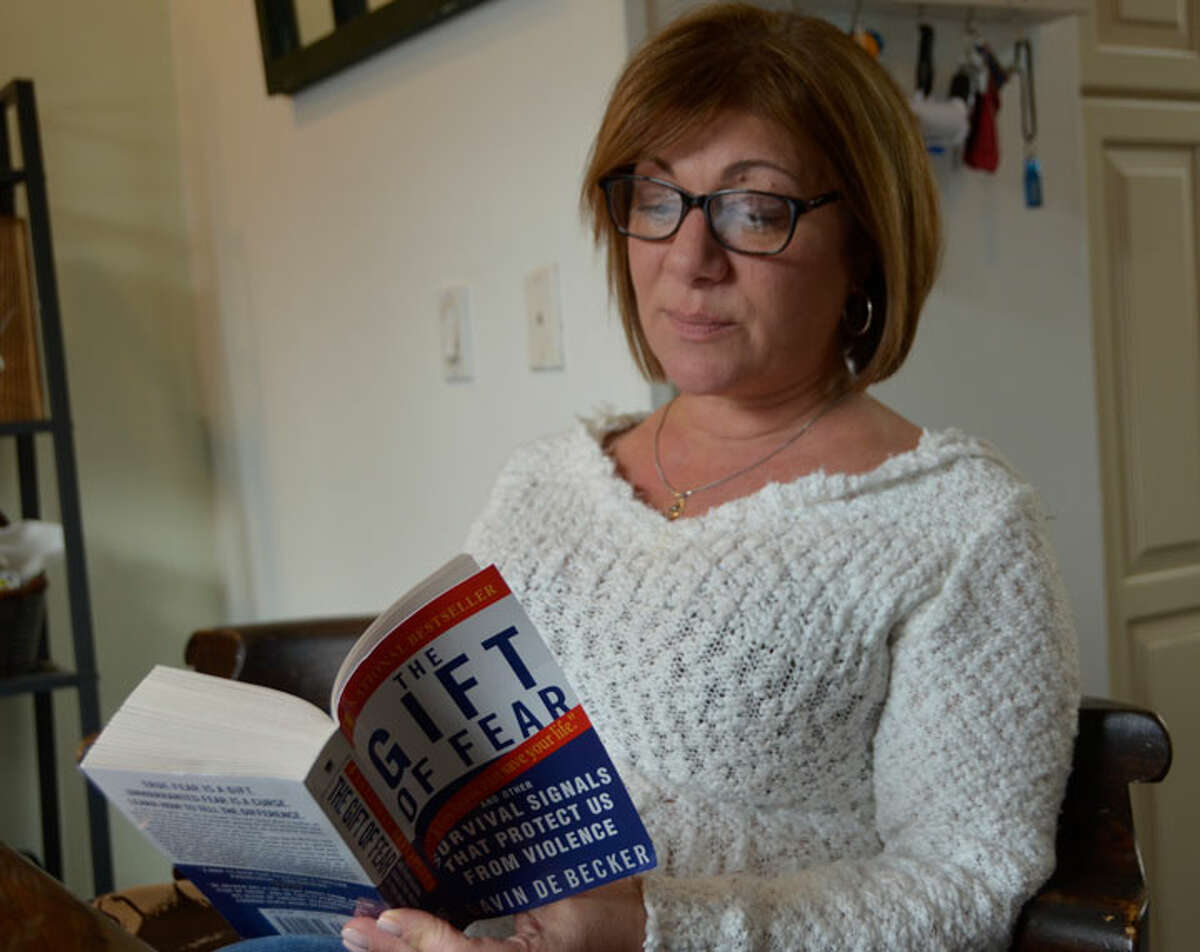 Donna Cimarelli wishes she had said more to her daughter, Maren Sanchez, about staying away from a fellow high school student who was making her feel uncomfortable; she wishes she had taught Maren to trust her instinct and to act on it.
The morning that Maren was killed at Jonathan Law High School, April 25, 2014, when she was just 16 years old and preparing for her prom night, the young man now in prison for her murder met her at her locker.
"I know that Maren wanted nothing to do with him," Cimarelli said, picturing that encounter, which she has been told was captured on a surveillance camera. "I could just feel it. I could feel her dread." But after a short conversation he got her to lead the way into a stairwell, and Cimarelli knows that her daughter felt that something wasn't right. Cimarelli said that was the moment Maren was defeated, when she relinquished control, opened the door and passed control to Christopher Plaskon, who is serving 25 years for stabbing her in that stairwell and killing her.
It is that message — to listen to that instinct and trust it — that Cimarelli and the Maren Sanchez Home Foundation now pass along to other young women, in the hopes that they will empower themselves and be safe.
The foundation is organizing its third annual gala to raise money to continue its mission "to empower girls to defend themselves against emotional, psychological and verbal manipulation, and physical violence."
The event will take place Saturday, April 13, from 6 to 11 p.m. at the same restaurant where Maren was supposed to attend her junior prom in 2014, Vazzano's Four Seasons at 337 Kenyon Street in Stratford.
The theme will be A Magical Night in the 70s because Maren was a seventies girl: The popular high school student who loved music and art, and who by all accounts was kind to everyone, knew the song lyrics from that period and she even had bell bottoms, her mother said.
There will be two hours of hors-d'oeuvres, dinner, music by DJ Louis Zayas, a live auction, a 70s photo booth and a 70s boutique by Bohemian High of Milford. Tickets are $150, and Cimarelli is hoping to sell at least 300.
The event is casual, but 70s attire is welcome.
The Maren Sanchez Home Foundation is looking for donations, sponsors and gift certificates.
Proceeds will support the foundation's mission. Cimarelli estimates that so far more than 1,000 young women have learned some of the skills she wishes Maren had learned. In 2018 alone, 600 girls statewide were trained in Her-Self Defense and hundreds of students heard Cimarelli's Her-Self Awareness lecture.
During a recent interview, Cimarelli underlined a line in the book "The Gift of Fear," by Gavin De Becker, which she uses during her lectures. The book starts with a scenario of a young woman carrying grocery bags to her apartment, when a man appears and offers to help. The young woman is uncomfortable, but then she acquiesces and lets the man help with her bags. A short time later, the man rapes her.
The line Cimarelli underlines is this: "As the bag passed from her control to his, so did she."
For Maren that moment came when she led Plaskon through that stairwell door, Cimarelli said, relinquishing control to him.
The lessons Cimarelli teaches are a lot about following intuition.
"I talk not so much about Maren not following her intuition," she said. "I talk about what I saw and what I felt."
She talks about losing her only daughter.
She hopes to help others not miss important signals and red flags.
It has been widely reported that Maren was killed because she did not accept Plaskon's invitation to prom. Her mother said prom "was the straw, but it wasn't the reason."
"The attack did not start on April 25, 2014," reads a passage on the Maren Sanchez Home Foundation website.
"The signs of concern started way earlier. Maren was a victim of emotional manipulation for some time before that day. The person who became her attacker showed the classic signs of a manipulator."
When Cimarelli lectures young woman, she talks to them about emotional manipulation, psychological manipulation, and pre-incident indicators — red flags. She talks to them about their intuition, and then she reads from The Gift of Fear, and talks about the warning signs in Maren's case.
"I need them to know there are things we can do to keep this from happening," Cimarelli said.
Cimarelli said her daughter's energy lives on through the foundation's work: Cimarelli's dream is to build a camp from the ground up, in Maren's name, to teach young women these important lessons. Some of the funds raised at the upcoming gala will help make that dream a reality someday.
"In life, Maren had so many friends," states a passage on the foundation's website. "Yet now her light shines on more people than ever. Through our work to inspire global change, we carry on in the same way she lived life. Bright, giving, talented, welcoming and strong."
Tickets to the upcoming gala can be purchased at Bohemian High, 159 Bridgeport Avenue, Milford, or call or text Donna Cimarelli at 203-331-6180. Information about upcoming classes can be found at marensanchezhomefoundation.org and at the organization's Facebook page.