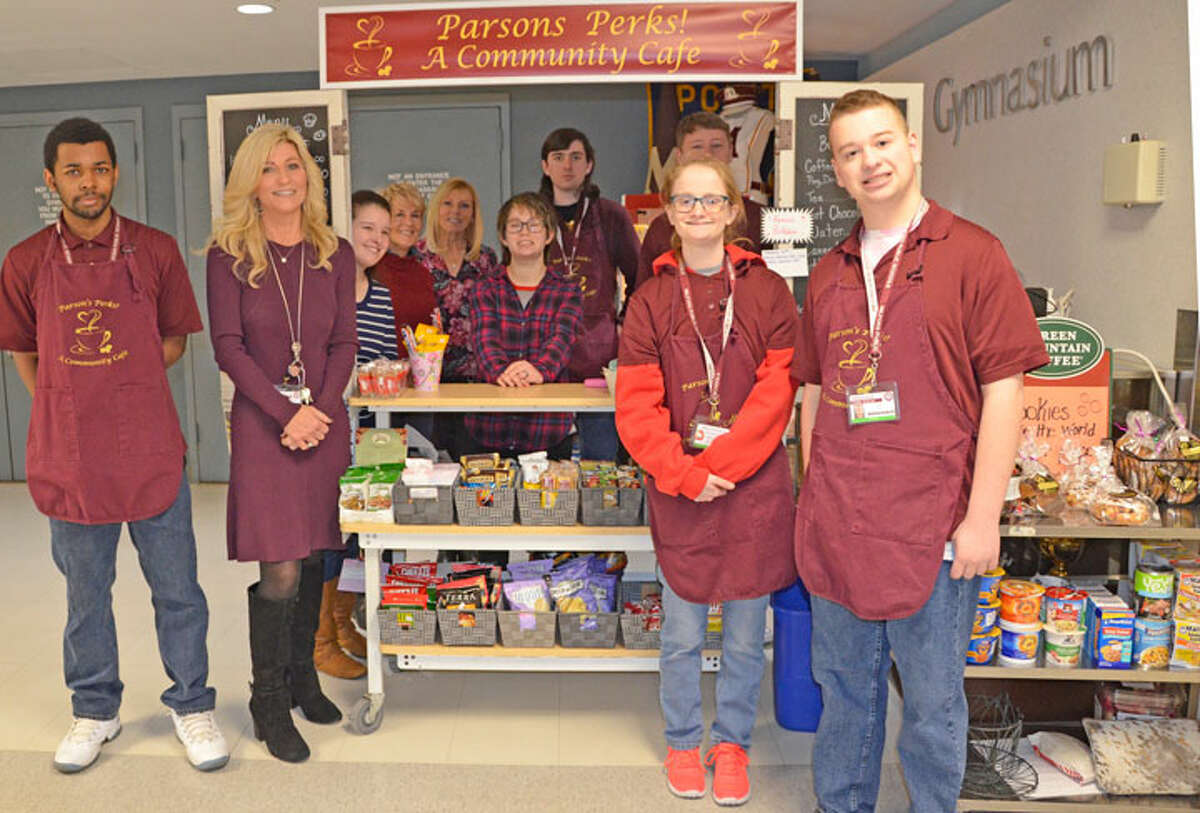 Milford public school officials say that what started as a simple coffee cart has become a powerful job-training program for students in Milford.
Parsons Perks, a mobile coffee station located in the Parsons Government Center in Milford, celebrated its three-year anniversary this week, with cake and games, honoring a program that teaches fifth-year students skills they need to move on to jobs or college.
Parsons Perks serves coffee, pre-packaged snacks and cold beverages to visitors and the city and school employees who work in the building. The program expanded last year with made-to-order lunches that are delivered to the various offices in the building.
The business is operated completely by students from the district's Fifth Year Vocational Experience program who continue their formal education process through age 21.
Milford School Supertindent Dr. Anna Cutaia kicked off the celebration Monday morning, saying that the success of the student-run business shows that the Milford school district is a place of possibilities. "This is an opportunity for our kids to launch into the real world," Cutaia said.
Emma Grace, 22, is one example. Grace is a graduate of the Fifth Year Vocational Experience program and now works as a substitute food service employee for the Milford school system.
Kristen Sheridan, 22, is also a graduate of the program, and now she is attending Gateway Community College, studying hospitality. She hopes to go into the event planning business someday, and said the skills she learned working at Parsons Perks were a big help.
Ken Szygiel, 20, who has been in the program two years, hopes to get a job at a local restaurant soon.
Milford teacher and transition coordinator Joanne Barrett got the idea in 2016 to launch a business in which students with special needs could gain important vocational skills.
"My mission was to create a way for my students to learn valuable employability skills in a public environment," Barrett said. "These students have huge potential and can easily become tax-paying, contributing citizens — but they needed a way to get some real experience before they transition from school to work. The response has been overwhelming and now, three years later, we are still going strong."
In addition to the cafe, the Fifth Year Vocational Experience program has partnered with several local businesses, providing supported work experiences for the students. The program has employer partnerships with companies including Schick, ShopRite of Milford, Walmart, Nantucket Embroidery, IT Recovery Specialists, The Plate, and Plastic Tool Systems.
The students get paid a stipend for the hours they work, and they use their earnings to set up a bank account and learn money management skills, Barrett said.
And the program doesn't just benefit the students. The people who work at the Parsons Government Center say it's great having cheerful, professional students coming around and selling coffee and lunch.
"It's phenomenal," said Probate Judge Beverly Streit-Kefalas. She said the young staffers try to accommodate the dietary requests of their customers, even adding menu items upon request.
Meg Greene, who works in the planning and zoning office, said the students who work at the Parsons coffee shop brighten up the building. "The kids are so awesome," Greene said. "Every time they come into the office, it's just a reason to smile. They're so professional, and it improves the quality of our work day."
Monday's Parsons Perks celebration was highlighted by Kaylee Jamieson, 20, singing the song "I'll be there for you," from the Friends sitcom, which revolved around a coffee shop called Central Perk.
The Parsons Perks cart is open Monday through Thursday from 8:30 a.m. to 1 p.m. and on Fridays from 8:30 to 11 a.m., during the school year.