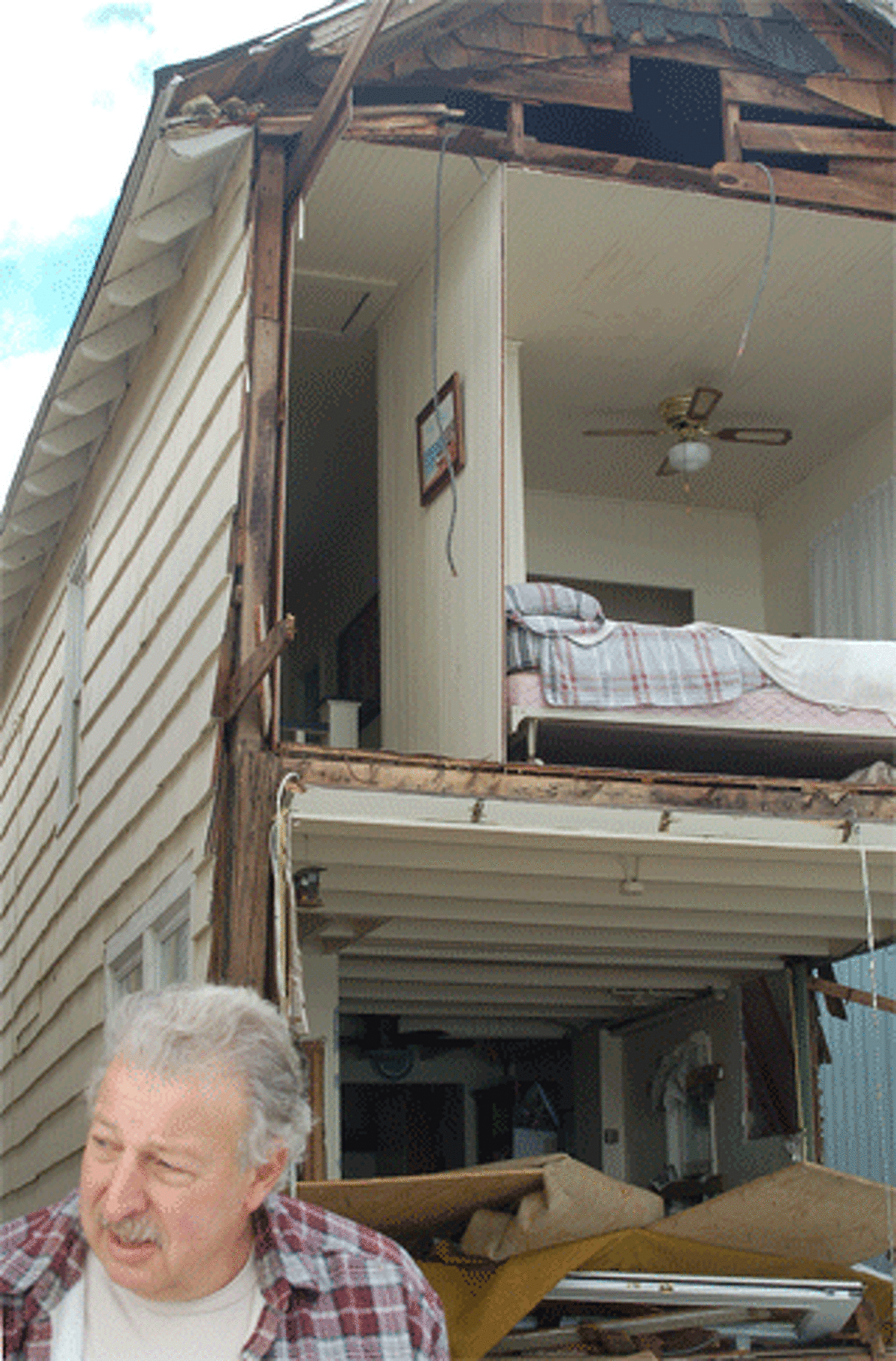 The sound of generators can be heard all along Milford's shoreline Friday as residents clear debris from their homes and, in some cases, wait for building officials to arrive to assess their damages.
That was the case on Hillside Avenue, where Marti and Jeb Goldman were waiting for a city inspector to look at their house, a large portion of which had been ripped off and is probably floating in Long Island Sound somewhere.
Jeb pointed at the exposed back part of the house and said, "We're missing two bedrooms, a living room and a porch."
He laughed a little when he pointed toward the remains of an inner bedroom upstairs. The room was visible from below, and the bed was still neatly made.
The Goldmans are pretty sure they won't be able to rebuild the summer house that's been in the family since the 1960s. Marti said she's planning to retire next year and had planned to stay the whole summer in Milford in the cozy Hillside Avenue home.
They really have no idea what they're going to do with the house.
But like other shorefront property owners who were out today assessing, cleaning, calculating, they were fairly upbeat, something even Mayor Ben Blake noted at a press conference this week.
"I do feel a great loss," Marti said, "and my kids are devastated. But there has to be a better way — I mean, maybe we can knock this down and build a new house or sell the property and get something somewhere else.
"Crying about it," she added, "isn't going to help."
Ann Speller lives in Bayview Beach. She just had the last bit of carpet installed in her house after renovating from Tropical Storm Irene, and the next day Sandy came in and destroyed all the new walls, the carpet, everything.
She said there was a lot more water around her house this time than last: Water marks on her garage show Irene at about three feet high, and Sandy between six and seven feet high.
And yet, as workers pulled out the sheetrock that was new since Irene and her brand new dusty rose carpeting that lay brown and wet on the floor, she smiled.
"I'm just like that,' she said. "I smile because it's what I can do. I'm taking a quote from President Lincoln. He said, 'I laugh because I don't want to cry'."
At Point Beach, an area hit hard by Irene and harder by Sandy, one contractor was already starting to rebuild three houses that he rebuilt post-Irene, and he's added a fourth to the list.
The builder, who didn't want to be named, said doing the work a second time might be easier. "This time we know what to expect from the insurance companies," he said.
"The storm moved through here like crazy," the builder added. He pointed toward the next street over and said Sandy pushed Milford Alderman Susan Shaw's house four feet off its foundation and swept her garage away. City officials walking past Shaw's house Friday didn't know where the garage went.