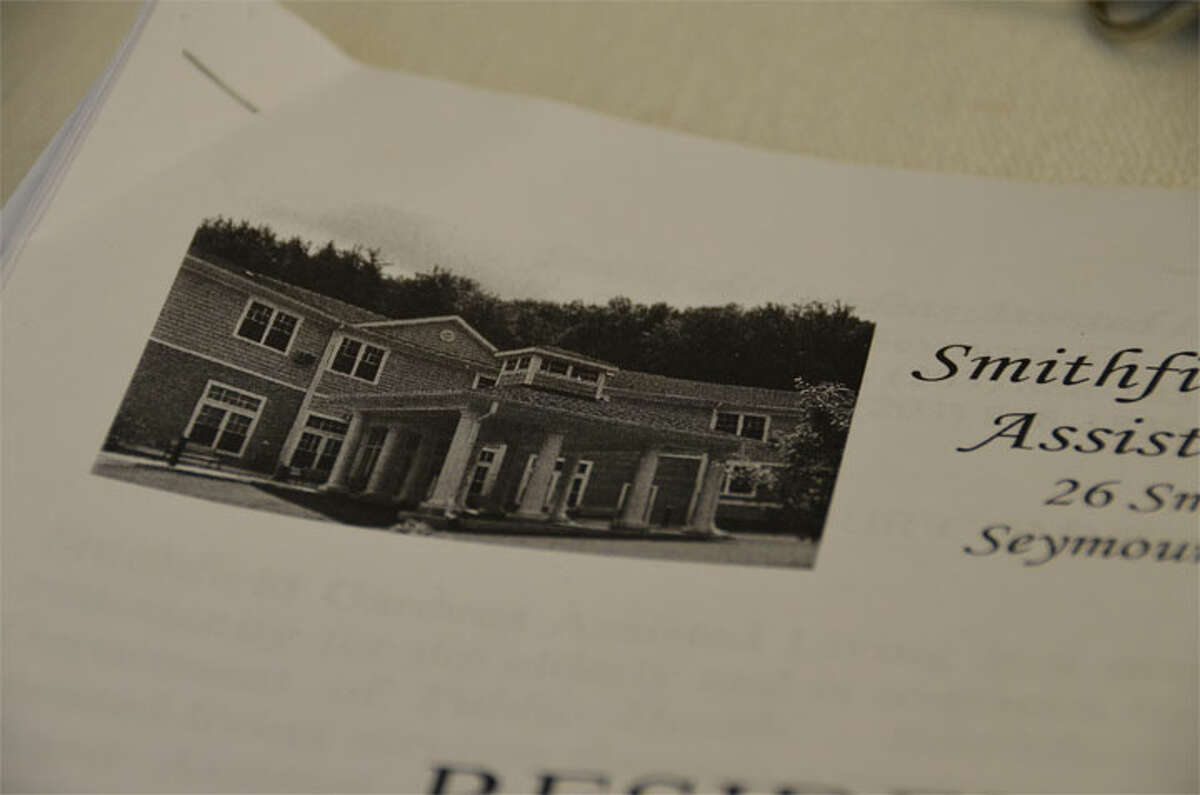 A Milford family is battling for what they say would be justice for their elderly mother and grandmother, whom they say was sexually assaulted at an assisted living facility in Seymour and now cannot return to the comfortable apartment she called home for more than seven years.
Ann Russo's daughter, Ann Wayne, and Nikki Wayne and Laurie Sheehan, Russo's granddaughters, say that 91-year-old Ann Russo, who lived in Milford for more than 50 years, raised three children, and was a past president of the Milford Women's Club, was assaulted at Smithfield Gardens, an assisted living facility in Seymour, last year by a 97-year-old resident.
Nicholas Minuto, a Smithfield Gardens resident, has been charged with sexual assault in the fourth degree, which court documents describe as a misdemeanor. He has pled not guilt and is scheduled to appear in Derby Superior Court again July 27 on the charges.
An independent woman
The family said Russo was always very independent. "Her home was always  home base," said Sheehan. "She took care of all of us, and stray animals."
Complications from a bypass surgery when she was 76 left Russo unable to speak, so she soon moved from her condominium in Milford to an assisted living facility in Milford, where she lived from 2000 to 2007.
"We're all working," Ann Wayne said. "And she was always very independent. She said she never wanted to live with her children."
Russo was happy at the assisted living facility in Milford, but after seven years funds were starting to run out and paying the $4,500 per month for the apartment was becoming difficult. That's when Ann Wayne heard about a new assisted living facility in Seymour — Smithfield Gardens Assisted Living — that the family could afford. The family was thrilled. They said the staff there was great and their aging matriarch was very happy there.
But last year, the day after Ann Russo gathered with her family in Milford for Thanksgiving, an aide at Smithfield Gardens reported that she walked in on another resident sexually assaulting Russo in her apartment. The aide intervened and notified several people in authority at the facility, but the family members say they weren't notified until the following day.
Nikki Wayne said the family contacted the police immediately. They took Russo to Milford Hospital to be examined, and then they started piecing together recent incidents involving Russo that led them to believe the abuse had been going on for a number of months.
"In your wildest dreams would you expect your elderly mother to be sexually assaulted?" Ann Wayne said, fighting back tears. "God knows how long. That's what breaks my heart."
Details of the charges were not available because the file has been sealed to protect Russo's privacy.
David Keyser, executive director of the Seymour Housing Authority, said the authority takes the incident and allegations very seriously, but cannot discuss details because of the pending case.
He said the authority is working to evict Minuto, but he said it is a fairly lengthy process.
Keyser also said there have not been any similar incidents at the facility.
Too long, they say
Russo's family is frustrated and distraught, mostly because it's been seven months and Russo is living in a skilled nursing facility in Milford, when she would be happier back in her own apartment at Smithfield Gardens. The family won't move her back there until the accused assaulter has moved out. They point to documentation in the Smithfield lease that says if a resident harms another resident, their lease will be terminated quickly.
Ann Wayne said she asked her mother if she wanted her to share the story of what happened to her, and Russo nodded her head 'yes.'
"I have to be her voice. She cannot speak, so we have to speak for her," Wayne said.
There have been many meetings, talks between lawyers, but Russo's family believes that because of her age and her disability, she hasn't gotten the justice she deserves.
Last month Wayne decided to stop paying the $1,438 a month to Smithfield for her mother's apartment because she is also paying for the skilled nursing facility in Milford — a place she thought her mother would be for only a couple of weeks before she could return to her apartment.
Wayne said she recently got a "pre-termination" notice from the Seymour facility for non-payment.
"He's still living there, and they are going to evict my mother," Wayne said.
She said she put her faith in people and a system, and feels let down. Now, Wayne wants the facility to pay for her mother to return to the apartment in the assisted living facility in Milford where she lived before moving to Seymour.
"Now I want her near me," Wayne said. "I want them to pay to have her back near me."
Sheehan added that the family also wants others at the facility to be aware of what happened.