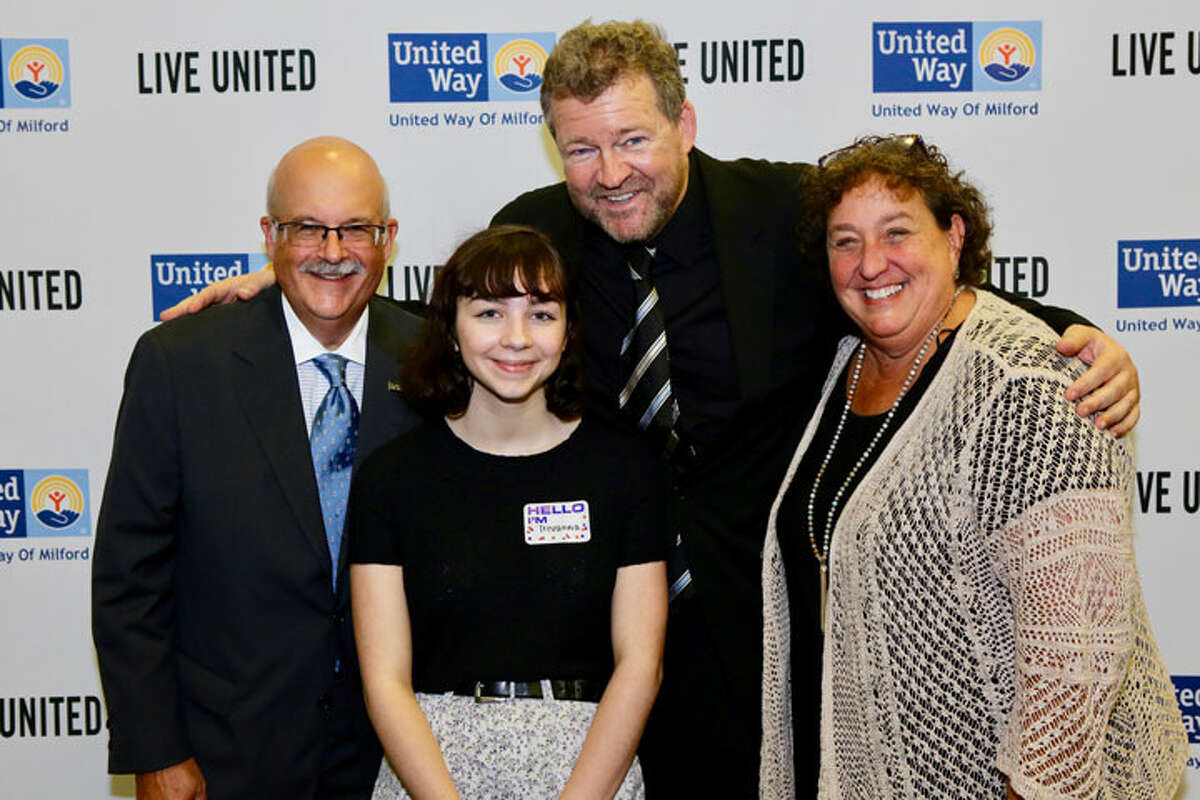 This year's United Way kickoff was a combination of tears and cheers.

There were tears of gratitude when Subway Director of Corporate Communications Michele DiNello announced a check for $50,000 from the Fred DeLuca Foundation to get this year's United Way campaign started.

In addition to hosting the annual United Way campaign kickoff, Subway typically gets the campaign started with a $1,000 contribution, representative of the $1,000 loan the late Fred DeLuca received to start his business years ago. But when DiNello announced the $50,000 check, in addition to the $1,000 check, with DeLuca's widow, Elisabeth DeLuca, standing nearby, there was surprise and tears. DiNello pointed out that it has been a year since Fred DeLuca died and emotions were high among the people who knew him.

The Frederick A. DeLuca Foundation is a private foundation that provides grants for non-profit projects in Connecticut. DeLuca started the foundation in 1998.

The United Way's fund-raising goal of $875,000 this year is lower than it has been in many years. But United Way officials see it as a realistic goal. Last year's goal was $950,000, and the campaign didn't quite hit the $900,000 mark despite its efforts. The year before that, with a $900,000 goal, the campaign brought in $886,000. In past years, the United Way set and reached a goal of $1 million.

This year's campaign chairman, Diane Nytko, said she thinks the declining funds are due to the economy and partly due to bad press the United Way got several years ago on the national level. But Nytko pointed out several times during Wednesday night's campaign kickoff at Subway World Headquarters that 85% of the money donated to the United Way of Milford stays in Milford. Some of the funds go elsewhere, including a portion directed to the national office, but Nytko says the Milford United Way dollars primarily go toward funding local efforts and the 22 non-profit organizations, including the Milford Senior Center, the Boys & Girls Club and Bridges, that are United Way partner agencies.

"Everyone thinks Milford is in good shape," Nytko, "but people need help in Milford."

The Beth El Homeless Shelter is a prime example, she said, noting that the agency recently got word that it will see a reduction in state funds it receives.

A moving video shown during the campaign highlighted the United Way's role in turning around the life of one Milford family.

In a video produced by Heidi Voight, a former Miss Connecticut and morning anchor at NBC Connecticut, Voight talks about how the United Way helped her family when she was a child growing up in Milford. Her mother, Claudia, was working three jobs and raising five children by herself. The family often went without heat in the winter, and then things got even worse.

"When I was 15, the bank foreclosed on our house," Heidi said.

An extended family member watched Claudia's children sometimes when she worked, and Heidi and her sister were sexually assaulted by a man in that extended family member's home.

Claudia Voight said she had nearly lost all hope until Gary Johnson and the United Way not only provided counseling for the girls and money to pay bills, but also restored her faith in herself. Heidi said the United Way gave the family back its dignity.

(Following is a portion of Voight's video, which was shown during the United Way event Wednesday)

https://youtu.be/qb-c3T6aYkw

Following tears from the moving video, there were cheers for guest speaker Scott Burrell, a retired professional basketball player and current head coach for Southern Connecticut State University Men's Basketball. Attendees angled for a chance to have a photo with Burrell, and listened intently to his comments about some of the big names he shared the court with.

Burrell starred at UConn, famously tossing the court-length pass to Tate George that led to the game-winning hoop in an NCAA Tournament win over Clemson in 1990.

Burrell played professionally from 1993-2006 and was Michael Jordan's teammate on a Chicago Bulls NBA title team. Burrell also played internationally and was a professional baseball player. He was the first American athlete to be a first round draft-pick of two major sporting organizations.

Burrell said Tony Candido, who headed previous campaigns with his wife, Diane, asked him to speak at the United Way kickoff. Candido was a referee at Burrell's basketball games when he played at Hamden High School.

"It's a great charity," Burrell said of the United Way. "In this day and age you have to give back."

He said he loved playing, but he also enjoys coaching.

"I love changing kids' lives," Burrell said. "There are so many kids you're dealing with now who are given things, who are expecting things and aren't working hard for things. To be able to change a kids' life and …. have him grow up as an adult by his senior year is an awesome thrill."