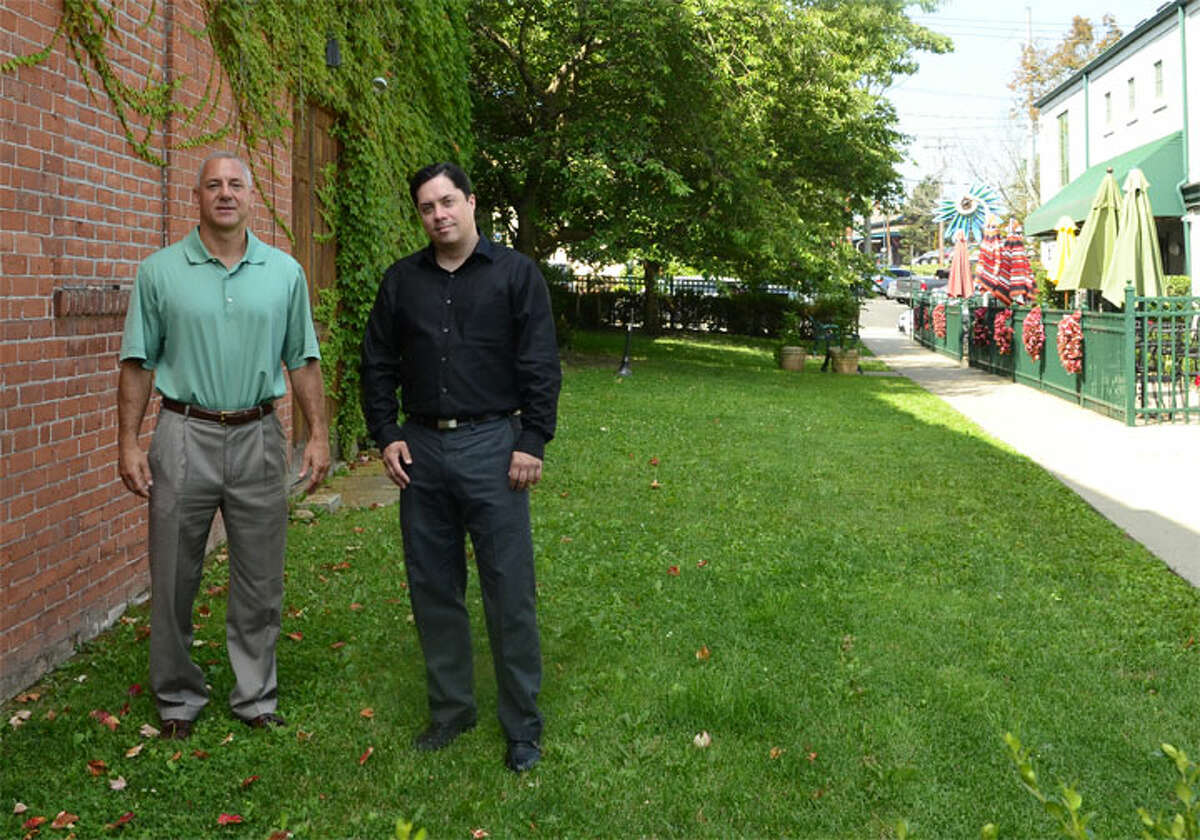 Richard Ciardiello, the owner of Eli's Tavern in downtown Milford, was fairly certain he'd be able to create an outdoor patio at Eli's when he bought the place in 2013.
One of the previous owners, Richard Conine, had easily received approval in 2005 to lease land from the city for an outdoor patio. The lease gave Conine the right to create a patio area on the city-owned green space linking Daniel Street to River Street, and even though Conine never built the patio, he paid the lease for several years.
When Ciardiello was planning to buy the building and turn it into Eli's, he talked to city departments. He said they told him that the patio lease wouldn't transfer, but they didn't see any reason Eli's wouldn't be granted the same deal Conine had.
Regardless, it hasn't been smooth sailing as far as the patio is concerned.
In 2013, several people raised objections to an outdoor patio for Eli's at a Planning and Zoning Board public hearing. Several said they didn't want to see more of the small bit of open space disappear. Tina Roberts, owner of Café Atlantique next door, was one of them. This week she said, "I would prefer to see it stay green space. The park means a lot to people in Milford."
However, Café Atlantique has a similar lease with the city, and the café uses the city-owned green space as a place for an open-air café with tables. In 2005, then-Mayor James Richetelli Jr. pointed that fact out to the P&Z, and he also said outdoor patios are "consistent with the plan for downtown Milford. We are encouraging outdoor cafés and pedestrian walkways."
More obstacles
Ciardiello said he started running into more patio roadblocks earlier this year. Someone suggested he hire James Amann, former speaker of the house, to help him through the process.
Late last week, Amann fired criticism at Democratic Mayor Ben Blake and the city for failing to approve the patio for what he says are clearly political reasons.
In a press release sent to local papers, Amann compared efforts to work with Blake and the Board of Aldermen to "playing Whack-A-Mole," a popular arcade game.
"No sooner do you agree to accomplish and then overcome one obstacle, up pops another, completely unexpected obstacle," Amann said. "If this is the kind of obstruction that desirable, revenue generating restaurants, merchants and other businesses in Milford's downtown business district are encountering, we are going to need to find another way to ensure Milford is all that it can be."
Amann said Eli's is one of the only downtown restaurants without an outdoor patio, and Ciardiello said customers in the summer constantly ask about an outdoor patio.
"I spent $2.5 million on this location," he said. "I can't afford not to be here now. I need this to be a summer area. Business is not what I need it to be for the summer season because people like to be outside."
He envisions about eight tables outside on a patio between his building and Café Atlantique, with a set-up similar to that at Café Atlantique.
Mayor rebuts
Blake says that Amann's summary of the situation doesn't paint an accurate description of what has been going on.
"This is more like an old fashioned game of telephone where information is passed along so many times that what comes out the other end bears no resemblance to the original facts," Blake said.
Blake said that the issue is not political, but rather a community issue involving nearby business owners.
"The City of Milford must fairly represent all of our downtown businesses and stakeholders, not just those able to pay for political lobbyists," Blake said. "Responsible government cannot simply solve one problem by creating three new ones. Before we consider leasing or selling city property, we must first ask for the support of the broader community, including the surrounding property and business owners.  Despite Mr. Amann's claims, several surrounding businesses and community members continue to strongly object to the proposed lease."
Coming up
Amann said he has been told the issue will be on the August Board of Aldermen's agenda.