This is a carousel. Use Next and Previous buttons to navigate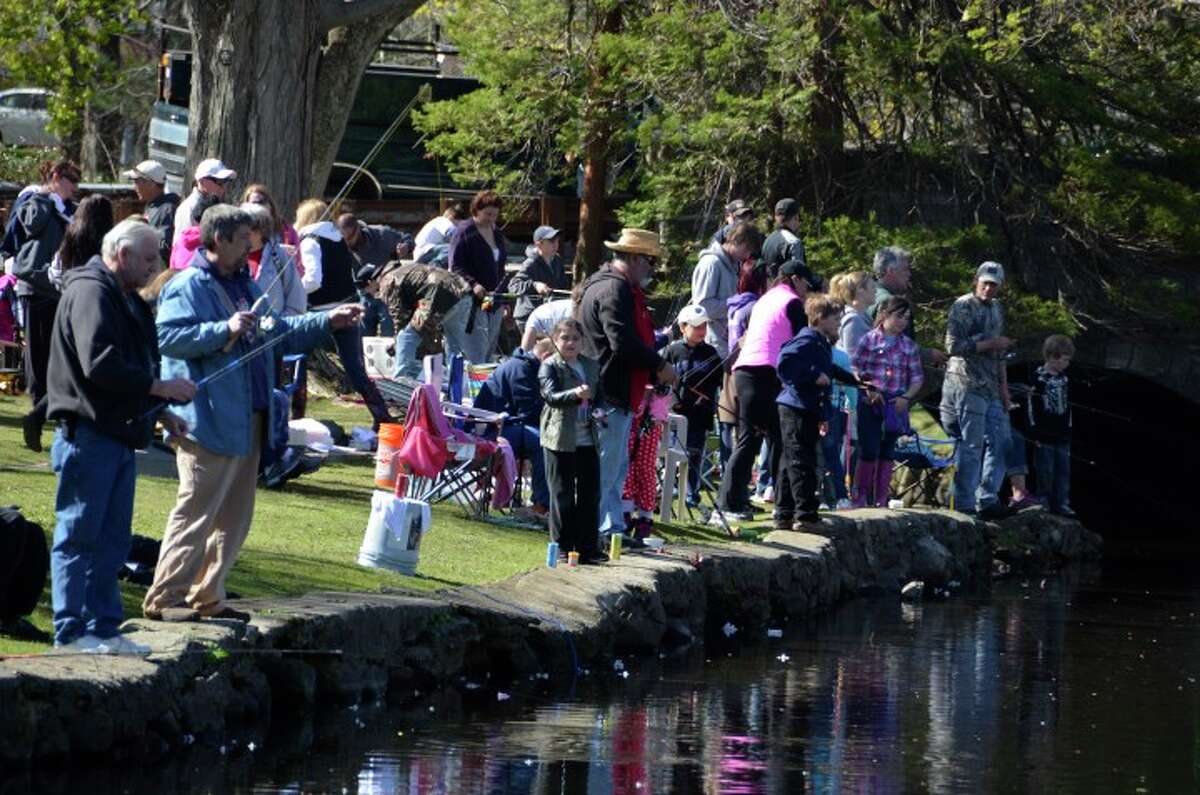 Community donations are still key to keeping the annual Children's Trout Derby going.
Hundreds of children and their families gathered at the upper and lower duck ponds in Milford on a recent Saturday for what has become a multi-generational family event for some of them.
Cathy Savoie attended the fishing event with her children and grandchildren. Abby Savoie, 9, had caught a brook trout, and her friend Olivia Vargovchik, 8, had a rainbow trout.
Despite their young age, both had a lot to say about the annual children's trout derby, sponsored by the Milford Striped Bass Club.
"People can come and learn how to fish with their parents, and they can cast in the casting contest," said Olivia, who is already a seasoned fisherman.
She's a regular at the annual derby, as is Abbey, who said she only missed one year.
"It's a family tradition," said her mother, Mary, who explained that her husband has been attending the derby since he was a child.
Cathy Savoie could attest to that, being that mother, now a grandmother, accompanying Savoie children to the derby.
When Cathy's children attended the derby a generation ago, it would be at least a two-day event. They would have sleep-overs, and they and their friends would eat pizza and hunt for bait the night before, in preparation for getting up with the sun to head to the ponds.
Cathy would bring sandwiches, coffee and hot chocolate, something she still does now.
Fishing next to the Savoies was Nick DiGioia, who said he started attending the derby when he was seven years old, and now he brings his son, Joey, who is seven.
"It's a great event for the kids," DiGioia said.
This was the 47th year for the Milford Children's Trout Derby, so it's easy to see how it has touched the lives of several generations of anglers.
The derby is for all children ages 15 years and younger, and prizes are awarded for the largest trout in four categories, plus there is a casting contest that sends youngsters home with prizes.
The popular event almost came to an end several years ago when the club announced it was having trouble funding it.
Club members persevered and enough donations came in to keep the derby alive, and then the Devon Rotary Club promised to help fund the event for years to come.
The club pledged at least $5,000 a year. The derby costs about $9,000, and those funds pay for trout to stock the Milford ponds, trophies, portable bathrooms, and other expenses.
"It is important to receive donations because it helps us to keep the derby going," said Jennifer Lalond, co-chairman of the annual derby. "There are a lot of expenses that come with running it.