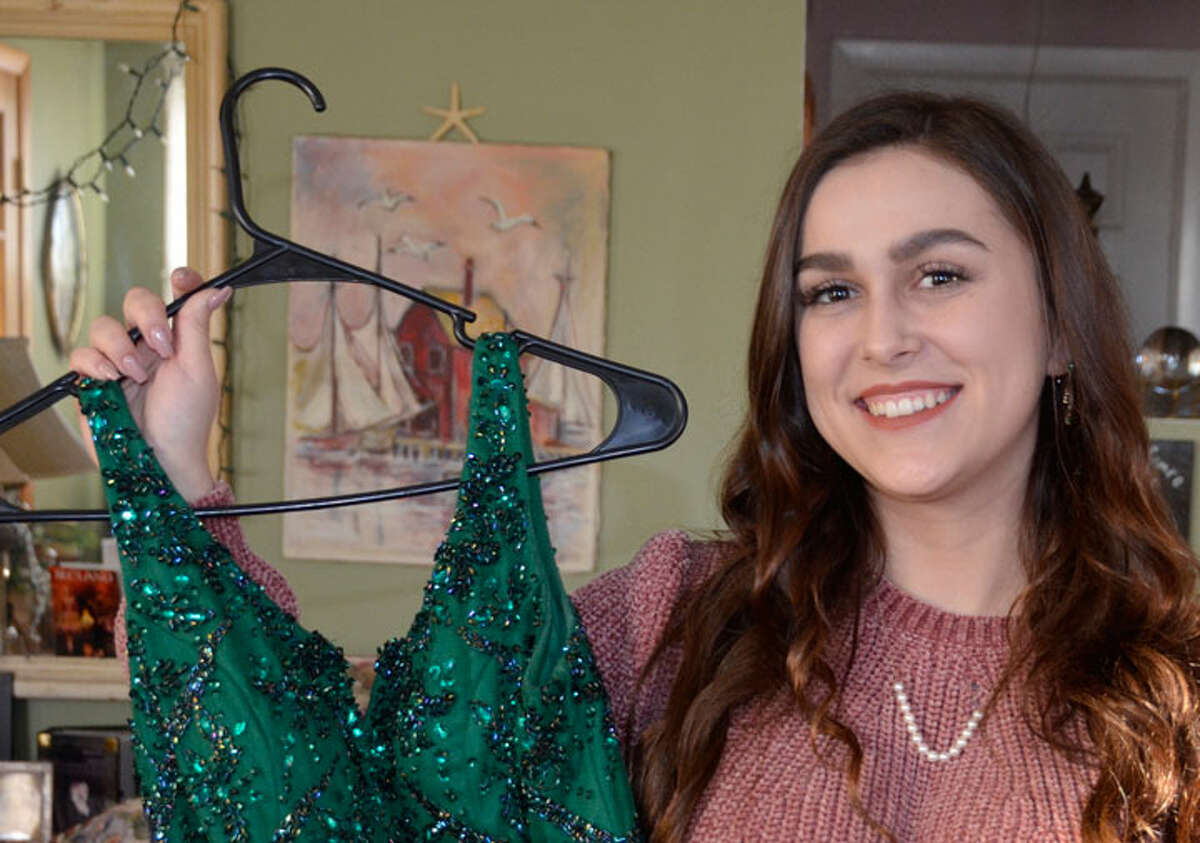 This year's Miss Emerald Isle, the face of the Milford St. Patrick's Day Parade, won't just be carrying on a city tradition when she dons the crown and sash March 9 for the annual parade. She will also be carrying on a family tradition: Her mother was the first Miss Emerald Isle 27 years ago.
Caitlyn Zawadski, 20, didn't really think about vying for the Miss Emerald Isle title as she was growing up, unlike other local girls who see the young woman in green and wish to someday be that girl.
"I was a tomboy, hanging from trees," Zawadski said. "I was not a girly girl. I never wanted to be a princess."
Even the photos of her mother, Elaine Arsenault, wearing the sash in the 1992 parade didn't tempt her.
But as Zawadski's commitment to Irish dance grew in recent years, bringing her ever closer to her rich Irish roots, she decided it was something she wanted: The crown and sash would be a great way to honor her Irish heritage.
And so this year, after being chosen by the St. Patrick's Day Parade Committee as Miss Emerald Isle, she will have a sash to hang beside her mother's.
"Her demeanor and attitude, she was all smiles, and her history of Irish dance — it was just a nice pick," said Marty Hardiman, longtime chairman of the Milford St. Patrick's Day Parade Committee, which runs the annual parade. "Then I found out her mother had been Miss Emerald Isle."
That makes it all the more special, Hardiman said.
Zawadski's mother was 29 in 1992 when she was crowned Miss Emerald Isle. Arsenault wasn't the first young woman to lead the Milford St. Patrick's Day Parade. Molly Donovan Visnic was the first. But in 1991 Donovan was crowned Miss Shamrock, not Miss Emerald Isle. The name changed the following year from Miss Shamrock to Miss Emerald Isle, and Arsenault was the first to claim that title.
Arsenault was born in Scotland to an American father and Irish mother, who left Ireland and came to the United States in 1963. Arsenault spent her high school years at Stratford's Bunnell High School. She also spent years in England and Scotland, as well as her mother's hometown of Sligo, Ireland. Like her daughter today, Arsenault saw the parade as a great way to honor her culture.
This local family does more than talk about honoring their heritage. They grew up dancing in Irish dance competitions — between the mother and daughter, and Zawadski's aunt, AnneMarie Nehez, they have enough Irish dance ribbons, medals and trophies to fill a small room.
Zawadski dances today with the Brennan-Lucey Irish Dance Academy: She started when she was 8 with the Mulkerin School of Irish Dance.
A 2016 graduate of Jonathan Law High School, Zawadski is attending Gateway Community College, where she is working to get her prerequisite classes under her belt before entering a nursing program. She also completed EMT training, and works as a waitress at SBC in downtown Milford.
She traveled to Ireland in 2016 with her dancing school. Her grandmother, Eileen Ahern, went too, happy to revisit the country of her birth. Zawadski marveled at the beauty of Ireland — all the different shades of green, and the splendor of The Rock of Cashel, one of Ireland's archaeological sites. She even danced with her fellow Irish dancers at an Irish wedding.
Her "nana" is one of her biggest fans, recalling how happy she was when Zawadski, as a young girl, said she wanted to study Irish dance. Ahern paid for the first six months and drove her granddaughter to class.
"I watched her dance, and I said, 'Wow, she really likes it'," her grandmother said.
Zawadski says she loves Irish dance. In fact, her mother almost named her Céili, which in Irish means group dancing.
Zawadski's father is William Zawadski, and she has an older brother, Billy.
The annual Milford St. Patrick's Day Parade will take place Saturday, March 9, starting at 1 p.m. from the Parsons Government Center in downtown Milford and making its way to the downtown green. TJ Casey, a former state representative of the 118th District, has been named grand marshal, and along with Zawadski will help the lead the parade.
As a past Miss Emerald Isle, Arsenault will be in the lineup, too. While she hasn't joined other former Miss Emerald Isles in the parade in many years, Arsenault said she will this year. Her daughter insisted.
It will be a big day for the family. Zawadski's aunt AnneMarie said, "We're just over the moon about it."
The grand marshal and Miss Emerald Isle will receive their sashes at an annual dinner Feb. 24 at Stanziale's Restaurant in Stratford. The dinner takes place from 5 to 9. The cost, $45, includes a choice of entrees, and is a fundraiser for the annual parade. For reservations, call Marty Hardiman at 203-878-2865 or 203-993-5755.