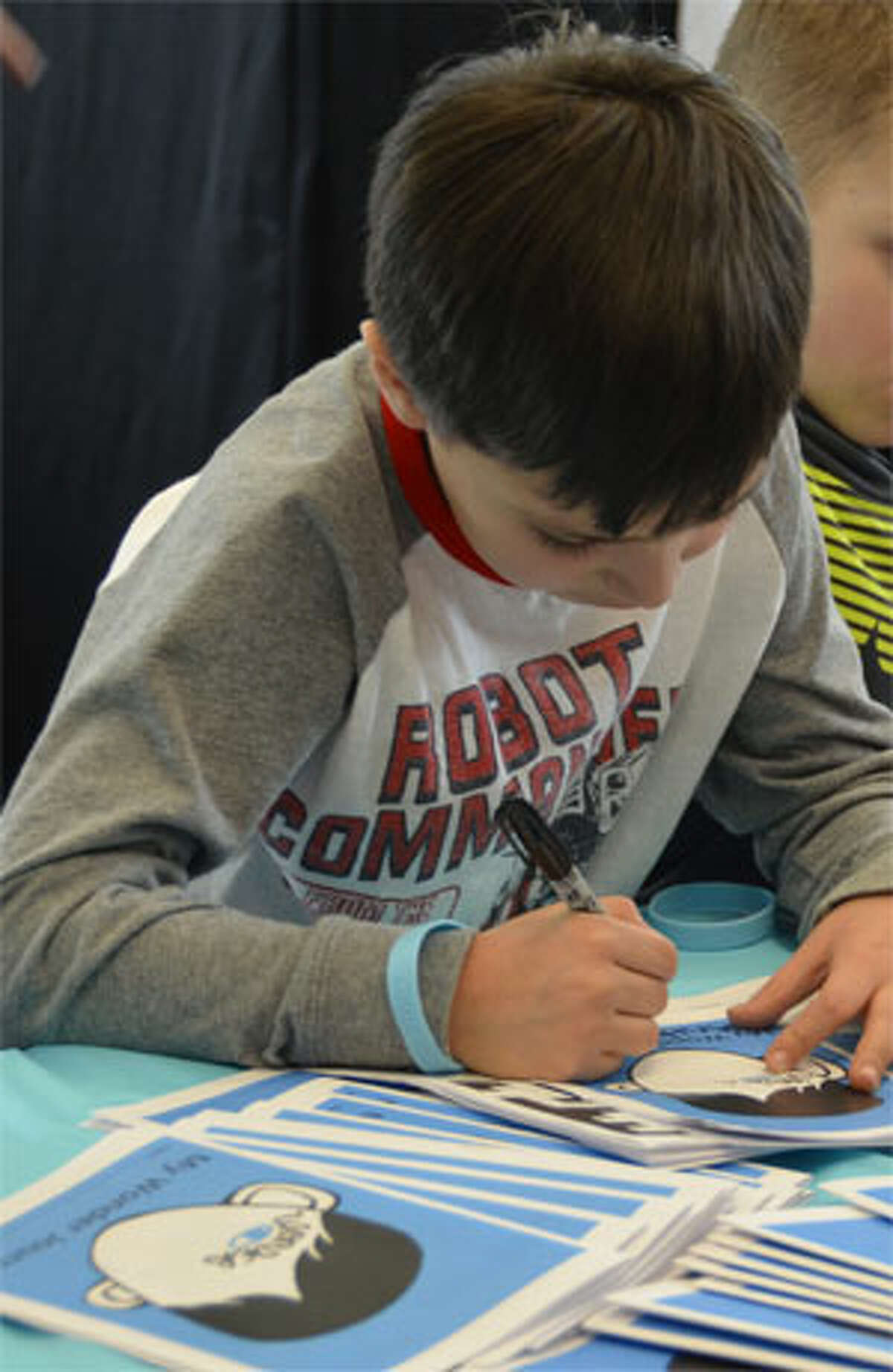 About 60 residents gathered in the Milford Public Library Saturday to help kick off a project that aims to have the whole city reading one book.
There were copies of the book Wonder, by R.J. Palacio, which was chosen for the One City/One Book project.
Children got a chance to make buttons promoting the community reading effort and to take part in other activities, like coloring pictures of Wonder's lead character and decorating blue paper hearts, which are meant to symbolize the compassion and caring that are the book's main themes.
There is also a companion picture book selection for Milford's younger readers — The Invisible Boy, written by Trudy Ludwig and illustrated by Patrice Barton.
City officials on hand for the event included Mayor Ben Blake and School Supt. Dr. Elizabeth Feser.
"I think this is fantastic," Dr. Feser said, looking at the crowd. "Read the books. Oh my gosh, they're absolutely wonderful."
Wonder is the story about August Pullman, who was born with a face different than most. The fictional character says, "I won't describe what I look like. Whatever you're thinking, it's probably worse."
The novel follows August as he leaves a homeschool setting to go to school, where he hopes to be treated as an ordinary kid. But his new classmates can't get past his unusual face.
The #1 New York Times bestseller begins from August's point of view, but soon switches to include his classmates, his sister and others telling the story.
Students throughough Milford's schools are reading the books, and several adult book groups in the city have adopted it as their current subject matter, according to Milford Library Director Christine Angeli.
"The topic is so universal and so sweet; it appeals to a lot of people," Angeli said.
Wonder is Palacio's first novel. On her website she explains that she worked for many years as an art director and book jacket designer, designing covers for "countless" fiction and nonfiction titles.
"I always wanted to write, though," she says. "I kept waiting for the perfect time in my life to start writing, but after more than 20 years of designing book jackets for other people, I realized that the perfect time would never really present itself. It's never the perfect time to start writing a book. So I decided to just go for it."
In one interview, the author said she started writing the book after being out with her own children and finding herself in the company of a young girl with a severe facial difference. Palacio said she didn't like the way she handled the situation. She said she became uncomfortable, and then started thinking about how the girl, and her mother, had to deal with peoples' reactions every day.
Mayor Blake, who read a proclamation promoting One City/One Story at Saturday's event, said he is a third into the book. He said the city is coming together around the books, and credited the community leaders and volunteers who launched the effort.
School spokeswoman Kathy Bonetti, who spearheaded the project with Angeli, said it's clear that people are enjoying Wonder.
It's hard to say how many people are reading the book: Angeli said the library has 60 copies and they are all out. Karen Dydzuhn, who works for Barnes and Noble and has arranged for school groups to get the book at a discount — $8.88 — said many copies have been sold and the bookstore has gotten many calls about the book.
The measurement will come in weeks and months ahead when people, Bonetti hopes, will be heard discussing the book and its themes as they stop to chat at the grocery story or at the mall.
"The themes are kindness and compassion," Bonetti said. "I'd say as long as people are talking about the message of kindness and compassion, that's what matters."
Dydzuhn, who saw Fairfield do the same kind of community read project using the same book, said she hopes local businesses will contact her to help lead book discussions.
The concept
Bonetti said she and Angeli came up with the idea to organize a community read at about the same time. They were working together on a community project for the city's 375th anniversary last year when they started talking about a community-wide book.
They put the project together fairly quickly, and decided on Wonder in part because other community reads have used it, making it easier to get the project going quickly.
Bonetti said a kindness campaign will tie in with the community read. Local businesses that take part will get a supply of blue paper hearts — blue to match the Wonder book cover — and residents will be urged to write an act of kindness on the hearts, which will then be posted in the store's window.
"We're hoping the entire city will be plastered with these random acts of kindness," Bonetti said.
The project highlights the continued collaboration of the City of Milford, the Milford Public Library, the Milford Arts Council, and the Milford Public Schools, Bonetti and Angeli said. If all goes well with this year's inaugural citywide reading event, the group is hoping to conduct the project annually.
A committee is working on the details of the many levels of programming that will take place throughout the spring.
There will be a Facebook page, as well as a spot on the city's website to keep Milford residents aware of upcoming activities and events.