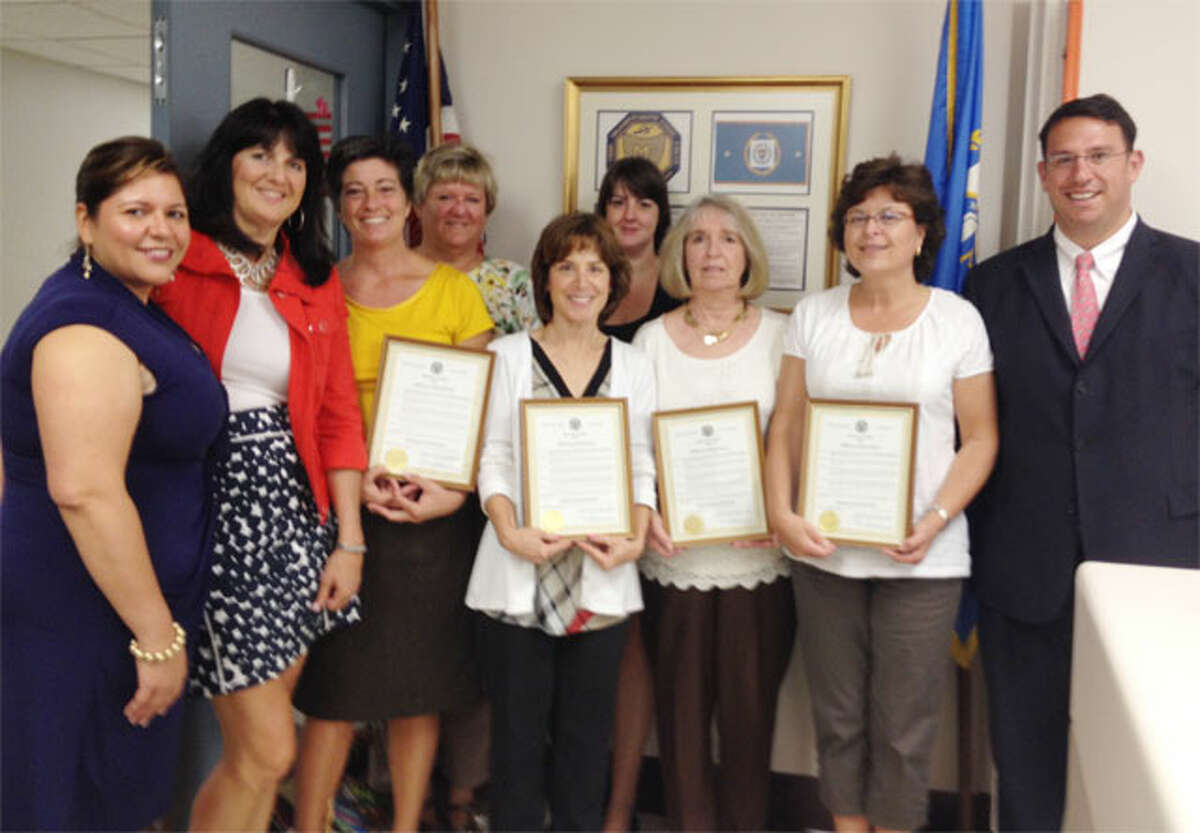 UPDATED: There is no "I" in team, Mayor Ben Blake said as he bestowed proclamations on the city clerk's office staff for working as a team during some difficult months.
Blake and the city's employee-of-the-month selection committee surprised the staff in the Milford city clerk's office last week by honoring them with proclamations naming them all employees of the month.
Bonnie Peloso, Laura Hunt, Bonnie Kulenych, Suzanne Horvath and Rose Elliott were all honored for pitching in and pulling together during the months that former City Clerk Linda Stock was battling cancer. Linda died in May.
The mayor honored them for working as a team during the extended absence and subsequent loss of Milford's City Clerk Linda Stock.
"Through their support of each other and by taking care of themselves in body, mind and spirit, they have persevered in providing the exceptional service for which the city clerk's office is known," Blake said.
"Under the best of circumstances it can be daunting to perform the multiple daily responsibilities as well as proficiently serve the needs of the general public," his proclamation states. "As a team they continue to champion the causes implemented by Linda Stock. They have carried on the tradition of celebrating Annual Municipal Clerks Week and remind us all to celebrate our veterans. Whenever needed, they put the word out and collect donations for such organizations as the Milford Food Bank, Animal Control, and Toys for Tots."
Bonnie Peloso was acting city clerk during much of Linda Stock's illness, and she and others took turns attending meetings, such as Board of Aldermen and Board of Finance. The staff had to pitch in during budget season, providing numbers and answers to the city's budget-making boards.
The staff also upgraded the land records using a new computer system, and that required training and much work. "It had to be done, and we had to learn it," Peloso said.
Knowing that her team had her back probably eased Linda's mind, Peloso said. "I think it made her feel better," Peloso said.
It wasn't just the fact that they admired and respected their boss that made them rally, it's what they do, Peloso said, explaining that the staff has long been doing their best to serve the public. Other departments came to their aid when they had questions, such as the registrar of  voters office and the city attorney's office.
City Clerk Joanne Rohrig prepared an icebox cake for the celebration. She said it was Linda Stock's favorite kind of cake.