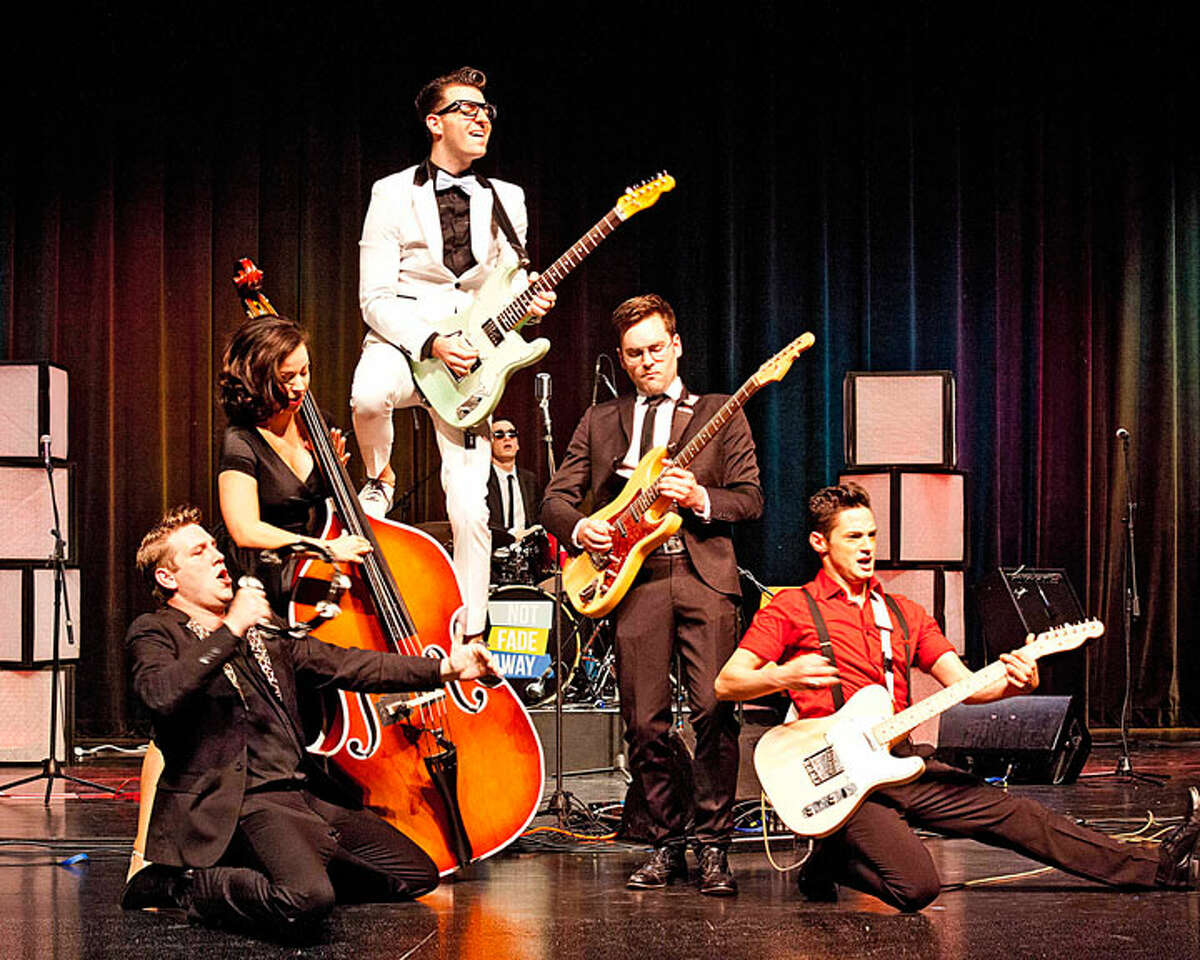 On Feb. 3, 1959, iconic musicians Buddy Holly, Ritchie Valens and J. P. 'The Big Bopper' Richardson were killed in a plane crash near Clear Lake, Iowa, along with pilot Roger Peterson. The day became known as "The Day the Music Died."
The 60th anniversary of the music tragedy will be marked in Milford Friday, Feb. 1, when the Buddy Holly tribute band "Not Fade Away" comes to the Milford Performance Center, which is located at the Veterans' Memorial Auditorium in the Parsons Center.
Steve Cooper, executive director of the Milford Performance Center, says he is excited to host Not Fade Away. A music history enthusiast, Cooper still laments that day in February when the music died.
"In January of 1959, Buddy Holly, Dion and the Belmonts, Ritchie Valens, and the Big Bopper set out on a 24-day tour of the midwestern United States," said Cooper, who has watched interviews and read considerable material about that tour and the plane crash.
"Making the closely booked appearances by bus was torture for its performers," Cooper said.
"Several degrees below zero and a bus with a broken heating system led to frostbite for some of the performers.
"The tour was scheduled to play two shows that day and then to go to Clear Lake, Iowa for the next evening's performance," Cooper continued. "By the time they got there, everyone was in a bad mood. Holly told his band members, guitarist Tommy Allsup and bassist Waylon Jennings, that after the show he was going to lease a plane from Dwyer's Flying Service in Mason City, Iowa, to fly them to Fargo, N.D., ahead of everyone." He hoped to take a short break and rest before he rejoined the tour in Moorhead, Minn., according to vintagenews.com.
"The Big Bopper, who was tired of wedging his oversized frame into tiny bus seats, asked Jennings to let him have his seat, to which Jennings agreed," Cooper said. "Valens asked Allsup for his seat. Allsup wasn't as agreeable as Jennings and they decided to flip a coin with the loser riding the bus. Allison lost."
The night's show ended, and Holly, Valens, and Richardson were taken to the Mason City Municipal Airport for their flight, vintagenews.com states on its website.
Cooper said Holly, Richardson and Valens got into the plane and Peterson started the engine of the four seat Beechcraft Bonanza and took off. An official at Dwyer's Flying Service noticed that the take off was shaky.
"A few minutes later he got on the radio to see if everything was alright," Cooper said. "When there was no answer he called the Fargo airfield to see if the plane had landed. It hadn't." Worried, the flying service representative got into another plane and went to search for them.
"He found the plane eight miles from Clear Lake, crashed in a cornfield, with bodies strewn all around," Cooper said. "All had died on impact."
"Not Fade Away: A Tribute to Buddy Holly," is set to take the stage on Friday, Feb. 1, at 8 p.m. The doors open at 7 p.m.
Jared Mancuso will perform as Buddy Holly.
"Jared Mancuso plays Holly, and he could not be a more perfect find," states a review posted on Mancuso's website. "With his short, curly hair and thick framed glasses, Mancuso captures not only the look and sound of Buddy Holly, but also the spirit of the young rock 'n' roller."
The non-profit Milford Performance Center is located at the Parsons Government Center in the Veterans Memorial Auditorium, at 53 West Main Street, Milford.
All shows help local charities, and the upcoming tribute show will help Food 2 Kids, a Milford-based effort that delivers food to children.
Refreshments, wine and beer will be available.
Any federal employee who was affected by the government shutdown is welcome to one free ticket for the show. They must show their federal identification at the ticket booth.
For tickets, $37 to $45, and information visit MilfordPerformanceCenter.org. Tickets are also available at the door on show day or online until midnight on Thursday night.