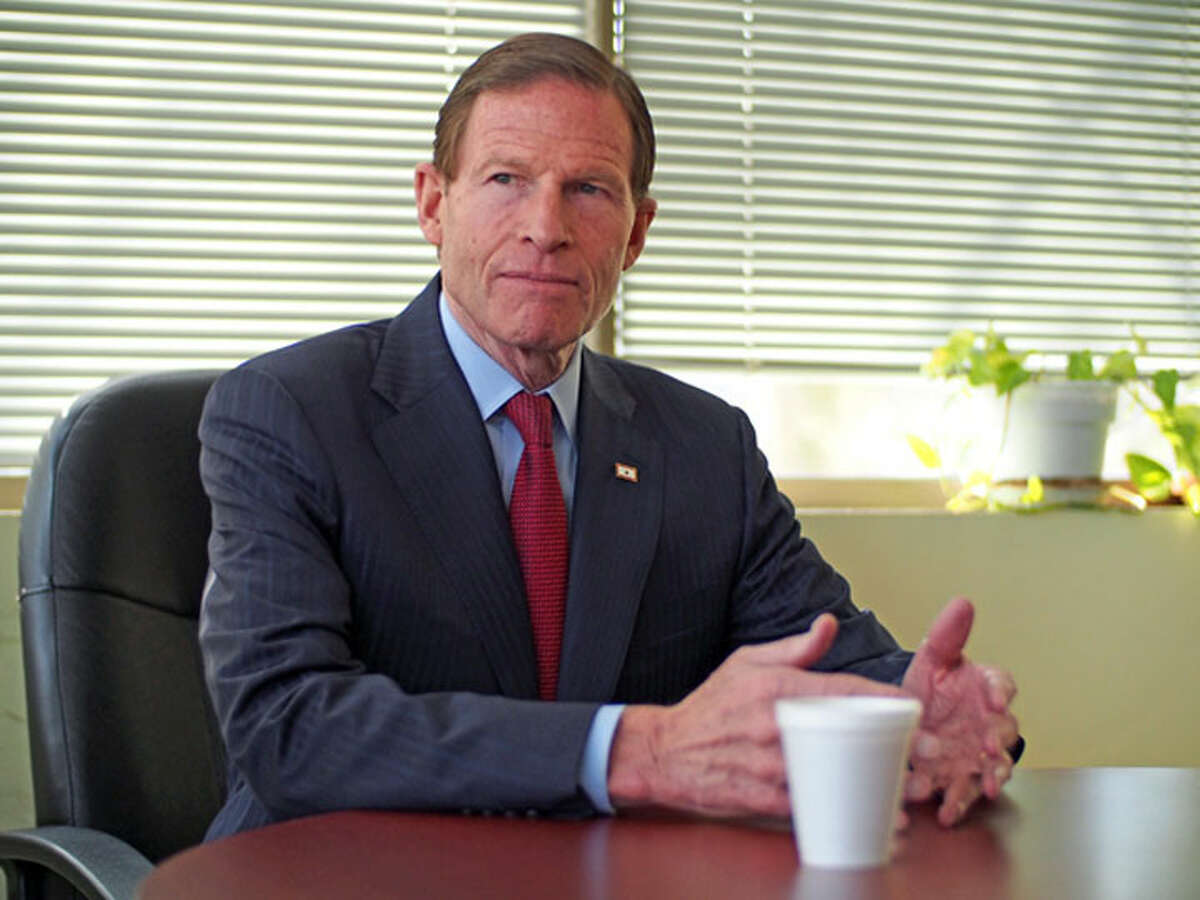 Better understanding and more data can help in improving relations between police and the residents they serve, U.S. Senator Richard Blumenthal told Hersam Acorn reporters and editors Thursday in Shelton.
Blumenthal sponsored a bill that would require all police and law enforcement agencies to report deaths that occur in law enforcement custody.
"There is, right now, no requirement that those deaths be reported. So, many police departments across the country simply don't report those deaths to any central point," Blumental said, nothing that deaths in prison are also largely unreported.
Distrust of police officers in some communities heated up in 2014 with unrest in Ferguson, Mo., and New York City following the deaths of black men during interactions with police.
Frustration over the perception of excessive use of force by officers dealing with black people boiled over in November following a grand jury's decision not to indict former Ferguson police officer Darren Wilson in the shooting death of 18-year-old Michael Brown last August. While Wilson claimed he was defending himself, angry residents felt Wilson went too far in shooting an unarmed man. The lack of criminal charges sparked protests and riots in and around Ferguson.
Nothing cooled the situation in December, when a Staten Island grand jury did not indict a New York City police officer in the death of Staten Island resident Eric Garner. Garner, who police say was illegally selling cigarettes, was placed in a chokehold after refusing to comply with officers' orders.
Protests and demonstrations followed in cities across the country, with protestors accusing police of unfairly targeting black men.
At an address in Washington earlier this month, FBI director James Comey said that there is a "disconnect" between police and residents, predominantly in communities of color. Comey also said that some officers scrutinize black people more closely and take "a mental shortcut" based on working in communities where a disproportionate percentage of street crime is committed by black men.
Comey also said officers must redouble their efforts to resist bias and prejudice, better understand the people they protect and "resist the lazy shortcuts of cynicism."
Comey added that police and the people they serve should try to see and understand each other.
Blumenthal said Comey's comments are "an excellent starting point" in re-thinking the issues of distrust.
"I thought that his speech was insightful because it recognized the attitudes that each of us bring to our [lives] and our job based on our past experience and the need to understand individual experiences," he said. "Connecticut is a place where some progress can be made."
Blumenthal said he plans to talk with Comey and new U.S. Attorney General Loretta Lynch about these matters. Blumenthal did not elaborate on any proposals, but said, "I think this a topic we need to discuss openly."
Melvin Mason is editor of The Stratford Star, a Hersam Acorn newspaper.