This is a carousel. Use Next and Previous buttons to navigate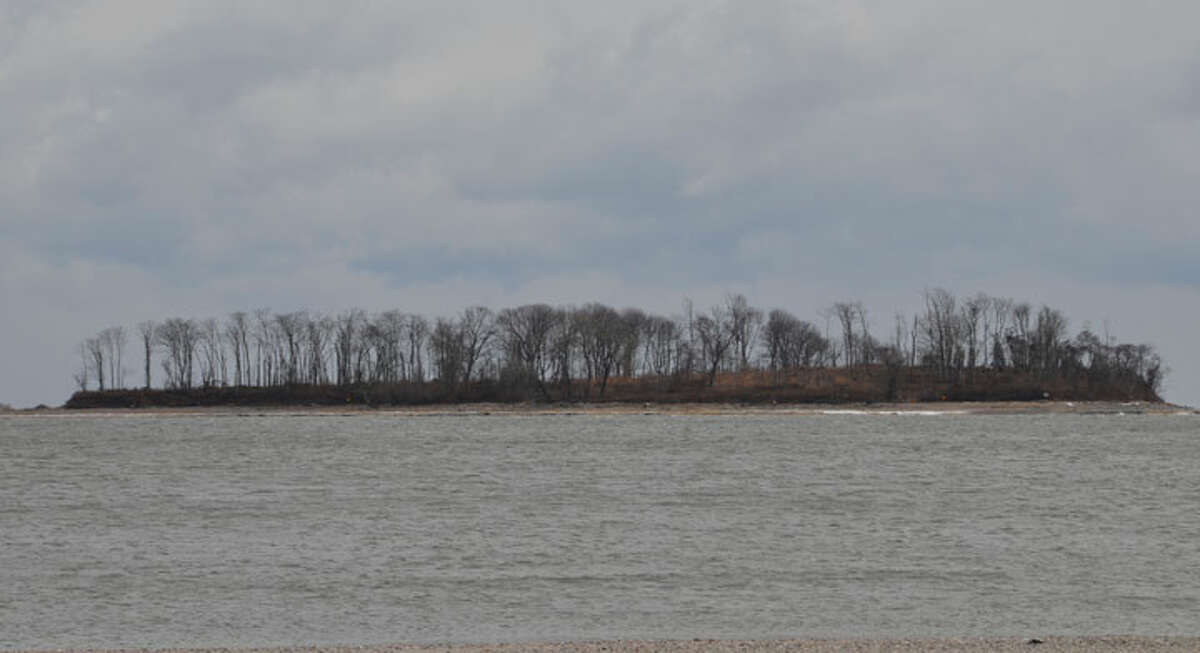 An invasive plant called mile-a-minute, which has been rearing its green vine around the state for a number of years, has proven to be the latest in what one environmentalist called "a perfect storm" of factors causing problems for the birds on Charles Island.
"Charles Island was once densely vegetated with tall trees and mid-canopy trees and shrubs," said Jenny Dickson, supervising wildlife biologist with the Department of Energy and Environmental Protection (DEEP). "Several hundred long-legged wading birds made use of every available spot for nesting. Now, scattered Norway maples and a few tree-of-heaven jut out from a largely open shrubland comprised mostly of invasive plants — nettles, mile-a-minute, bittersweet, barberry — and herbaceous vegetation — all too short to provide nesting habitat for the rare birds that nest there."
Charles Island, a 14-acre island off the coast of Milford at Silver Sands State Park, was designated a Natural Area Preserve in 1999 due to its significant wildlife and coastal resources. The island is also a Long Island Sound Stewardship Site, and an Audubon Important Bird Area.
Trees and shrubs on the island have for years been used by herons, egrets and other birds for nesting and raising young — they return to the island in mid-April, depending on the weather, and the majority of the nesting starts in May, before the birds take flight and leave around September.
But the island and its bird-nesting habitat have taken a beating this decade.
First there were a number of aggressive invasive plants, such as bittersweet, multi-flora rose, barberry and autumn olive, that caused the death of nest trees and prevented regeneration of future nesting trees and shrubs, state officials said.
A lot of hand cutting went into removing those invasives.
"We also did some cutting of larger vines and treated the stems to prevent regrowth," Dickson said.
The problem was further compounded by the presence of a soil fungus that attacks and weakens tree roots.
Strong winter storms and hurricane winds brought by Irene in 2011 then Sandy in 2012 blew down most of the trees — weakened by fungus and invasives — that were needed by these long-legged wading birds to raise their young, officials said.
Dickson said it was first those other invasives, then the fungus, then the storms, and in recent years, the mile-a-minute that have hampered restoration efforts. Deer have also been a problem on the island, and fencing has been erected to keep them from eating the underbrush.
"It was the perfect storm of environmental effects," Dickson added.
Current efforts are a continuation of restoration efforts DEEP started in 2014, focusing on planting salt-tolerant trees to provide future habitat for nesting herons and egrets.
DEEP has collaborated with Audubon Connecticut, the Connecticut Audubon Society, and the Connecticut Agricultural Experiment Station on what they describe as a science-based plan to restore critical habitat on the island.
This latest threat, the mile-a-minute, showed up after other invasives were cleared, and the sun got to the newly open area.
"It was probably in the soil," Dickson said. "Once the sunlight hit the ground, it started popping up."
"Yes, it has been causing a problem for us with our restoration efforts," Dickson said of the mile-a-minute. "We've been working on trying to control it in a number of ways. We've used mechanical methods, we've used some chemical control, we've got some mile-a-minute beetles out there. So we are trying everything we can to keep that at bay while the plants that we've put out there to restore the vegetation on the island have a chance to take a foothold and actually get some growth on them. So it does remain a challenge."
The good news is DEEP and its partners haven't given up. They get out to the island to do vegetation control in March and early April before the birds arrive, "but the weather is very tricky then," Dickson said.
The nesting site "is at risk, but there is hope," Dickson continued. "The key is minimizing other stressors [e.g. off-leash dogs, people on the island during nesting season] while we solve the vegetation challenge. If we can minimize disturbance, the birds will stay, even in low numbers, and as the habitat improves, their numbers will expand fairly quickly. If we lose the birds, even for a single season, it is extremely difficult to get them to return. Some of the Norwalk Islands have been in that situation and birds still don't nest there in numbers anywhere close to what they were before the colonies were abandoned in the early 90s."
Environmentalists have been pulling the mile-a-minute at Charles Island, and a beetle that eats the mile-a-minute has been brought there.
And the birds have still been coming.
The bird population is smaller than it had been, and the birds are nesting in different spots, but they are still there during the nesting season, Dickson said.
The great snowy egret is still there, as is the black crowned night heron, though Dickson said she hasn't seen the ibis nesting there in the last few years. The DEEP and others are focusing on continued restoration so the birds don't abandon the site.
Work will be done "in stages over the next decade to get back to where it was 20 years ago," Dickson said.
Mile-a-minute
Mile-a-minute is an annual vine that spreads by seed and quickly grows into dense stands that can cover and shade out native vegetation.
According to a New York invasive species list, the mile-a-minute weed, persicaria perfoliata, is a "vigorous, barbed vine that smothers other herbaceous plants, shrubs and even trees by growing over them."
The plant grows up to six inches per day, and forms dense mats that cover other plants, then stresses and weakens them through smothering and physically damaging them, according to New York Invasive Species Information.
"Sunlight is blocked, thus decreasing the covered plant's ability to photosynthesize; and the weight and pressure of the mile-a-minute weed can cause poor growth of branches and foliage. The smothering can eventually kill overtopped plants."
According to the University of Connecticut Invasive Plants Working Group, "Mile-a-minute vine is an annual weed with elongated, branched stems lined with recurved barbs. It can grow to be over 20 feet in length."
Mile-a-minute is native to India and Eastern Asia and was accidentally introduced via contaminated holly seed into York County, Pa., in 1930, according to the New York Invasive Species Information.
Because of its beautiful blue fruit, Carole Cheah, research entomologist with the Connecticut Agricultural Experiment Station, guesses it was not immediately destroyed. It wasn't until the mid-1990s that it started causing problems in the mid-Atlantic states.
A 2012 article in the Ridgefield Press described the mile-a-minute vine as "the fast-growing and rapidly spreading invasive plant now found in many Connecticut towns ... ." That year, new populations of mile-a-minute were found in Groton, Madison, Middlefield, Milford, Old Saybrook, Prospect and Stratford for the first time.
Additional spread of the vines occurred within many of the 24 towns where mile-a-minute had previously been confirmed — including Ridgefield, Wilton, Redding and Danbury.
Patrick Comins, executive director of the Connecticut Audubon Society, said mile-a-minute is a problem all over Fairfield County. It can be found at the H. Smith Richardson Wildlife Preserve in Westport, and on a number of properties in Greenwich.
"It spreads like wildfire," Comins said, noting the seeds can live in the ground for many years.
When it pops up, "it's important to nip it in the bud," pulling it out when it first shows up. He said there has been limited success with beetles.
"Charles Island is particularly tricky because of the important habitat there," Comins said, referring to the egrets and herons that nest there.
Managing the problem is tricky, because working on the site while the birds are there has the potential to scare the birds.
But like the DEEP, Comins is an optimist.
"I'm hopeful as well," he said.
He said such colonies are always "at risk" of abandonment.
"It is one reason that Snowy and Great Egrets are on the state list, even though there are a lot of them by outward appearances," Comins said. "All of the birds are concentrated in about a handful of nesting colonies, each of which is at risk from disturbance — to one degree or another — a tree die off, as has happened at Charles, introduction of predators, whether intentional, accidental or natural, or other factors. I don't think the colony is in imminent danger of abandonment, but with these colonies it is always hard to rule that out. I just know it is in the best hands possible with the management of the island being under the DEEP Wildlife Division. There are a lot of great people working on the issue."
Mile-a-minute weevil
A beetle, Rhinoncomimus latipes, more simply called the mile-a-minute weevil, being used as a biocontrol agent on Charles Island and other areas of Connecticut, according to Cheah.
According to the Ridgefield Press article, "The insect, a tiny (2 mm) stem-boring weevil, was closely studied under quarantine conditions prior to release in the United States, where it was found to feed and reproduce exclusively on mile-a-minute vine. The insects are expected to help reduce populations of this invasive plant over time. At several locations where new mile-a-minute populations were confirmed, weevils were observed already feeding on the vines."
Cheah said mile-a-minute has been reported in 52 towns in Connecticut, with hotspots right now in Fairfield County and other areas around the state, as well as other off-shore islands.
Donna Ellis, senior extension educator from UConn, and Cheah have been working to release weevils with many town, state and federal partners and volunteers since 2009. In that time 56,000 weevils have been released in 25 towns.
In 2016, 1,000 weevils were released on Charles Island, and as seen in other areas where the mile-a-minute popped up, the weevils had already gotten there, Cheah said.
It's difficult to precisely determine the beetle's success, but Cheah thinks it has helped control hotspots. Repeated control is needed. The mile-a-minute has to be pulled each year, before it bears fruit.
Milford Open Space and Natural Resource Agent Steve Johnson doesn't know of mile-a-minute being anywhere else in Milford, but seeing its proliferation on Charles Island he said he wouldn't be surprised if it shows up in backyards. If anyone suspects they see it, he asks them to call him, 203-878-7812.
Cheah said her office gets many calls from people spotting the invasive plant, and many of those are from people looking for advice on eradicating the plant from their yards.
Members of the public can report suspected mile-a-minute at the Connecticut Invasive Plant Working Group mile-a-minute website at UConn: cipwg.uconn.edu/report-mam.