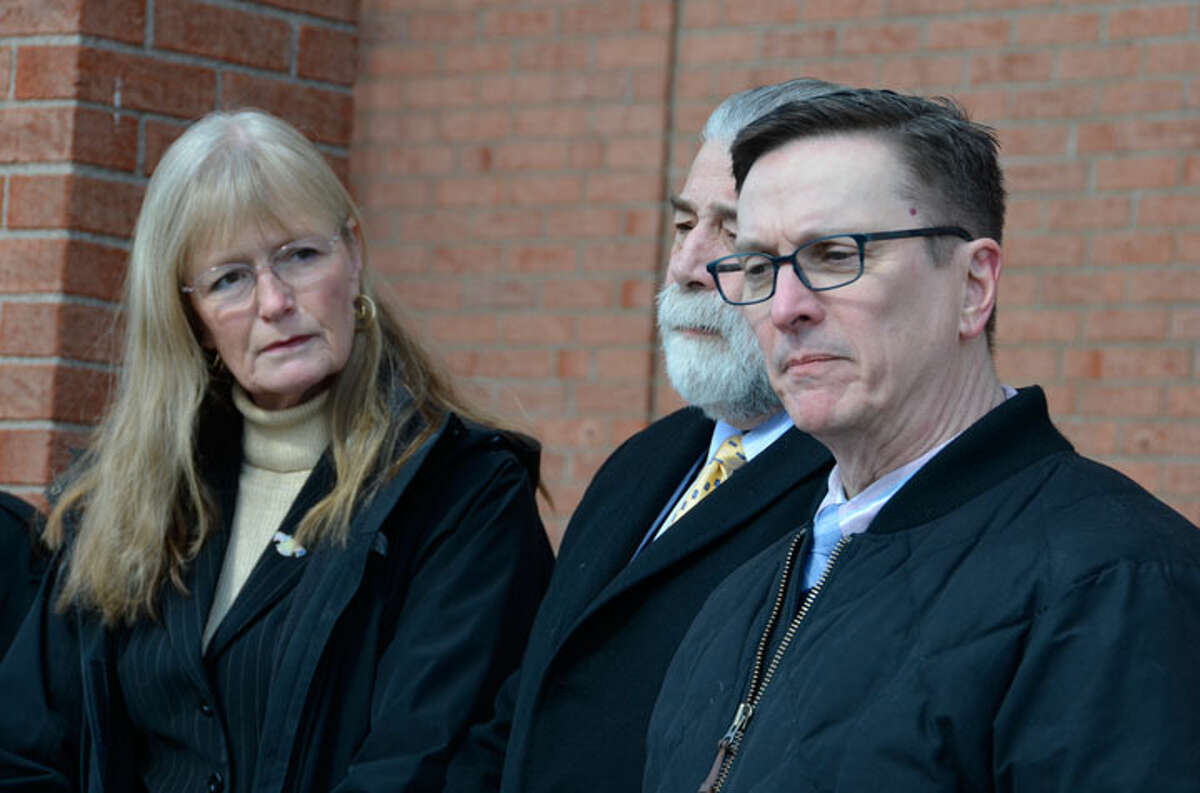 Black balloons tied to an upper window at West Haven City Hall Wednesday morning represented people lost to opioid addiction, while below, a van parked on the street represented new hope and treatment for those addicted to opioids.
On Wednesday, March 6, Bridges Healthcare announced the launch of the state's first Mobile Addiction Treatment Team (M.A.T.T.) for opioid addiction. The announcement took place at West Haven City Hall, following a 10 a.m. prayer service and ceremony organized by West Haven Mayor Nancy R. Rossi's office in observance of Black Balloon Day, a day to remember loved ones lost to opioid addiction.
Bridges' new mobile unit is called M.A.T.T.'s Van. Starting later in March, the van will be parked twice a week in the parking lot behind West Haven City Hall and once a week at the Beth El Shelter in Milford. It will be staffed by a physician and a peer recovery support counselor.
"Individuals in withdrawal from opioids or otherwise ready to start treatment can visit the van to receive a prescription for a medication called Suboxone to counter cravings and withdrawal symptoms," states a press release about the mobile unit. "They will also have onsite access to the peer counselor, a Narcan overdose reversal kit, referral to a treatment center like Bridges, as well as transportation to a pharmacy if needed to fill the prescription."
John Dixon, CEO of Bridges, which is based in Milford, said the van eliminates the two biggest obstacles for people who want treatment for opioid addiction: accessibility and stigma.
"Our goal is to save lives and provide faster, easier access to treatment in our towns and neighborhoods," said Dixon. "We know that Medication Assisted Treatment is the most effective tool we have right now to battle opioid addiction. Taking the first step to treatment is extremely difficult. We hope this mobile service will make that step easier for many who are suffering and at risk of overdose and death today."
At least 24 West Haven residents died from opioid related overdose in 2017, said West Haven's Health Director Maureen B. Lillis, referencing a November 2018 report by the state Department of Public Health's Office of Injury Prevention. First responders administered Narcan 76 times in West Haven.
In Milford, there were nine opioid related overdoses in 2017, and one Narcan administration by first responders, according to Milford Health Director Deepa Joseph.
Lillis said she thinks it's great that West Haven will have access to the mobile treatment van. "It really is the one tool we have at this moment to battle the epidemic," Lillis said.
Dixon credited Bridges' Medical Director Dr. Tara Kerner for introducing the program here. Kerner initially made sure the medical staff at Bridges was certified to prescribe Suboxone, but she found that people were not coming to Bridges for treatment in the numbers anticipated. So she decided it would be best to bring the treatment to the people. That's when she learned about the mobile van program in other parts of the country and pursued grants to fund the program here.
This is "thinking outside the box, outside the building," Kerner said.
The van is being funded through a two-year Department of Mental Health and Addiction Services (DMHAS) grant. Bridges is looking into grants to continue the program after the two years.
"M.A.T.T.'s Van is an innovative way to increase access to medication assisted treatment for people living with opioid use disorder," said DMHAS Commissioner Miriam Delphin-Rittmon in a prepared statement. "Medication assisted treatment, coupled with counseling and other supports, has been proven to successfully treat individuals with opioid use disorder. By improving access to individuals, M.A.T.T.'s Van will help people in their recovery journey, and will ultimately save lives."
Kerner said the van will be painted in a graffiti design, and it will be outfitted with a comfortable interior so people "can be comfortable and treated in dignity."
Bridges staff has reached out to first responders in the community to help spread the word about the van and its services.
The service is free and does not require proof of insurance, but individuals must be over 18 to use the service.
M.A.T.T.'s Van will be parked in the communities according to the following schedule:
Mondays, 11 a.m. to 3 p.m., at the Beth El Shelter, 90 New Haven Avenue, Milford.
Tuesdays, 1 to 5 p.m., at West Haven City Hall, rear parking lot, West Haven.
Wednesdays, 1 to 5 p.m., West Haven City Hall, rear parking lot, West Haven.
Wednesday's event at West Haven City Hall to announce the new mobile treatment team started with a prayer by Phillip Krakowiak, minister at the First Lutheran Church in West Haven, who said the "crisis affects all of us in one way or another."
Mayor Rossi concluded the event with a similar statement, saying that all communities and people from all walks of life are suffering from the opioid crisis.